In the cold winter, we all look forward to Christmas. Red and green contrasting Christmas decorations, goose yellow lights, and heavy snow in the sky, this is my favorite Christmas picture. For motorcycle lovers, a long-distance motorcycle trip at the end of the year is an exciting thing. But before setting off, a set of perfect riding gear is indispensable.
It will make you enjoy the fun of the motorcycle trip more freely, and during the motorcycle trip, a set of high-quality team communication systems is essential. It determines whether you can contact your teammates in time and share the beauty of riding happily with your teammates. It even relates to whether your 2020 will end with this perfect motorcycle trip.
Read on to find the best holiday gifts for motorcycle lovers from Fodsports!
Recommended as holiday gifts for motorcycle lovers
M1-s pro – 8 riders intercom within 2000M, high sound quality, easy to operate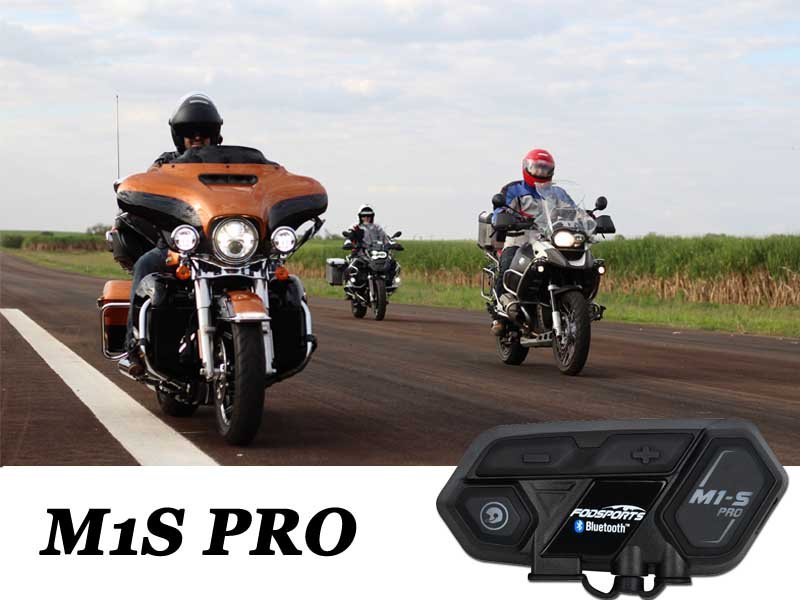 This helmet intercom supports wireless intercom for up to 8 people, allowing you to enjoy the fun of multi-person calls.
At the same time, it has excellent compatibility and stability, it's equipped with Bluetooth 4.1 version.
If there are no obstacles, the maximum communication distance of motorcycle helmet intercoms is about 2000 meters. The maximum communication distance between 2 riders is about 500 meters.
It uses a high-quality full-frequency membrane monomer with a powerful noise reduction function. It can maintain high-definition sound quality when you are speeding at high speed, ensuring your riding experience. At the same time, M1-S Pro is waterproof and dustproof, allowing you to enjoy the fun of riding without any scruples. M1s Pro is equipped with flexible, detachable, and easy to install metal clamps. And can be removed at any time and installed on other helmets.
M1s pro is a classic style in FODSPORTS, which is very suitable for beginners and veterans.
Price:$99.99
M1-S PLUS -Share The Same Music with Riders, microphone mute function
Do you want to listen to the same song with your motorcycle companion? Based on feedback from many motorcycle enthusiasts, we understand that you may need this need. FODSPORTS engineers spent a year developing this feature, and now it successfully launched this feature in 2020! This is a rare feature configuration on the market. It can listen to a song between two M1S PLUS units at the same time! This is a great thing! Why not try it?
Our latest headset Bluetooth headset was launched in 2020: M1-S PLUS developed on the basis of M1-S Pro. It can talk with 8 riders, you can enjoy the scenery all the way, share daily interesting things, in addition, M1S PLUS has a microphone mute function, which can better protect your privacy!
The M1-S PLUS Bluetooth helmet speaker has an FM function. The built-in CSR noise reduction chip can reduce wind noise and engine noise. In addition, using a 900mAh battery, only 3 hours of charging time can achieve up to 20 hours of continuous working time, very suitable for long-distance travel.
It is easy to set up the device according to the sound reminder, with battery detection and low battery reminder functions, you can always know the battery status. By accessing Siri (iPhone) and S Voice (Samsung) voice commands, you can make or receive hands-free calls, listen to music, and GPS voice guidance. M1-S PLUS is not only waterproof, it can even withstand high temperatures-30 degrees Fahrenheit (about 16.1 degrees Celsius).
M1-S PLUS has 2 microphones-allows you to choose a cantilever microphone for an open face mask or flip (convertible) helmet, and a button microphone for a full-face helmet. M1-S PLUS is equipped with removable, easy-to-install metal clips. And can be removed at any time and installed on other helmets.
M1-s plus is the only motorcycle helmet intercom that supports music sharing. Come experience it!
Price:$119.99
FX8– 8 rider group intercom, Unique antenna design, professional wind noise microphone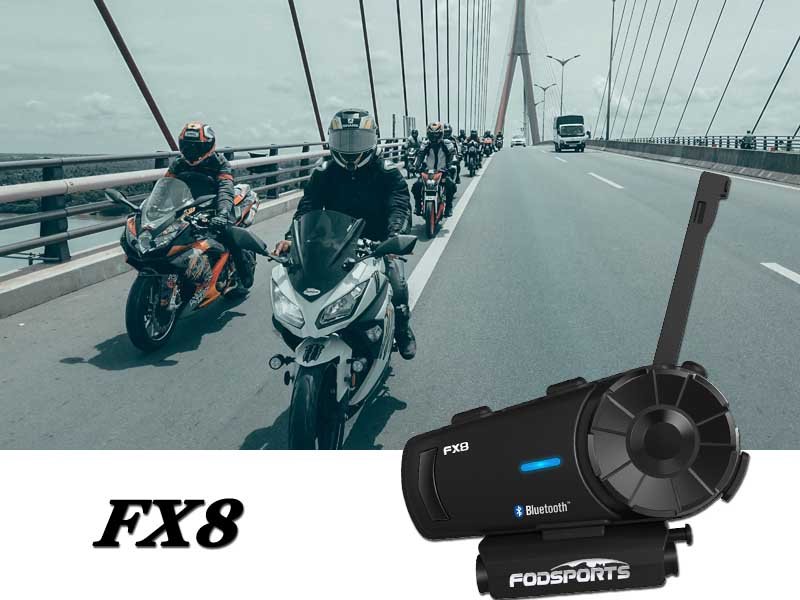 Have you ever had such regrets? In the process of riding with your friends, because you have opened a long distance, but because your intercom has been out of the signal, you can't contact your teammates?
FODSPORTS FX8 is equipped with a unique antenna design to enhance the communication signal. It can support up to 8 rider group intercom within 2000 meters.
The built-in smart chip ensures high compatibility. It can be used with GPS, music players, and most Bluetooth headsets on the market. Headphone compatible, such as FX4 Pro M1s Pro, M1s Plus, FX6, etc.
The FX8 Bluetooth headset uses a professional wind noise microphone, which can clearly receive your voice. The received sound is processed by a smart CVC digital noise reduction chip to ensure high-quality stereo sound effects, even at high speeds of up to 120 km/h.
Equipped with 40 mm high impedance and high fidelity speakers. Whether you are speaking in a group or listening to music or FM, you can hear very clear sound.
FX8 is very suitable for up to 8 riders group intercom. It has superior stability and the signal is not easily interrupted during the intercom. And it can be used in different outdoor environments. It is a great outdoor helmet Bluetooth headset.
Price:$105.99
FX4 pro -4 riders Bluetooth intercom, Noise Cancelling & Hi-Fi Stereo Sound Quality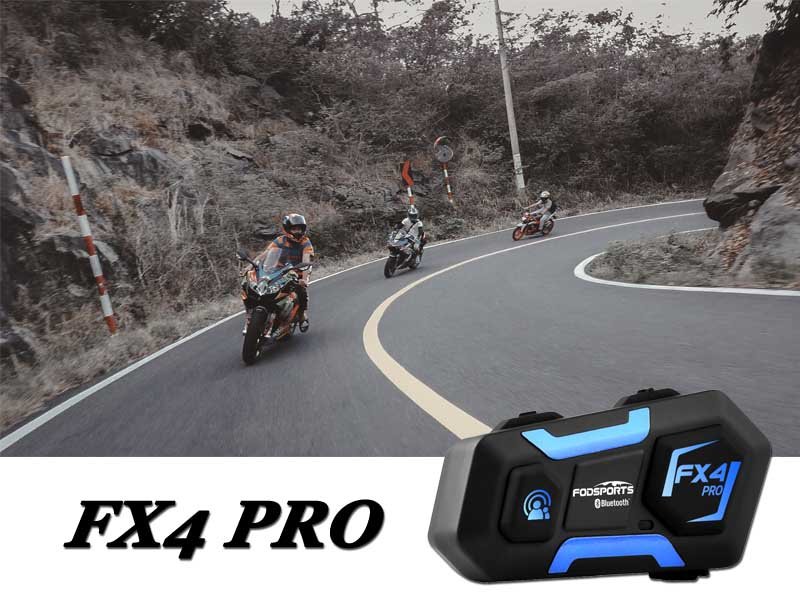 This is a helmet communication system suitable for up to 4 riders to talk at the same time. It has good stability and can maintain an uninterrupted connection even when the maximum communication distance is 1200 meters. Allows you to keep in touch with your partner during the journey.
FX4 Pro Bluetooth headset can achieve noise reduction and high-fidelity stereo effects. It comes with a professional wind noise microphone, which can clearly receive your voice.
The received sound is processed by an intelligent noise reduction chip, ensuring high-quality stereo sound even at a high speed of up to 120km/h. Equipped with 40MM high impedance and high fidelity speakers.
Whether you are in the intercom or listening to music/FM, you can hear clear sound.
In addition, by accessing IOS and Android voice commands, you can make or receive hands-free calls. FX4 Pro motorcycle Bluetooth intercom also has a larger button design, which is easier to press and hands-free when riding, and the convenient design is easy to install on the face/half helmet.
The operation is more convenient, no need to take off thick gloves for easy key operation.
FX4 Pro is an intercom suitable for three to four people traveling at the same time. It attaches great importance to the rider's riding experience and is also a good choice.
Price:$92.99
What Factors To Keep In Mind While Buying Helmet Intercoms
1. GPS Capabilities
This is one of the most important factors you need to consider while buying a motorcycle intercom because this will help you to navigate places unknown to you. This will also help your group to stick together, and you can even see when some member gets lost. This will help you track them down or even guide them back to you.
Some of these GPS systems even provide voice evocations navigation which makes it easier to ride without taking your eyes off the road. This also makes the ride much safer as you wouldn't have to look at your screen every now and then. So make sure the intercom system that you are going for has GPS navigation functionalities.
2. Ease Of Use
We would recommend simple intercoms if you have no prior experience of using one. That's because you will be using this device while riding, and for beginners, this might be pretty distracting. A more complicated intercom system beats the very purpose of making the ride safe. So keep that in mind while going for an intercom system.
Don't get fascinated by the complexity of the system as it will take your eyes off the road, which can be pretty dangerous. That's why you should always look for an intercom system that is very easy to use and help you get your work done easily.
3. Multiple Connection Capabilities
This is an important factor, as well. That's because you will want to connect with as many of your fellow riders as possible. This makes your group more secure and keeps you all glued together, even if you are navigating through unknown regions.
Most of the intercom systems provide you with the basic 2 to 4 connections simultaneously, but some are designed to allow up to 15 connections. So if you have a large group, then you should go for the latter.
But with the increase in connection capabilities, the price also goes up significantly. So you need to consider your budget and look for the maximum number of connections available within your price range.
4. Weatherproof Capabilities
You have no control over the weather when you are on a long trip, and you don't want that to ruin the communication between you and your buddies. So check if the intercom system you are going for is whether sealed or not. If there is a sudden downpour, you can rest assured that your communication system is intact.
But you need to keep in mind that waterproof and water-resistant are two different types of protections that come with any communication device. Water-resistant devices come with a lower price tag and can provide you with limited protection. Waterproof, on the other hand, provide you with better protection.
It can take heavy rainfall without getting damaged. You can never guess the weather, so you should have the best protection at your disposal. We recommend waterproof intercom systems as they are the best option when it comes to motorcycles.
5. Noise Cancellation
You can get the full benefit of your intercom system when you can communicate with your fellow riders effectively without taking your eyes off the road. even with good quality headsets, this can become a problem when you are in the middle of noisy traffic.
But there are some products out there that provide noise cancellation so that your communication becomes more efficient and hassle-free. So you should definitely keep this in mind while buying the best motorcycle intercom systems, but it is also going to come with a greater price tag.
6. Fix Your Budget
This is one of the most important things to keep in mind when considering this kind of product. That's because, when you pay more you get more functionalities and vice versa. So if you want more functionality, the price tag also becomes bigger, and after a point, it's just going to cost you a fortune to get one of these.
The best way to go about it is to fix your budget and get a communication system within that constraint. And get the best available products within that price range, you should go through numerous reviews before speaking one.
Now with all these points in mind, let's take a look at the top intercom systems available in the market.
FODSPORTS is an excellent brand specializing in motorcycle helmet intercom. Its quality and service are unparalleled. The following three models are the best motorcycle intercoms recommended as holiday gifts for motorcycle lovers.
M1s Pro is a classic style in FODSPORTS, suitable for most motorcycle enthusiasts;
M1S PLUS is more comprehensive in terms of functions, with music sharing and mute functions, and its unique functional design has won the favor of many motorcycle enthusiasts;
If you are an experienced motorcyclist who likes to travel in groups and have high requirements for long-distance communication, it is recommended to buy FX8;
FX4 Pro is suitable for Three to four riders to travel in small groups.
Make the best choice according to your needs.
FODSPORTS Teams wish you a Merry Christmas!
Rodney L is a technical writer and product consultant with over a decade of experience in the motor industry. Rodney is a fan of performance machines that run fast and loud and an expert in all things custom. His numerous articles and write-ups are available at our knowledge base. Whether it's something wrong with your motorcycle or you are building a custom bike, you can trust Rodney's experience.