Do you make phone calls on motorcycle? If you make use of a smartphone while riding, or perhaps if you pull over to answer the phone, you might still be unsuspectingly breaking the regulation.
Many of us have become so accustomed to carrying our cell phones with us that it practically appears impossible to imagine circumstances where we are out of contact.
Even when traveling, we expect to be able to connect with close friends, family, and also work colleagues.
Although the legislation on making use of phones while driving has changed the ways in which we can connect when traveling, motorbike owners deal with a different collection of challenges.
It never was specifically simple to use a mobile phone while on a motorcycle. Especially for beginners, helmets are really obstructive.
Is It Legal To Use A Smartphone While Riding?
In lots of countries, there is still complication over the laws relating to smartphone usage while motorbike riding.
Yet legislations are not the problem right here. Using a smartphone while riding is an extremely silly idea.
As a motorcyclist, using a mobile phone while riding your motorcycle is not just a "bad" concept, it is the worst idea. Especially, when you are essentially holding a mobile phone.
Many states have clear laws that restrict drivers on 4 wheels from texting while driving, but the concern gets a little murky when it concerns motorcycles.
As a basic general rule, you need to never ever literally hold your phone while riding.
The Way To Make Phone Calls On Motorcycle
When you are riding, the use of cell phones is inevitable. If you require to utilize your phone for any factor on a motorcycle, you have 2 options:
Stop and use your phone
Use a motorcycle Bluetooth communication tool.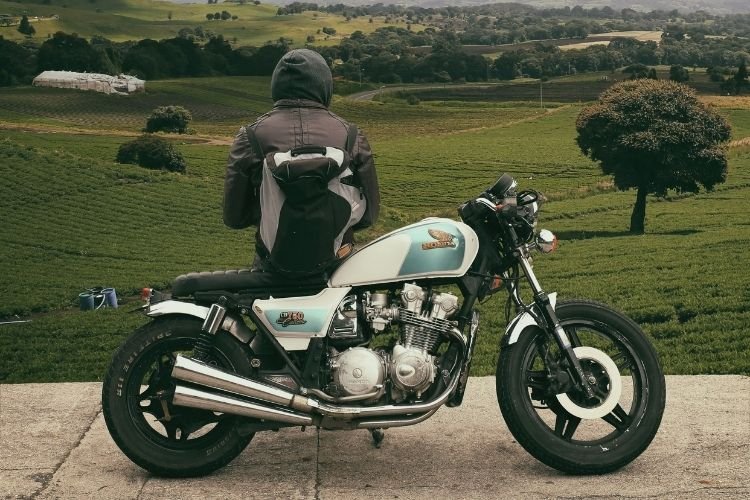 1. Stop And Use Your Phone
As motorcycle beginners, stopping and using the phone is one thing they often do. If you are a motorcyclist who enjoys nature, you probably do too.
While riding a motorcycle, we can often fail to notice important text messages. If your ride is leisurely and you take photos while you ride, then stopping would be a good option for you.
Another scenario is that you don't have a Bluetooth communication tool or need to do something much more involved on your phone, and you want to answer a telephone call due to the fact that you can feel it shaking in your pocket, you should pull over your motorcycle.
Then you will slow down and stop on the far left side of the roadway. Leave plenty of area in between your motorcycle, the road, and the closest stoplight.
As soon as you turn off the engine, eliminate your key and take off your safety helmet so you can utilize your phone.
This can be a fairly complex process, especially if someone only sends you a message that can be ignored, such as "Okay".
2. Using Bluetooth On Motorcycle
We're all utilized to utilizing our phones pretty much 24/7 nowadays.
There's no informing when you might need to dial a telephone call or look for directions on your GPS. The solution to this problem is for you to have a Bluetooth communication tool that is easy for you to use on the ride.
The prerequisite is that you have a helmet that supports the installation of Bluetooth communication tools. Most safety helmets come with a port designed for Bluetooth communication. For example, a port designed for motorcycle Bluetooth intercom.
The Bluetooth intercom contains a host body, microphone, and headphones that you can use to communicate with others while riding by attaching the entire set to your helmet. And it is also really important to choose a good Bluetooth intercom for motorcycle helmets.
The Bluetooth intercom allows you to connect your phone wirelessly. You can after that utilize voice activation to dial a call or inspect the path without taking your hands off the handlebars.
There is no doubt that a Bluetooth intercom is the best way to make phone calls on the motorcycle. It frees your hands, reduces many tedious steps, and makes your trip safer. If the Bluetooth intercom supports group conversation, you can connect multiple devices for multiplayer online calls. This is what motorcycle teams always do.
If your safety helmet does not include this choice, consider discovering a helmet that does. And the intercom must fit effortlessly into your helmet without obstructing your field of vision.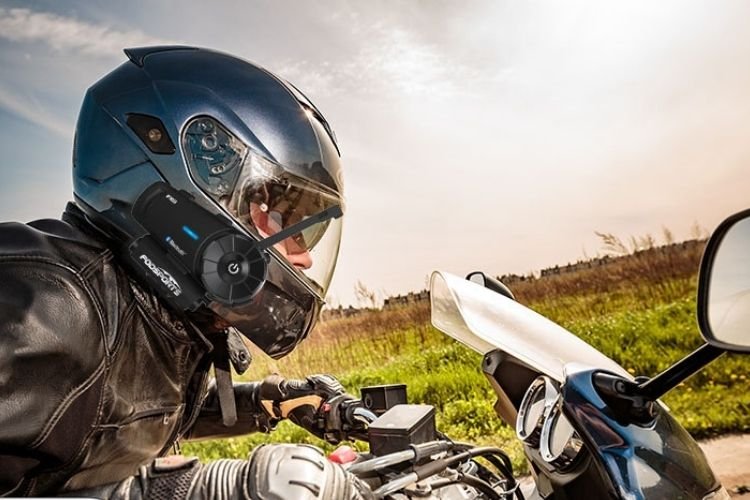 Benefits Of Using Bluetooth Intercom
Bluetooth helmets and intercoms are coming to be increasingly popular, opening an entire brand-new globe of possibilities.
The keynote is that an intercom can be fitted within an existing helmet. That intercom will consist of some headphones that permit you to hear what others are saying.
Here are the benefits of using a Bluetooth intercom:
Make phones on motorcycle without stopping. Affixed to the front of the intercom is a microphone. This allows you to talk to other road individuals and people all over the world when used in conjunction with a smartphone. This idea is easy and reliable. You don't need to pull over or fret about crashing your motorcycle when you want to use your phone. Bluetooth is right here to make your life less complicated behind the wheel. Link your phone to a wireless headset to take advantage of your time when traveling.
Make navigation easier. Bluetooth intercom can also connect to GPS devices to make your navigation operation easier.
Avoid unnecessary collisions. Having a Bluetooth interaction system has to do with greater than just making a phone call to friends and family. You can use this Bluetooth intercom to avoid unnecessary collisions. You might have trouble obtaining your phone out of your pocket in an emergency.
Emergency calls without using your hands. This will give you and your family and friends peace of mind.
Multi-device connection intercom. Bluetooth intercoms are supported to connect with each other for direct intercom, which is especially suitable for couples riding and group riding.
Although the audio quality can be rather variable at the present time, the technology remains boosted and expenses are set to drop still further.
If you think Bluetooth intercom is expensive, Fodsports will be a good choice for you, It is very important to choose a cost-effective intercom. Fodsports intercom supports up to eight people intercom at the same time.
If you have a helmet that is not suitable for use with an intercom, there are likewise a number of specialist Bluetooth motorcycle helmets on the market.
Caution: Safety First When Riding
Examine your new configuration before you travel to use it. Practice responding to telephone calls as well as utilizing the GPS while riding in a parking lot or household road.
Bluetooth Intercom makes it risk-free to use your phone on a motorcycle; however, that does not suggest you ought to invest even more time considering your phone than on the roadway.
You can still get into a crash if you're distracted. Distracted Driving is a leading cause of motorbike mishaps.
This technology is designed to aid you to use your phone safely without placing others in danger. It depends on you to utilize it properly.
Maintain your conversations brief as well as remain focused on what's happening around you.
The use of Bluetooth gadgets implies that riders can currently connect with fellow enthusiasts and those situated somewhere else.
But safety first, go to the premise of ensuring your own safety to use Bluetooth communication tools.
Rodney L is a technical writer and product consultant with over a decade of experience in the motor industry. Rodney is a fan of performance machines that run fast and loud and an expert in all things custom. His numerous articles and write-ups are available at our knowledge base. Whether it's something wrong with your motorcycle or you are building a custom bike, you can trust Rodney's experience.