First of all, do you know what you need?
Secondly, are you really good at choosing an intercom?
Finally, do you have Decidophobia?
FODSPORTs has so many products, which one is best for you?
To help you make the right direction, I will compare and analyze the BT S2, BT S3 and V6 Plus, and find out the product that best suits your needs among the two-person intercom.
| Product | Numbers Of Riders | Range | Talktime | Cost |
| --- | --- | --- | --- | --- |
| | 2 riders | 1000 meter | 10 Hours | |
| BT-S3 | 2 riders | 1000 meter | 10 Hours | |
| V6 Plus | 6 riders | 1200 meter | 18 Hours | |
Design
BT S2 is designed with a power button and a big phone button, you can make a one-touch call while riding, which is very convenient and safe. The volume buttons are on the side. It is recommended that you adjust the volume before setting off.
BT S3 designs all the buttons on the same plane. The size of the four buttons is almost the same. They can be adjusted arbitrarily during your riding, provided that you have to remember the position of each button. I believe this will not be a problem after a long time.
V6 Plus has more buttons, but the functions are also increased, It has an LCD screen that allows you to see a variety of information more directly.
This intercom system with an LCD screen helps you easily to know the charging/pairing/paired status. It looks smarter, right?
Number of connections
BT S2 for 2-3 riders. 3 riders pairing and 2 riders intercom at the same time.
BT S3 Motorcycle headsets for 2-3 riders. it supports 3 riders connect and 2 riders full-duplex intercom at the same time.
Compared with the old BT S3/S2 speakers, it has an upgraded vibrating membrane and voice coil cable, so it has better sound quality and super loud volume.
Upgraded speakers can effectively reduce current noise, It can also give you a better listening experience.
The 40mm speaker increases the volume, so you don't have to worry about engine noise or external noise causing you not to hear intercom or music.
V6 Plus (now upgarde to V6S) can be paring 6 riders, Rider A can connect with the other 5 Riders,
then Rider A can choose one of five to talk,
If other members( Rider B- Rider F) want to talk with Rider A,
he just needs to press relevant button A (intercom button),
Rider A will hear "Dudu" and screen will show intercom, then Rider A just needs to double.
Maybe it sounds troublesome, but when you operate it, you will find that it is actually very easy
This design is due to the fact that some riders do not want to conduct group intercoms in order to protect their privacy.
The rider can only choose to talk to the captain, and the other riders cannot talk to each other.
Of course, the captain can also call any other rider and talk after passing the permit.
For example, A is the captain, one of the riders (B or C or D or E) can talk to A, but (B, C, D, E) can't talk to each other.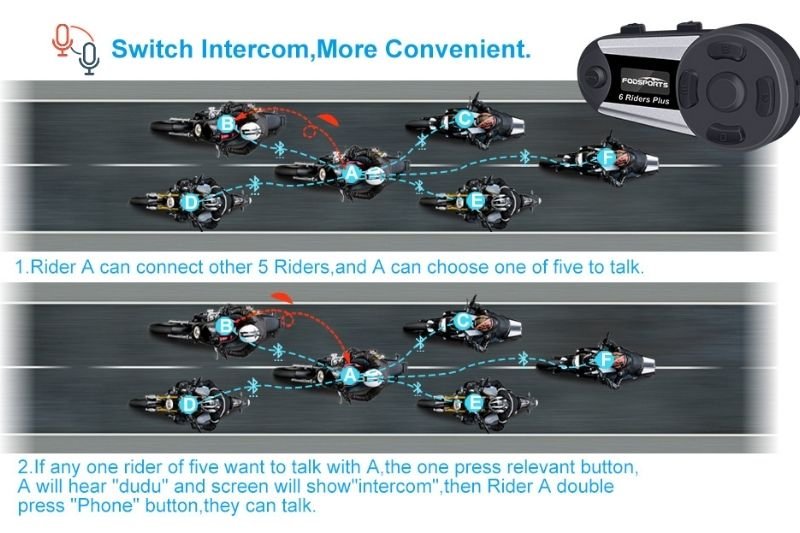 Attention! The design concept of the V6 Plus is suitable for the captain-centered motorcycle riding team,
it can connect 6 people at the same time, but only two people can talk.
If you want to have a private conversation while riding with your team,
then V6 Plus will definitely be your best choice
If you only need to buy an intercom for 2 riders,
then BT-S2 and BT-S3 are both within your consideration(2 people please buy 2)
Corresponding Helmet
The intercom you choose always needs to be installed on your helmet,
so let us distinguish which model of intercom is more suitable for your helmet.
BT S2 and BT S3 distinguish between hard and soft microphones.
You can choose the hard mic for open face helmet, and a soft mic for a full-face helmet.
No matter what helmet you are in, you can choose V6 Plus,
because every V6 Plus includes a hard microphone and a soft microphone.
For BT S2 and BT S3, just pay attention to choosing the microphone that suits your helmet.
They can also be chosen at will.
Standby Time
The battery performance of BT S2, BT S3 and V6 Plus is very powerful.
They can all stand by for 300 hours, which is 12 days.
You can not charge for up to 12 days, which saves not only your electricity but also your energy.
The durability of the battery is one of the biggest features of FODSPORTS products.
It's really a bargain to get a super durable headset for such a low price.
Price & Warranty
The price of the BT S2 Intercom Headset hardly exceeds $50. Incredible! FODSPORTS allows you to get a durable intercom for less than $50.
The price of BT S3 and V6 Plus did not exceed $100.
These are excellent entry-level helmet intercom systems.
FODSPORTS provides a one-year warranty, which is not long, but the product is very cost-effective, and the after-sales service is very good.
If you are still on the sidelines for the helmet Intercom, then FOSDSPORTS must be worth your while.
---
FODSPORTS 2 Riders Intercom:
BT S2, BT S3, V6 Plus Reviewed
1. BT S2
up to 800-1000 meters Distance
Best 2 riders intercom
Hands-Free Operation & FM Radio
Advanced Noise Control Technology
Tiny but Powerful, Excellent Design,
Long Standby Battery & 100% After-Sale
The Fodsports BT S2 is a Bluetooth Headset designed for the motorcycle rider and passenger who wish to have clear and reliable wireless communications while riding.
This headset is compatible with Bluetooth cellular phones and can be suited to any sort of helmet for motorcyclists.
BT S2 Motorcycle helmet communication supports wireless Bluetooth music streaming and hands-free operation so you can easily enjoy the music or answer / reject the call.
It is also equipped with an integrated FM radio and allows for more beautiful trips and rides.
The audio cable connects MP3,GPS,Walkie-talkie and so on. Enjoy the cell phone music through A2DP.
Call out, Call answer, Call reject, Call hang up. Support the last number redialing.
BT S2 has advanced noise control technology,
motorcycle Bluetooth headset with DSP echo cancellation and noise suppression technology,
crystal clear voice quality is guaranteed at a high speed.
You will not miss any communication.
Bluetooth version 3.0, which can be connected to a smartphone and GPS that has Bluetooth.
BT-S2 has an AUX jack, it can be used in conjunction with a mobile phone or MP3.
Even if the communication device runs out of batteries, music and GPS can be broadcast without any influence.
The button panel is water-proof and sun-proof, while the design is durable.
You can use the Siri or Google voice commands.
---
2. BT S3
DSP echo Noise cancellation Control Technology
800-1000 meters High-Performance Intercom for 2 Riders
Voice command to Siri Easy Hands-free Communications
listen to FM radio or use GPS Powerful and Convenient Functions
500mAh Super Usage Time
The Bt S3 motorcycle helmet Bluetooth headset has a top speed of 50mph-70mph and a distance of 800-1000m,
without obstacles.
We use upgraded tech for the motorcycle Bluetooth headsets to achieve a full-duplex Bluetooth intercom.
When you are on the road, you can implement Bluetooth headsets with GPS FM music phone function to increase the entertainment of the journey.
The pairing of the motorcycle helmet communication systems with the other two riders is very simple.
Once Bt S3 has been connected to your phone, motorcycle Bluetooth helmet headset you can select various modes.
Switch from the helmet intercom, phone, and stereo music.
You can pick calls in between helmet intercom without distractions.
BT S3's built-in high-quality anti-interference microphone makes you can hear clear and loud when you communicate with other riders.
The super-slim stereo motorcycle headset and microphones allow you to communicate easily
whether for full-faced or half-faced helmets.
The waterproof helmet Bluetooth headset can avoid damaging small accessories and dripping sweat.
motorcycle helmet communication system headset Can be used in all-weather weather,
Operating temperature: -10 ̊C-55 ̊C (14°F-131°F). your outdoor riding helmet microphone is more exciting.
---
3.V6 Plus
6 Riders Connected & 2 People Toggle Intercom
Hands-Free Operation & LCD Screen
FM Storage Function & Memory connects with the cell phone
CSR chip Noise Reduction & Waterproof
850 mAh Battery & Two Options For Microphone
V6 Plus supports wireless Bluetooth music streaming and hands-free operation so you can easily enjoy the music or answer / reject the call.
This intercom system with an LCD screen helps you easily to know the charging/pairing / paired status.
It preset and store up to 6 FM radio stations.
In FM Radio mode, when a favorite station is found, you could store the FM radio station.
Once V6 Plus pairing with a cell phone, when turning the power on again,
the headset will re-connect with the mobile automatically.
Or in case of disconnect during standby mode, short press Phone button will connect again.
The motorcycle intercom with 850 mAh rechargeable battery, Standby Up to 300 hours.
It is working up to 18 hours.
V6 Plus has a hard mic and soft mic, Suitable for all kinds of helmets.
You can choose the hard mic for open face helmet, and a soft mic for a full-face helmet.
V6 plus featuring Advanced CSR Chip technology to block ambient noise cuts down on background noise for both incoming and outgoing audio.
Allows you to get a clear and smooth music experience and calls during riding
Music calls intercom conversation can switch seamlessly,
ensure a safe, comfortable riding experience.
Since the microphone of the motorcycle Bluetooth headset V6 Plus has a CSR chip,
ambient noise such as wind noise and engine noise are not annoying.
The voice quality is not affected even at high speeds.
It is waterproof, can be used in any weather conditions.
---
High-Performance Intercom for Riders
In general, if you pay much attention to the product's sound quality system,
then BT-S3 must be the best, and I will definitely recommend you to choose BT-S3.
BT-S3 is targeted at customers with limited budgets or junior players who are new to motorcycle intercoms,
it has high-cost performance and must be a good choice among intercoms in the value range of 40-60 dollars,
allowing you to spend a small budget to get enough functions and performance,
FODSPORTS BT-S3 is the upgraded version of BT-S2, with better sound quality and more functions.
It has been tested by the market and sold 120,000 units in four years,
and has performed well in the global market,
especially in Europe and the United States.
---
FAQs
Can it be paired with GPS?
Yes, Fodsports intercom have Universal Pairing
Built-in smart chip ensures high compatibility that can be compatible with GPS, Music Player and most of the Bluetooth headsets or earpieces in the market.
Can it be paired with another brand?
No, BT S2 cannot pair with other brands' different Bluetooth intercom.
What is the difference between BT-S2 VS BT-S3?
FODSPORTS BT-S3 is the upgraded version of BT-S2, with better sound quality and more functions.
Check Compare detail here: bt-s2 vs bt-s3
Can two connected V6 units listen to the same cellphone's music? And, can they talk over the intercom while the music is playing?
Sorry, you can't listen to the same music, can only listen to your own music separately. And music and intercom functions cannot be performed at the same time. Need to switch. If you need to do it at the same time, you can buy Fodsports M1S Plus.M1S Plus has the function of sharing music.
Other Products
If you want to know more about FODSPORT products, here are the Top 5 Fodsports Best Snowmobile Bluetooth Intercoms.
And also tell you How To Choose The Best Motorcycle Intercom For You.
Here is a more detailed article about Fodsports Group Intercoms Comparison: What Are The Key Differences?
Final Words
I hope this guide has helped you to understand which intercom is the one you need most.
This could present a challenge for people that are looking for a Bluetooth headset to use with their helmet while riding.
But, if you have gone through all the details of our buyer's guide, then I believe,
from now on you will no longer find it difficult.
Nevertheless, if you still have any questions in your mind or would like to share something with us,
then please don't forget to share in the comment section below.
Rodney L is a technical writer and product consultant with over a decade of experience in the motor industry. Rodney is a fan of performance machines that run fast and loud and an expert in all things custom. His numerous articles and write-ups are available at our knowledge base. Whether it's something wrong with your motorcycle or you are building a custom bike, you can trust Rodney's experience.