As the main product of Fodsports company, the Fodsports FX4 Pro is equipped with Bluetooth 4.1 version, supports 4 riders group communication and intercom range is up to 1200m.
Why should you own an FX4 Pro? Check This Fodsports FX4 Pro Reviews
With FX4 Pro headsets, you can ensure hands-free security and convenience,
listen to music, retrieve GPS routes, and receive voice commands via Bluetooth,
let you enjoy the fun of team riding.
Fodsports FX4 Pro Reviews – 4 Riders Helmet Intercom
FODSPORTS FX4 Pro Outdoor Motorcycle Bluetooth Intercom ,
Easy to use and install Off-road Motorcycle Bluetooth Headset,
Up to 4 Riders Group Intercom
Our fx4 Pro is very suitable up to 4 riders group intercom. It has superior stability and is not easily interrupted during the intercom. And it can be used in different outdoor environments. It is a great outdoor helmet Bluetooth headset.
If you are an outdoor enthusiast, then this FX4 Pro helmet headset bluetooth intercom is designed for you.

If you like to ride in the desert, The FX4 Pro bluetooth helmet intercom can handle the hot weather and dry climate.

If you are a ski enthusiast, our FX4 Pro bluetooth intercom is also an excellent ski bluetooth intercom, which can be used at -15°F .

If you often ride on rugged mountain roads, don't be afraid! Our FX4 bluetooth headset is very sturdy and not easy to break

If you experience rain when you go out for a ride, don't worry about our FX4 bluetooth headset intercom is waterproof.
Design & Installation

Water Resistant or Waterproof?
Waterpooof Design:
The shell of The FX4 Pro bluetooth helmet intercom uses an integral casting process, this manufacturing process reduces the gap between the joints, so that has a good waterproof function.
It can cope with various outdoor weather, even at a temperature of -15°F
Mic Options
Designed for different helmets
The FX4 Pro bluetooth intercom has two interchangeable mic, boom mic for open face or half helmet, soft wired mic for full face helmet or modular motorcycle helmet.
No matter what type of helmet you are wearing, our fx4 Pro can be easily installed.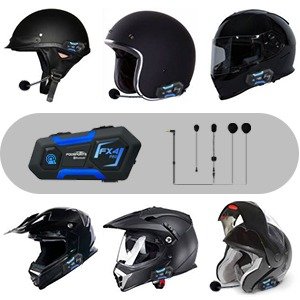 It is simple with a few buttons, the most important thing is very easy to use with gloves.
The configuration is simple, it takes you little time to turn it on and know how to use it, nothing with so many buttons and combination
Synchronizes easily with other devices and with my smartphone.
It is the best option when you have companions, I installed it in my two helments. The sound is good, it has noise cancellation, it is practical and it is waterproof, it looks very good I like it.
The best thing is that you can communicate in groups
The price is quite affordable, there is no need to spend so much money when you can have this.
Bring everything you need to install it. It is one of the best options, I recommend it.
Bluetooth Pairing for Fodsports FX4 Pro:

Universal Pairing:
It can be paired with other motorcycle intercom such as FX8, M1s Pro, FX6, M1s Plus, etc.
Sound Quality
Motorcycle Bluetooth Intercom, Fodsports FX4 Pro 1000m 4 Riders Group Talk Motorbike Helmet Communication System Headset Universal Wireless Interphone
What is Highly intelligent Bluetooth chip?
Bluetooth communication technology and intelligent noise reduction technology are integrated on one chip. Through this chip to achieve all the functions,
CVC noise reduction technology is the most advanced noise reduction technology in Bluetooth Intercom.Through the built-in noise cancellation software and microphone of the headset, various types of reverberation noise can be suppressed.
When we are riding, If a phone enters or communicate with other riders,
If your voice isn't processed by the noise reduction, the voice heard by the other riders is the sharp wind noise.
So the noise reduction technology is very important for bluetooth intercom. With the intelligent Bluetooth chip:
The sound quality is very good.
Make sure the microphone is close to your mouth or the voice will cut out.
I like the features and I didn't spend a fortune. The battery life has been great so far. Music sounds great too!
Bluetooth 4.0 chip makes pairing faster and provides more stable transmission signal.
Connection Range

Supports 4 riders group communication and intercom range is up to 1000m

Intelligent power query and Low battery reminder

Integrated intelligent voice system, which can be well combined with IOS and Android voice systems

Can transmit clear sound to your rider, allowing you to hear your rider's voice clearly.

CVC noise reduction technology allws you to hear clearly even at speeds above 120KPH(75MPH).

Equipped with 40mm smart noise reduction earplugs, you can enjoy your music and the FM.
Battery Life
Long Battery Life: The battery capacity of the FX4 Pro motorcycle helmet intercom system is 850mah,
which can support up to 20 hours of phone time, up to 12 hours of intercom time, and up to 300 hours of standby time ,
So you don't have to worry about lack of battery during the whole journey. You can share your fun with your friends.

FX4 Pro bluetooth intercom Suitable for any type of helmet Bluetooth intercom, Fodsports FX4 Pro Universal Pairing bluetooth headset Communication System
The battery life is amazing. I use it daily and charge it maybe every 2 weeks. Its easy to use with glove on and doesn't stand out like a sore thumb either.
Conclusion and Rating
Fodsports FX4 Pro Reviews From the customers:
#1 in customer service and quality for the price
Grate for dirt bikes i can talk with my son and coach him as we ride instead of after. Durable my son is 8 and takes many falls. Long range atleast 1/2 a mile and long battery life tested 4 hours of talking so far. And # 1 unbelievable customer service even though emails #1 for 2020 and 2021
WORKS WITH UP TO 4 RIDERS
10.0/10
Pros
1000m maximum communication distance
Supports up to 4 riders.
Impressive noise reduction ability.
Crystal-clear audio quality
Dustproof and waterproof design.
Cons
No negatives and lots of positives
With over 10 years of experience working on cars and trucks Item Training Supervisor Richard Reina is known around the office as one of our technical experts & real an "automobile person".
His rate of interest began, in his very own words, "at the age of two when his father educated him the distinction in between a Chevy and a Ford. Since then it's been cars regularly."
As a serious lover of practically all things with a motor Richard can address nearly any kind of inquiry related to car upkeep, fixing, or restoration & is a fact professional in electric motor background.