You will definitely want to learn about the really powerful and cheap Bluetooth intercom for motorcycle helmets. For the sake of our life safety. We should also choose expensive helmets. But why do we have to choose expensive intercoms? Of course it is for excellent sound quality, for stable connection performance, and for clear calls! I can tell you that Fodsports can do it.
Fodsports motorcycle intercom has always been the best budget. Among all Fodsports motorcycle helmet intercoms, the strongest intercom signal is FX8. So what is FX8 Air doing here?
FX8 VS FX8 Air is group intercom VS two-Ways intercom
If you already know about FX8, then you will definitely be interested in FX8 Air. Continue to browse, follow me to understand the data and functions of FX8 Air and the difference between it and FX8.
IMAGE

PRODUCT

Bluetooth

INTERCOM

RANGE

CHARGING
PORT

POWER
PROMPT

TALK TIME

PRICE




Bluetooth 5.0

8 Riders

1.24 mile

MICRO

support

20 Hours




Bluetooth 5.0

2 Riders

0.62 mile

TYPE-C

support

12 Hours
Fodsports FX8 Bluetooth Communication System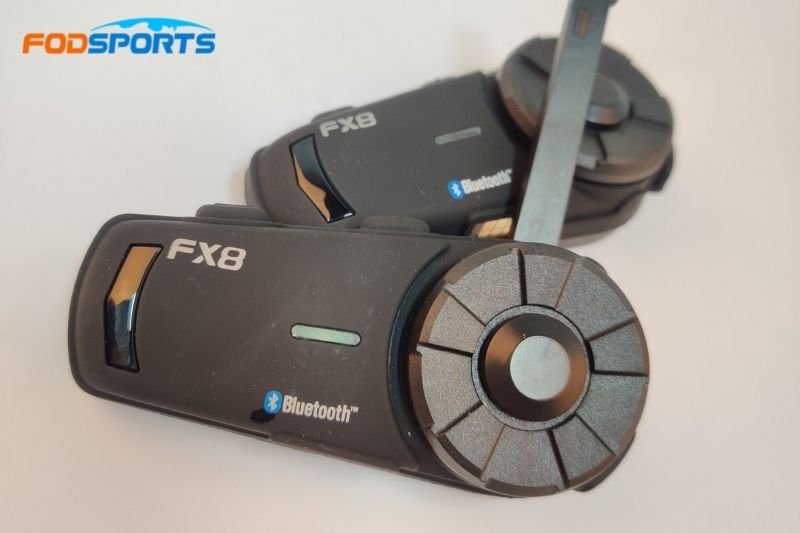 I will first briefly describe the various performance and features of FX8,
which may be a bit boring, but it can help you really understand it.
Old friends who know FX8 may have noticed that the Bluetooth of FX8 has been upgraded.
Yes, yes, before FX8 is a Bluetooth version of 4.1. It has now been upgraded to Bluetooth 5.0 version.
The connection performance is more stable,
and it solves many problems that could not connect to other brands before.
The price of FX8 not only did not increase but decreased.
Fodsports FX8 can also work at low temperatures of -22°-122°F.
So if you love winter cycling, you can do it.
I often go skiing in winter and bring my motorcycle helmet Bluetooth intercom.
A sense of security! you can also.
The Fx8 Bluetooth intercom with a one-of-a-kind antenna layout can not just raise the toughness and transmission rate of the signal by 30%.
The extended signal transmitter does not affect you wearing it, and it looks cool.
Compared to other headgear Bluetooth intercom,
it can obtain signals well also when driving on hill roadways with numerous obstacles,
and also keep the signal uninterrupted,
so you can interact with your passengers constantly and share the traffic information.
I want to say something about the intercom distance.
The Fodsports FX8 Bluetooth Intercom system Supports Up to 8 riders group intercom at the same time within 1.24 miles.
And the maximum effective communication distance between two riders is about 0.31 miles.
I have a little suggestion,
the best pairing effect I have tested is when less than 6 people are connected.
About FX8
External antenna enhances the signal
Support 8 Riders Group Talk
Bluetooth Version 5.0
Talk for 20 hours
Built-in radio
Sound reduction function and stereo audio
MICRO charging port
Support switch automatic/manual answering calls
Waterproof and dustproof
Fodsports FX8 Air Bluetooth Communication System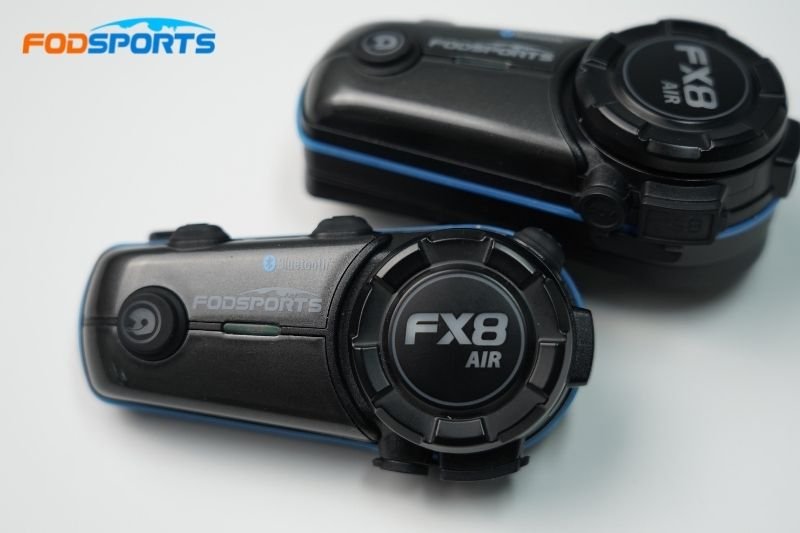 FX8 Air is a Bluetooth intercom specially designed for a 2-Way intercom.
The Bluetooth version is upgraded to 5.0. It uses a CSR chip, A2DP EDR Bluetooth technology.
Have you ever wanted to change sound impacts when listening?
Based on comments from many motorcycle enthusiasts,
I think that you might have such a demand, and Fodsports engineers,
invested a year and efficiently launched this feature in 2021!
Enabling you to change the sound in different circumstances.
FX8 AIR motorcycle headset is equipped with three audio results,
such as "HiFi Bass", "Popular Golden Standard", and "Pure Human Being Voice". Awesome!
In addition, the FX8 AIR safety helmet headset has a power discovery function and a low battery reminder function. When the battery power is lower than 10%,
the red light key flashes and also you listen to a tone.
So as not to find that it is out of power when you are going out.
This is a headset designed for Lone Wolf.
FX8 Air sounds like an upgraded version of FX8, right?
In fact, FX8 Air cannot be said to be an upgraded version of FX8.
FX8 is still a front-line product in Fodsports.
It's actually an upgraded product with a 2-way intercom.
As a two-person intercom, FX8 Air has enhanced signal reception capabilities.
And upgraded the sound quality.
About FX8 Air
External antenna enhances the signal
2-Ways intercom
Multiple Sound Effects
Three levels of power reminder function
Bluetooth Version 5.0
Talk for 12 hours
TYPE-C charging port
0.31 miles
Fodsports FX8 VS FX8 Air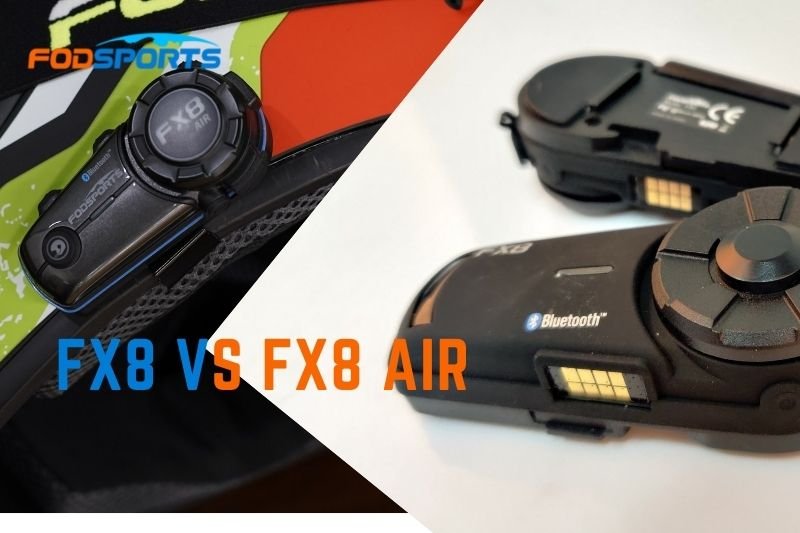 The difference between FX8 and FX8 Air is not superficial, and maybe the difference in the data is not big. But it still needs in-depth analysis to understand.
Design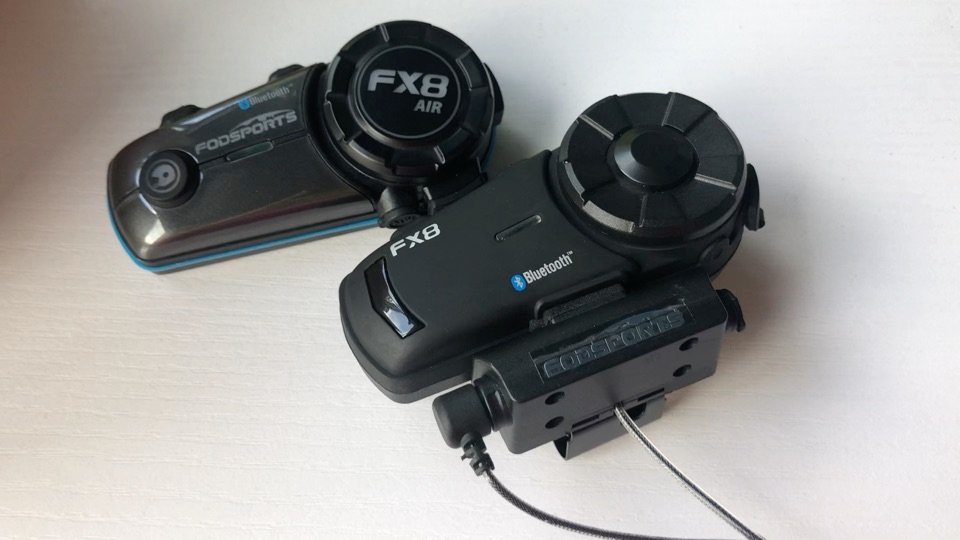 Although FX8 has been on the market for a long time, the exterior design is still advanced and fashionable. Good products are always like this, they are last forever
Its surface is made of frosted material, and the large rotary button is made of ABS material and frosted. I really like the matte surface, which makes it look advanced and textured.
The audio interface of FX8 is a metal contact, which is connected to the audio cable with a base.
The surface of FX8 Air is glossy ABS material, which looks cleaner.
There are no metal contacts and no base under the FX8 Air. It is lighter than FX8.
Its audio interface is Type-c. This is also an upgrade. Charging and audio are the same interfaces. One less data cable is more convenient.
Both FX8 and FX8Air are designed with large rotary buttons. Feel smooth! I think this feeling can relieve pressure.
And they all have extended antennas, you can open the antennas when you use them. This will make the signal stronger.
Intercom
The obvious point is that FX8 is a group intercom, and FX8 Air is a 2-Ways intercom.
This is the best point to distinguish between them, and it directly determines which model you should choose.
FX8 can support up to 8 people to connect. And everyone can talk at the same time. When the number of people connected is less than 7 people, the experience is the best.
But FX8 Air only supports 2 people to connect. If you only ride and chat with another companion for a long time, just choose FX8, that's enough.
Functions
What functions does FX8 Air add compared to FX8?
Yes, that is EQ Sound Effects.
If you have been longing for a Bluetooth headset with various audio impacts like other sports fanatics, our most recent FX8 AIR is your perfect choice!
Our latest FX8 AIR safety helmet headset has three sound effects.
Bass enhancement, you can really feel the shock as well as vigor of low frequency.
Popular Golden Classic: Midrange increase
The midrange is enhanced, as you are at a show, you can submerge yourself in the limitless rhythm brought by modern technology.
Pure Human Voice: Treble increase
A high-pitched tone will certainly allow you to say goodbye to the monotony and really feel the layering and also penetration of the clear vocal.
The switching of the 3 audio impacts allows you to experience the terrific makeover of the 3 scenes in a motorcycle flight, which will certainly bring much more enjoyable to your trip!
How does FX8 VS FX8 Air work?
Switch between automatic/manual answering calls
When you find it very troublesome, you can choose to set the intercom to automatically answer calls. If you think that automatically answering the call will disturb you, you may receive a harassing call. You can choose to turn off the automatic answering function.
This function is very user-friendly. Because many people told me that he was troubled by this automatic answering function. Always let him receive calls that he doesn't want to answer.
Long press the "V+" button of FX8 for 3 seconds to switch between automatic call answering or manual call answering.
As for FX8 Air, press and hold the "V+", "V-" and intercom keys at the same time for 3 seconds.
Voice Assistant
Both FX8 and FX8 Air support wake-up voice assistants. Whether you are an Android phone or an Apple phone or a Samsung phone.
As long as your phone is connected to the network, you can use the intercom to wake up your Siri or other assistants normally.
FX8 Air, click the "M" key to wake up the voice assistant. FX8, double-click the "V-" button to wake up the voice assistant.
In fact, you only need to regard FX8 and FX8 Air as Bluetooth headsets at this time.
Battery Reminder
Because there is no display, we are often not sure how much power is left in the intercom.
Then Fodsports added this low battery reminder function. You will hear a tone 'please charge' when the power is less than 20%.
And you can also manually check the battery level, and click "V+" "V-" at the same time. There are 3 battery status reminders set in the program, which are 100%, 50%, and 20%, FX8 and FX8 Air are the same.
Clear Pairing History
When you lend your FX8 or FX8 Air to your friends. Or you need to change the device. You will need this function to clear the previous pairing records.
Otherwise, it will automatically connect to the previously connected device.
The operation method of FX8 to clear the pairing record is to press and hold the "Intercom" button and the "Previous" button for 5 seconds at the same time
For FX8 Air, press and hold the "Intercom" button and the "V-" button for 5 seconds at the same time.
That's all!
There are many other basic functions of helmet Bluetooth intercoms that I did not mention here because I detailed their basic performance in FX8 Review and FX8 Air Review.
How should I choose?
One thing is certain, FX8 supports multi-person intercom. And FX8 also supports pairing with brands other than Fodsports.
I tested the Cardo with FX8 and Sena with FX8. It can be done.
So if you need it, FX8 allows you to make friends.
FX8 Air only supports 2 people and does not support pairing with other brands. It is enough for your daily commute. Or couples who often ride together can also choose to use FX8 Air.
Finally, you can look at the price.
Look, Is this not enough for you to make a choice?
Rodney L is a technical writer and product consultant with over a decade of experience in the motor industry. Rodney is a fan of performance machines that run fast and loud and an expert in all things custom. His numerous articles and write-ups are available at our knowledge base. Whether it's something wrong with your motorcycle or you are building a custom bike, you can trust Rodney's experience.