Are you considering buying Fodsports FX8 Helmet Bluetooth Intercom?
If we told you that this product is going to deliver similar features to most Cardo and Sena helmet communicators at less than half the cost. You would probably be surprised at that.
Fodsports got into the competitive market of Bluetooth headsets for motorcycle helmets in 2013. They have some high-quality items in their portfolio that are known for their easily accessible rates as well as attributes. Does their FX8 Bluetooth Intercom follow this trend? Check out our Fodsports FX8 Bluetooth Helmet communication review to learn!
Overview
Here is a quick overview of the main features of the Fodsports FX8 Bluetooth communication system:
8 Riders Group Intercom & Universal Pairing
Noise Reduction Function & Hi-Fi Stereo Sound Quality
Hands-free & Multi-function keys
Powerful motorcycle intercom Gift for riders
900 mAh ultra-capacity lithium battery
FM /GPS and Communication & IPX5 Waterproof
Without further ado, let's start our review!
Design and install
It comes in a strong really nice box. After opening the box, we can see that this is a black Bluetooth intercom.
Soft/hard microphones, speakers, and other accessories required for installation.
FX8 has a volume wheel and large buttons,It's great, very easy to increase or decrease volume without having to look for specific buttons and while having your hands off the grip.
According to the user manual, the functions can be quickly distinguished.
Unique antenna design enhances the communication signal, make you and other riders can share the fun of communication all the way.
Setting up this Bluetooth communicator on your motorbike helmet is straightforward. The mounting system on the FX8 is such that the device makes electrical contact with the mounting plate when latched into place. There are some spring-loaded pin contacts on the plate and flat contacts on the device that when clicked into position make their connections. There is a spring-loaded release button that pulls back a latch for removal.
The FX8 Bluetooth intercom has two interchangeable mics, a boom mic for an open face or half helmet, soft wired mic for a full-face helmet.
Bluetooth Pairing
Because the Fodsports FX8 Bluetooth intercom is powered by Bluetooth 4.1 technology, it allows pairing with all Bluetooth-enabled tools. So, when you pair this motorbike Bluetooth headset with another device, you obtain access to functionalities such as:
listening to music
Calling your friends
GPS navigating
The pairing process with various other devices is rather simple. See to it that the FX8 unit is switched on. Then, long press Function button to enter pairing mode, red and blue lights flash quickly, voice message says pairing. Search for the "FODSPORTS FX8" device on your smartphone's Bluetooth settings, the pairing is complete. The voice message will also say Device Connected.
What about Bluetooth Pairing with intercoms? Some people may find the FX8 pairing method troublesome. It is essential to do this procedure in consecutive order(just watch the YouTube video, it explains it very well).
Also, the Fodsports FX8 is highly compatible with other Bluetooth headset brands.
Connection Range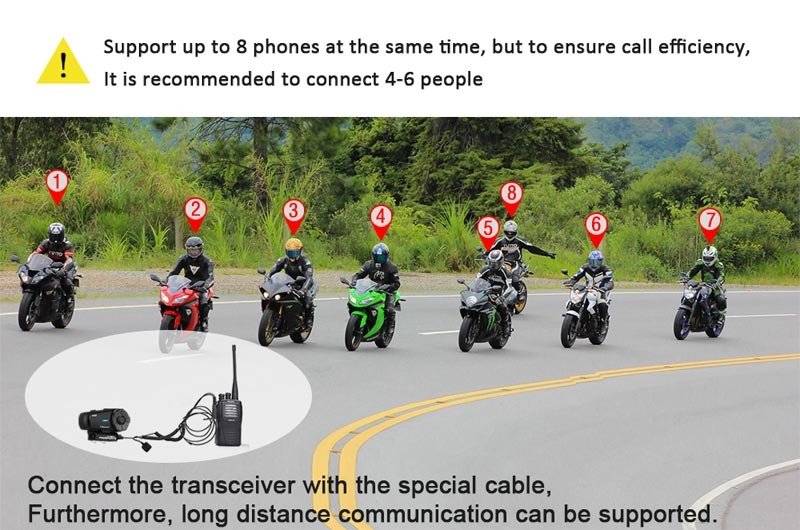 The intercom functionality of this Bluetooth intercom supports a group of 8 riders maximum. To ensure call efficiency, It is recommended to connect 4-6 people. When you get into the intercom room, the maximum range will be 1 kilometer. Of course, this maximum range works when there are no obstructions between the members of the group. An effective range between two motorcycles is around 500 meters (0,3 miles).
The fx8 Bluetooth intercom with a unique antenna design can not only increase the strength and transmission speed of the signal by 30% but also increase the aesthetics of the FX8 helmet Bluetooth intercom. Compared with other helmet Bluetooth intercom, because the fx8 has a stronger signal receiving capability, it can receive signals well even when driving on mountain roads with many obstacles, and keep the signal uninterrupted, so you can communicate with your riders all the time. You can share the traffic information you hear on FM with your friends.
Sound Quality
The FX8 Bluetooth Helmet Communication with the professional wind noise microphone can receive your voice clearly. The received sound is processed by an intelligent CVC Digital Noise Reduction chip that ensures High-Quality stereo sound. Comes with a 40MM high impedance and high fidelity speaker. Whether you are in a group intercom or listening to music or FM, you are able to hear very clear sound.
Of course, keep in mind that the speaker sound quality will falter when you are riding on a windy day. That will depend on the quality of your helmet and how it handles wind noise. I hear my friends talking loud and clear, the microphone will block some wind but this will also depend on how much air gets on your helmet, with my visor open, I found that up to 50mph I can listen and talk to someone else with no problem, more than 50 starts getting harder, but as I said, depends on which helmet you are using.
You must install the speakers right in front of your ears, the pre-cuts on the helmets are usually missing places behind or on top of your ears, so it won't sound good if you don't install the speakers correctly.
One more thing. Mic placement has to be right in front of your mouth for the clearest sound.
Voice Control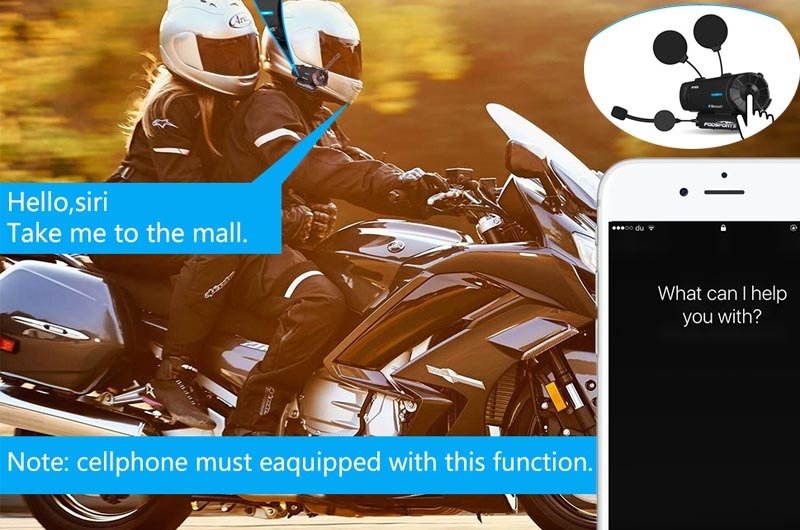 While it doesn't provide an integrated voice control functionality, the FX8 rider intercom system provides professional hands-free communications for you while riding with access to IOS and Android voice commands, you can use the FX8 to voice control your phone.
Answering and rejecting calls
Listening to music
Providing GPS commands
If you don't want to be disturbed by any phone calls while riding, set it to manual answering mode so that you can enjoy your ride without interference. The helmet headset also features a huge rotating buttons design, which makes it easy to operate while riding.
When you receive calls on this product, it will let you set up picks up the call automatically or manually by touching the button in the middle of the volume wheel, if you paired with your friend's headset, when you pick up the call it will mute your friend, so he won't be able to listen to you or conversation, but as soon as you hang up it will reconnect to your friend automatically.
Built-in FM Radio
The Fodsports FX8 Bluetooth intercom features a built-in FM radio that you can trigger with the "NEXT" button press. You can also search your favorite radio stations with the Previous/Next button.
Waterproof and Dustproof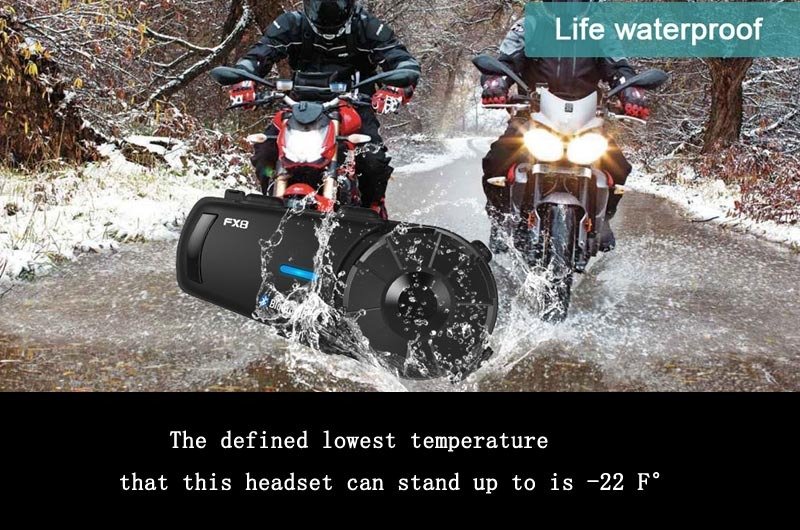 Fodsports FX8 adheres to the criteria established by many other Bluetooth headsets and also includes an IP65 waterproof ranking. It's also dust and ice-resistant. Thus, you can also utilize it for snowmobile trips, as promoted.
Note: The defined lowest temperature that this headset can stand up to is -22 F°. Unfortunately, we haven't examined the headset in these circumstances to offer you an objective outlook on that reality's validity.
This headset looks and feels expensive, rubberized finish and rubber caps to prevent water from getting inside in case you get some rain.
So, when it pertains to resistance and also sturdiness, the Fx8 is a force to be considered!
Battery Life
Well, the FX8 is additionally rather a winner when it concerns battery life. It sports a 900 mAh Li-Ion battery that can stand up to 20 hrs of use on a single fee. Likewise, the battery will certainly last for 300 hours.
Up to 20 hours phone time,

Up to 15 hours intercom time.

Only 3 hours charge time.

Up to 300 hours standby time.
If the battery gets below 10%, you will certainly get an audio caution that will suggest you charge the battery quickly. To charge the battery, just plug a USB wire in the proper port. You can charge this headset to the max battery in only 3 hrs!
FX8 has the power to detect function. When a device on, short press the Previous and Next button at the same time, a recorded voice message will tell you:
Power over 90%
Power over 50%
Power lower than 50%
Power lower than 10%
Keep in mind: You can utilize this headset as well as charge it concurrently. We suggest a top-quality portable charger for maximum results.
Throughout our screening, we were surprised to see that we can listen to music, continue telephone calls, as well as speak with riding partners in a session that lasted 10 hours. We really did not even obtain an audio caution for a reduced battery!
Price
With a cycling bundle of attributes, just how much will the Fodsports FX8 cost?
Remarkably, it is one of the most budget-friendly Bluetooth headsets that you can find on the marketplace right now. The price really cannot be beaten. Its price is almost half or less than that of Cardo or Sena device. These devices are certainly a lot more advanced in some elements yet do not necessarily validate their price.
Today, the rate for the single pack of FODSPORTS FX8 Bluetooth headset is $105,99.
The dual pack is $189.
On the buttons below, you can inspect the current costs for the FX8 Bluetooth Helmet intercom!
In Conclusion
Now that we go to the end of our Fodsports Bluetooth headset review, would we advise it?
This is an extremely budget-friendly and also durable Bluetooth headset that will fit the requirements of many motorbike bikers. It has the ability to connect to your smart device so that you can obtain an entire suite of features in a hands-free setting. Its battery life is absolutely nuts, and also the intercom capability works well when you're in a suitable range.
The largest defects with this headset are found in the speaker sound quality can falter when the wind noise comes in. Pertaining to user-friendliness, you will need to spend a little time to obtain used to various button combinations.
Still, when we take into consideration the budget-friendly cost of the FX8 headset in comparison to extra expensive headsets, we can say that it is a quite reliable Bluetooth headset.
Works with up to 8 riders
8.5/10
Noise-canceling speakers
9.0/10
Pros
Long Battery Life
Excellent Sound quality
Great range and Re-connect
Waterproof and Dustproof
Most affordable Bluetooth headsets
Cons
High winds and high speeds hurt sound quality
No built-in voice command function
Motorcycle mechanic, writer. Interested in motorcycle gear for years. Like to stay up to date with the newest products and techniques of the motorcycle.