Fodsports M1S Pro develops economical Bluetooth headsets that are fairly decent for the low investment you have to make.
But, does being affordable equivalent to being great?
Find out in our quick and also sincere Fodsports M1S Pro review!
In our testimonial, we will break down the highlights as well as advantages of this Intercom, regarding its style,
sound quality, Bluetooth abilities, longevity, price, as well as extra functions.
Overall, it is a suitable Bluetooth Communication System for basic users.
Continue checking out to find out more!
Overview
Here is a quick overview of the main features of the Fodsports M1S Pro Bluetooth intercom:
2000M Maximum Distance
8 Riders Group Intercom Support
Handsfree & Crystal-Clear Sound Quality
CSR chip Noise Reduction & Waterproof
900mAh Long Standby Battery & Removable Metal Clip
Next, let us learn more about M1S Pro!
Design and Installation
After opening the box, we can see that this is a black Bluetooth intercom.
Soft/hard microphones, speakers, and other accessories required for installation.
Although the Fodsports M1S Pro model is made of plastic, it is very sturdy.
The mounting bracket is made of metal, which can ensure that the intercom will not easily fall off the helmet.
Several simple buttons are set on the model that serves purposes such as:
Adjusting the volume
Pairing with a Bluetooth-enabled device
Starting the group intercom
According to the user manual, the functions can be quickly distinguished.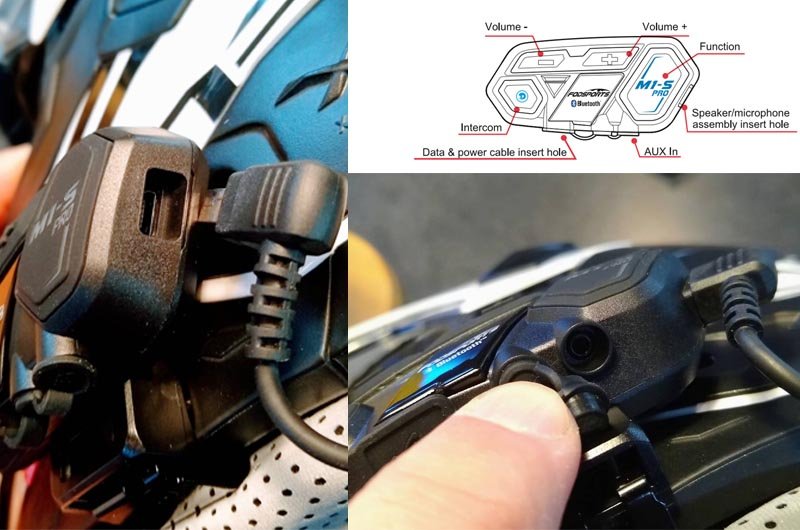 Setting up this Bluetooth communicator on your motorbike helmet is straightforward.
Make use of the clips that come with the product packaging as well as established them up on the right part of your motorcycle safety helmet.
Then, attach the Bluetooth intercom to the clip, and you're excellent to go.
Later, use Velcro and Eva rubber to connect the microphone and the audio speakers inside the helmet padding.
Notice: You will get a hard mic and a soft mic in the packaging. Use the soft mic for a full-face helmet and the hard mic for an open-face helmet.

Bluetooth Pair
As the main product of our company, the FODSPORTS M1S Pro is equipped with Bluetooth 4.1 version. You can pair it with two Bluetooth devices at the same time to enable things such as:
Listen to music
Listen to GPS navigation,
Conduct group intercom
It is worth noting that M1S PRO is highly adaptable. Since M1S Pro has two modes of active pairing and passive pairing,
it can be paired with most brands of intercoms on the market.
Some people may find the pairing process with other Bluetooth headsets confusing.
Be sure to perform this process in order.
Range
Group Intercom range is up to 2000m and the effective maximum communication distance between 2 riders is about 500m.
We Did a full day riding with a pair of M1S PRO.
We stretched a good distance between us and then separated that distance with a large bend in the road.
This put us out of sight from each other with a lot of pine trees in between.
No problem! All-day we were able to hear each other perfectly.
One convenient feature of this intercom is the integrated self-healing technology.
It will automatically reconnect a rider that leaves the intercom group for less than 5 minutes.
If the cyclist is out of the group for greater than 5 minutes, he can push the intercom button to return.
Sound Quality
Considering its price, this Bluetooth headset is very strong when it comes to its sound quality.
It features 40mm speakers with a nice bass
that provides high-definition sound rarely found on Bluetooth headsets in this price range.
The headset features a CSR chip, which is designed to cancel out any type of ambient noise,
such as the sound of your motorcycle's engine, wind, and traffic.
The mic system does an excellent job when it comes to noise cancellation.
During the test, we found that the sound quality is related to the position of the speakers.
You have to get the speakers mounted just right.
Basically directly over your actual ear hole….and touching (or almost) the ear.
Once you get the placement right the sound is great.
One more thing. Mic placement has to be right in front of your mouth for the clearest sound.
I have mine set with the smaller mic in my full-face helmet. I can touch the mic with my lips if I try.
My buddy used the boom mic in his modular helmet with pretty much the same placement.
If you want to listen to music while communicating with your teammates, you can use an audio cable.

Voice Control
While it does not provide an incorporated voice control performance,
you can achieve it by pairing this Bluetooth headset with your smartphone.
That indicates that you can utilize voice aides such as Siri and Google Aide via the Bluetooth headset's microphone.
The microphone is of top quality,
so you absolutely will not need to chew out it to register your voice commands.
So, with voice control, you can get hands-free operation on features such as:
Answering and also denying telephone calls
Switching on the intercom
Streaming songs
Offering GPS commands
Waterproof and Dustproof
Fodsports M1S Pro is both dustproof and waterproof,
Waterproof Ip65, Anti-fog, Anti-sweat Working Temperature From Minus 10 Degrees — 45 Degrees
so it can handle a wide range of weather conditions, including rain and high wind conditions.

Battery Life
The M1S Pro actually kicks it out of the park when it comes to battery life. First of all, it includes a 900 mAh battery that stands over the most Bluetooth headsets in the competitors.
The full charge fee offers:
12 hours of intercom time
20 hrs of phone talk time
300 hrs of standby
On my one long ride so far I used it for over an hour and it indicated a 90 percent charge left afterward.
When the battery obtains reduced, the headset will certainly provide an audio caution to prepare you.
After you discharge the battery, you can charge it on the go if you have a portable battery charger.
It will take 3 hrs to charge the battery of the M1S Pro fully.
Bear in mind that you can make use of all the headset operates when it's charging, which is wonderful and also.
NOTICE: M1S PRO will shut off when you connect the charger, but you can turn it back on and it continues to indicate it's charging.

Price
Well, the Fodsports M1S Pro is one of the most economical motorcycle Bluetooth intercoms
that you can discover on the market.
In addition to tons of helpful features, its pricing is actually charitable, even for a double-pack version.
Inspect the availability and also prices for the Fodsports M1S Pro Bluetooth headsets on the buttons listed below!
---
Compare with SENA 20S
Pros:
Battery life – the battery life is amazing! I can run these things way longer than the Senas without charging. All I know is when I check the battery life, it is almost always > 90%. I still charge them once a week because Sena has given me PTSD
Sound quality – The sound quality and volume is just as good if not better than the Senas
Microphone – My buddy can hear me loud and clear when I wear my dual sport helmet while he couldn't always hear me with the SMH-5
Earbud functionality – Listening to music from my phone is just like using Bluetooth earbuds. Long press the volume buttons and you can skip to the next or last song. The Senas don't do that
Price – these are half the price of the Sena 20S!
Cons:
Mobile App – Sena has a mobile app where you can see and make setting changes, the M1S is much simpler and doesn't have an app
Volume buttons vs jog dial – using the Sena jog dial wheel is way superior to the volume buttons on the M1S. It is hard to feel the buttons with gloves on and I can't get the volume exactly how I would like it because it increases in step changes. I eventually learned how to control the volume buttons, but the sound volume control is more course grain compared to the jog dial
Phone connection – the Sena will tell me when my phone automatically connects at startup, the M1S doesn't
Universal pairing – Here is where I struggle. All my buddies have Senas so I have worked too hard to figure this one out. You can pair with the Sena IF you put the Senas in universal pairing mode. You will have to teach your Sena buddies how to do this.
Connect/Disconnect once paired – With the Senas, you can hit the jog dial button when you want to join an intercom conversation or drop off of the conversation. However, once you pair your M1S with a Sena, you are kind of stuck on the intercom. You can drop it off by hitting the intercom button, but I haven't figured out how to reconnect without repairing it. However, the Sena guy can just hit his jog dial button and bring you back in.
In Conclusion
Now that we are at completion of our Fodsports M1S Pro Bluetooth comm system review, would we in fact advise it?
This intercom is a real breath of fresh air in the Bluetooth headset market.
It comes with an extremely budget-friendly price,
yet includes some of the very best attributes you can discover in a Bluetooth headset.
It can be said that the M1S PRO is the most Budgeted Motorcycle Bluetooth Intercom on the market.
To start with, it provides superb audio high quality that can rival Cardo's JBL speakers but still are out the very same level.
The intercom connection variety is the actual star here,
with 2 kilometers of the max array and also 500 meters of range between two riders.
Even if someone breaks the connection, they will be seamlessly reconnected.
Also, the headset is highly suitable with other brands of Bluetooth headsets, which is a useful attribute.
The only downside that we can mention is just how conveniently the audio speaker sound of high quality can fail
when the wind noise can be found in.
Because of that, ensure to supply a proper setting for the speakers.
Motorcycle mechanic, writer. Interested in motorcycle gear for years. Like to stay up to date with the newest products and techniques of the motorcycle.