At Fodsports, you can find the Best Referee headsets options to suit your referee communication needs.
Take our Referee Headset And Arm Bag with V6S, FX4 Pro, Bluetooth Intercom Headset for No Helmet Solution on Football Referee Coach Judger Arbitration Referee Bicycle Conference.
What's great about these is that you don't have to push a button to communicate.
In addition, the volume of the whistle is immediately reduced to a safe level, and you can easily adjust this level as needed. You'll also love the more than eight hours of battery life that come with the Best Referee headsets system.
---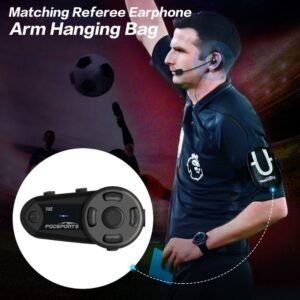 Many coaches and sports clubs have mentioned this to me. You ask referees and coaches if they can be equipped with these Bluetooth intercoms. It didn't fit at that time.
Now, finally, there is a headset Bluetooth intercom that can be adapted to you.
Fodsports specially designed V6S for referees and coaches, using a 3.5mm audio interface, so that it can be connected to a unilateral earphone.
And the installation design of the V6S host is also suitable for hang armband installation.
Bluetooth 5.0 version CSR chip
40mm high-power stereo high-definition sound quality headphones
Supporting FM full frequency band (76~108Mhz)
Type-C USB-Fast charging
CVC intelligent noise reduction
Two-Way Intercom-Up to 6 people can be connected
IP67 waterproof and dustproof
Voice assistant
350 hours standby and 12 hours intercom
Remaining battery announcement
Which can be used for referees
---
Fodsports FX4 PRO: Less than 100$ motorbike helmets Bluetooth intercom for helmets, 4-way Group Talk waterproof Bluetooth headset for motorcycles.
FODSPORTS is a well-established firm that is committed to outdoor cycling and our aim is to offer a more enjoyable riding experience to each sports lover.
We have a highly skilled research and development team around the world that focuses on motorcycle-specific intercoms.
As the primary product of our company FODSPORTS FX4 Pro is the main product of our company. FODSPORTS FX4 Professional comes with Bluetooth 4.1 version,
It supports four-rider group communications and the range of intercoms can be up to 1200m.
By using FX4 Pro headsets, you can be sure of hands-free security and ease of use,
Listen to music, access GPS routes, and also receive voice commands through Bluetooth Enjoy the excitement of riding with your team.
What are the reasons to have the FX4 Pro?
Look down!
Easy to pair control
Hi-Fi stereo music
With an advanced noise reduction function
With built-in FM. Real-time Entertainment while on the move
Four riders may group intercoms simultaneously within 1200m
Fodsports FX4 Pro Motorcycle Bluetooth Intercom, Long Battery Life helmet headset,1200m 4 Riders Group Talk Motorbike Helmet Communication System
3.5mm Headphone Jack For More Use
Do you usually wear a heavy helmet to coach your kids or new riders?
You don't have to now.
The 3.5mm headphone jack on FX4 Pro allow you to connect it with the referees' headset
so you can provide helpful advice in real-time through the intercom system.
But please NOTE that it is not included in the package.
---
What the customer said:
Great headset for the referee :
– I referee soccer and we use radios now for many games. With everything going on everyone is concerned about disinfecting the heads sets after someone else uses them. I just brought this part and always used my own overcoming all my and everyone else's worries. Plugs into standard heat set jack and work awesome.
– These work great! My husband and I use these mostly for communicating with each while gargling our motorhome and situating ourselves in RV parks. No more yelling to be heard over the engine noise, no more misinterpretation of hand signals.
In Conclusion
If you are only 2 people who need to talk at the same time, you can choose V6S + with the referee's headset,
if you need up to 4 people to talk at the same time, you can choose FX4 PRO + with the referee's headset.
remember, What's great about these is that you don't have to push a button to communicate.:)
learn more on No Helmet Solution use the Fodsports intercom for your need.
We always remember that maintaining Referee Headsets information to stay current is a top priority, which is why we are constantly updating our websites.
If you think that anything we present here regarding Referee Headsets is irrelevant, incorrect, misleading, or erroneous, then please let us know promptly! We're here for you all the time.
With over 10 years of experience working on cars and trucks Item Training Supervisor Richard Reina is known around the office as one of our technical experts & real an "automobile person".
His rate of interest began, in his very own words, "at the age of two when his father educated him the distinction in between a Chevy and a Ford. Since then it's been cars regularly."
As a serious lover of practically all things with a motor Richard can address nearly any kind of inquiry related to car upkeep, fixing, or restoration & is a fact professional in electric motor background.