Fodsports M1s Pro Vs Plus: Which One Is The Best For You?
Fodsports entered into the competitive market of Bluetooth headsets for motorcycle helmets in 2013. Some premium products are recognized for their quickly available rates and also characteristics.
Some motorcyclists might not know the Fodsports brand name.
As a matter of fact, we were among a few companies developing Bluetooth headsets for very early cellphones.
Throughout the years, our headsets have in fact continued to enhance in terms of functions, performance, as well as likewise basic reliability.
As the primary item of our business, the M1S collection has been split between 2 versions: the M1S PRO and PLUS.
In this post, we're going to discover the distinction between the M1S Pro and Plus. Keep read.
IMAGE

PRODUCT

DETAILS

PRICE

LEARN MORE






Share The Same Music
With Passenger


Mute Microphone


Built-in FM




$99.99






2000M Maximum Distance


8 Riders Group
Intercom Support


CSR chip Noise Reduction
& Waterproof




$89.99
Fodsports M1S Pro Bluetooth Communication System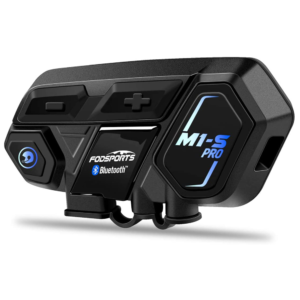 As the primary item of our firm, the FODSPORTS M1S Pro has furnished with Bluetooth 4.1 variation, supports 8 riders group communication and intercom range is up to 2000m, the optimum effective interaction distance in between two motorcycles is about 500m. With M1-S Pro headsets, you can ensure hands-free safety and comfort, listen to music, get GPS paths, and receive voice commands by means of Bluetooth, allow you to delight in the fun of group riding.
It has actually been evaluated by the international market and also sold 80000 devices each year, got many praises from motorbike users all over the world, specifically in Japan and the United States.
Here is a quick overview of the main features of the Fodsports M1S Pro Bluetooth intercom:
2000M Maximum Distance
8 Riders Group Intercom Support
Handsfree & Crystal-Clear Sound Quality
CSR chip Noise Reduction & Waterproof
900mAh Long Standby Battery & Removable Metal Clip
Fodsports M1S Plus Bluetooth Communication System
Right from the get-go, we can see that this Bluetooth headset for motorbike helmets includes a comfortable design. It certainly features larger switches than a lot of various other Bluetooth headsets on the market.
Here is a quick overview of the main features of the Fodsports M1S Plus Bluetooth communication system:
Bluetooth 4.1 with two-channel support
Group intercom support of 8 riders
2 000m (1,24 miles) maximum range(The maximum distance between two riders is 500 meters
Share The Same Music With Passenger/ Rider
Mute Microphone Give You Safe Talk & Ride Experience
Built-in FM Get real-time traffic conditions
CVC chip Noise Reduction Talk In Natural Voice
900mAh Long Standby Battery Keep You Connected All Day
Waterproof and dustproof
Universal Pairing & 2 Choices Mic For Different Helmet
Fodsports M1s Pro Vs Plus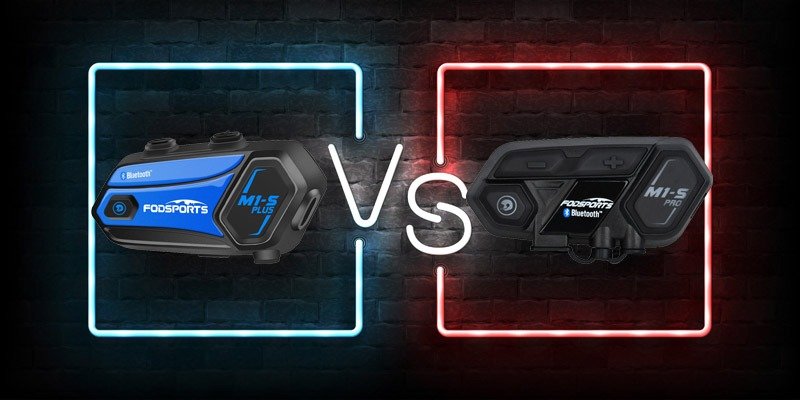 There's a reason the PRO and Plus after the 'M1S' in the title of both items are different.
Although that both of them are primarily similar, there are a lot of distinctions between the M1S Pro as well as Plus. Sufficient distinctions to call for a separate area discussing them.
The M1S PRO and PLUS vary in the following ways:
Design
Let's get the most obvious one out of the way.
The obvious difference is whether the "Volume+ -"buttons are on the side or at the top. Relative to M1S PRO, M1S Plus" volume -,+ "are protruding greatly, and the intervals are sufficient, so even if you are wearing fairly thick gloves, you will not make a mistake in pressing.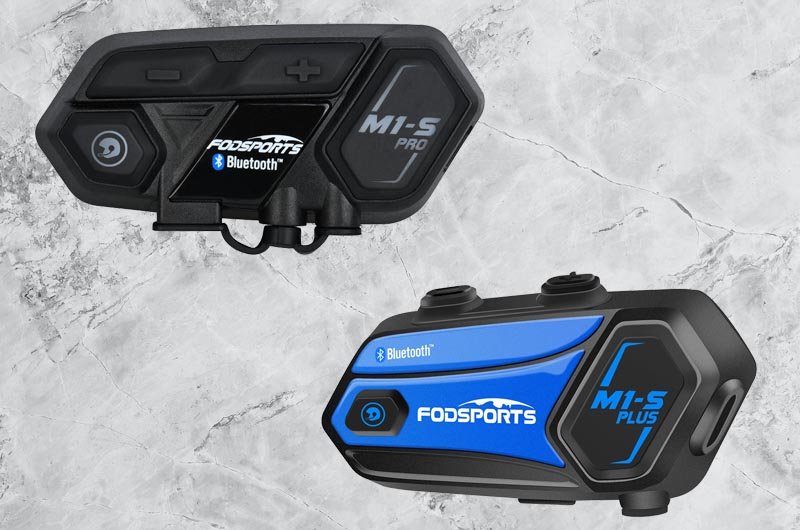 It was a mini USB or type-C here. M1S PLUS thickness is increasing. The wired AUX terminal is alive, but the charging terminal is omitted. It also charges with Type C, which connects to a speaker and microphone. The negative effect of this is that you can't use it while charging, but you don't have to worry if the battery doesn't last very long.
The mounting base (described in the instruction manual for the unit base) has the same structure. Fully compatible.
Functions
Compared with M1S PRO, M1S PLUS adds the following 3 new functions:
🔥1. Music sharing
The most distinctive feature of M1S Plus is music sharing. Let's imagine– When you enjoy the beautiful scenery on the way, don't you want to share music with your companion to express your inner joy?
If you and your girlfriend/brother are music buffs and like to share your favorite music while riding, the function will be your best choice.
However, music sharing can only be done between two M1S PLUS units.
🔥2.Mute Microphone
The feature is very practical. You can enable it when you don't want to talk.
It can protect privacy without having to exit the intercom/call.
When the other members don't want to hear the sound from you, such as the external sound source of the Bluetooth speaker on your motorcycle, then you can use the microphone mute function without exiting the intercom state. You can still hear other members' communication and sound.
Take good care of the feelings of others and make your group intercom more cheerful and harmonious.
🔥3.FM Radio
The M1-S PLUS Bluetooth helmet intercom built-in FM. You can long-press the "volume +" button to turn on/off the FM function.

How Does M1S Bluetooth Motorcycle Intercom Work?
You may recognize a little bit about Bluetooth motorcycle intercoms. Yet you may be unclear how they work in method. It is an electronic cordless interaction system that you can utilize while you are riding.
You could have already used Bluetooth on your smart device. For instance, to move an image or data to someone else. Bluetooth motorcycle intercoms operate in the same way. It is as easy as pairing your Bluetooth with the Bluetooth of someone or something else.
Just like many Bluetooth intercoms, M1S makes use of a "Daisy-Chain" system. Conventional intercom systems, called "daisy-chain" systems, contain straight pairings. The pairing links from one cyclist to one more, with one more pairing to an additional cyclist, and more. These straight pairings all develop a networking group of communications.

Which Product Is Best For Me?
First things first: If the Connection Range is what makes it or breaks it for you, you're going to have a hard time choosing between these two products. The M1s Pro/Plus performance of these Bluetooth intercoms sustain a team of 8 motorcyclists maximum. When you enter the intercom room, the maximum range will certainly be 2 kilometers (1,24 miles). Of course, this maximum range works when there are no obstructions between the members of the group. An effective distance between 2 riders is around 500 meters (0,3 miles).
If the budget is what makes it or breaks it for you, you can choose the M1s Pro. The M1S PRO is cheaper than the Plus. Well, the Fodsports M1S Pro is one of the best budget motorcycle Bluetooth intercoms that you can discover on the market. In addition to tons of helpful features, its pricing is actually charitable, even for a double-pack version.
You can presently locate it on Fodsports at choose prices:
If you want to listen to the same song with your motorcycle companion, If you and your girlfriend/brother are music buffs and like to share your favorite music while riding, then M1-S PLUS will be your best choice.
🔊 New customers enjoy a 10% discount. Coupon code: welcome10
Motorcycle mechanic, writer. Interested in motorcycle gear for years. Like to stay up to date with the newest products and techniques of the motorcycle.