Description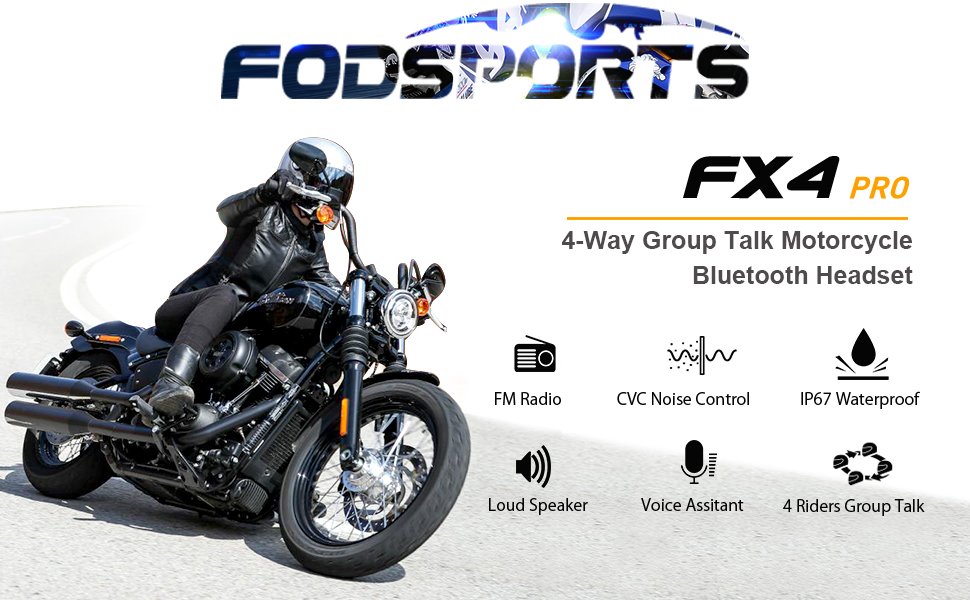 Reasons You Need FX4 Pro Intercom Bluetooth Communications
In Your Motorcycle Helmet
Have A Conversation With Your Passenger Or Other Riders
Stream Music or Any Audio From Your Phone To Your Helmet
Get Navigation Instructions Spoken To You
Make or Receive A Phone Call
Receive and Send Text, Email, or Other Messages
Listen To The Radio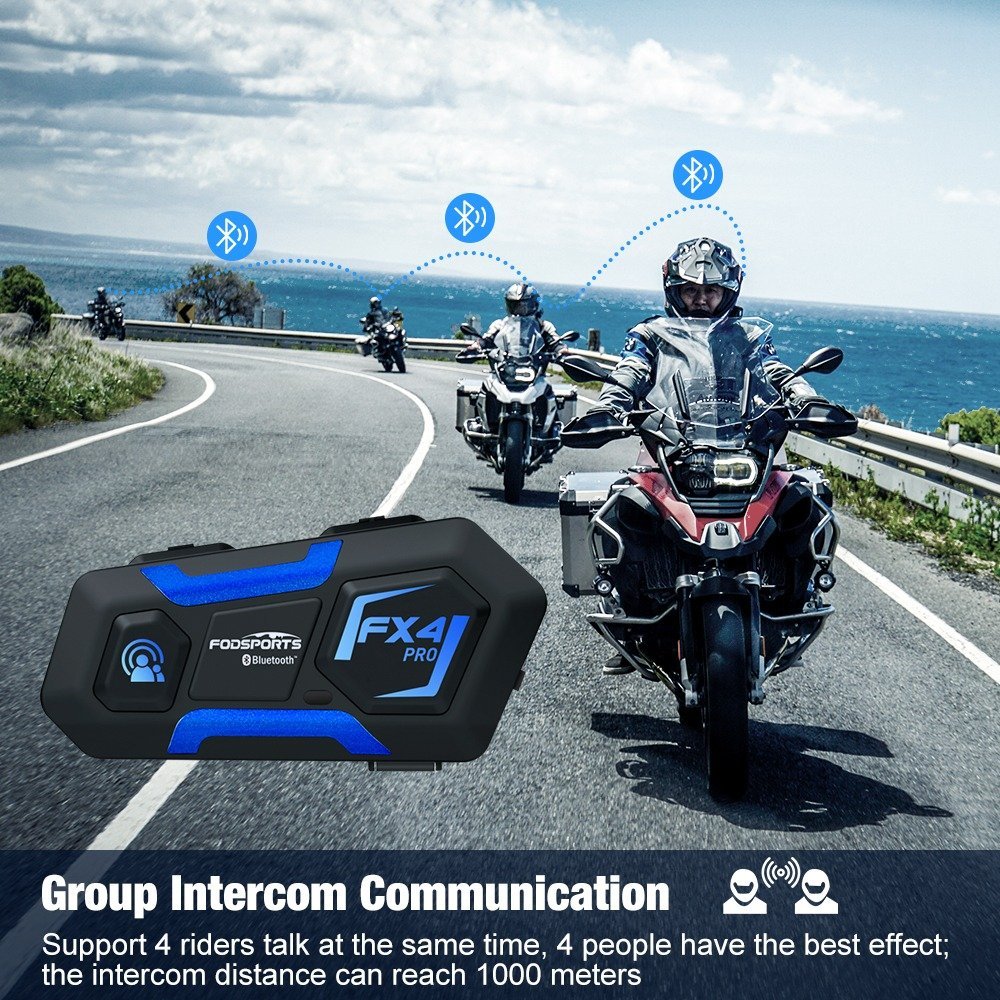 4 Riders Group Conversation
The motorcycle bluetooth headset FX4 supports up to 4 riders intercom talkig at the same time with the maxium range 1200m by bluetooth. Once connected, you can talk back and forth without push a button.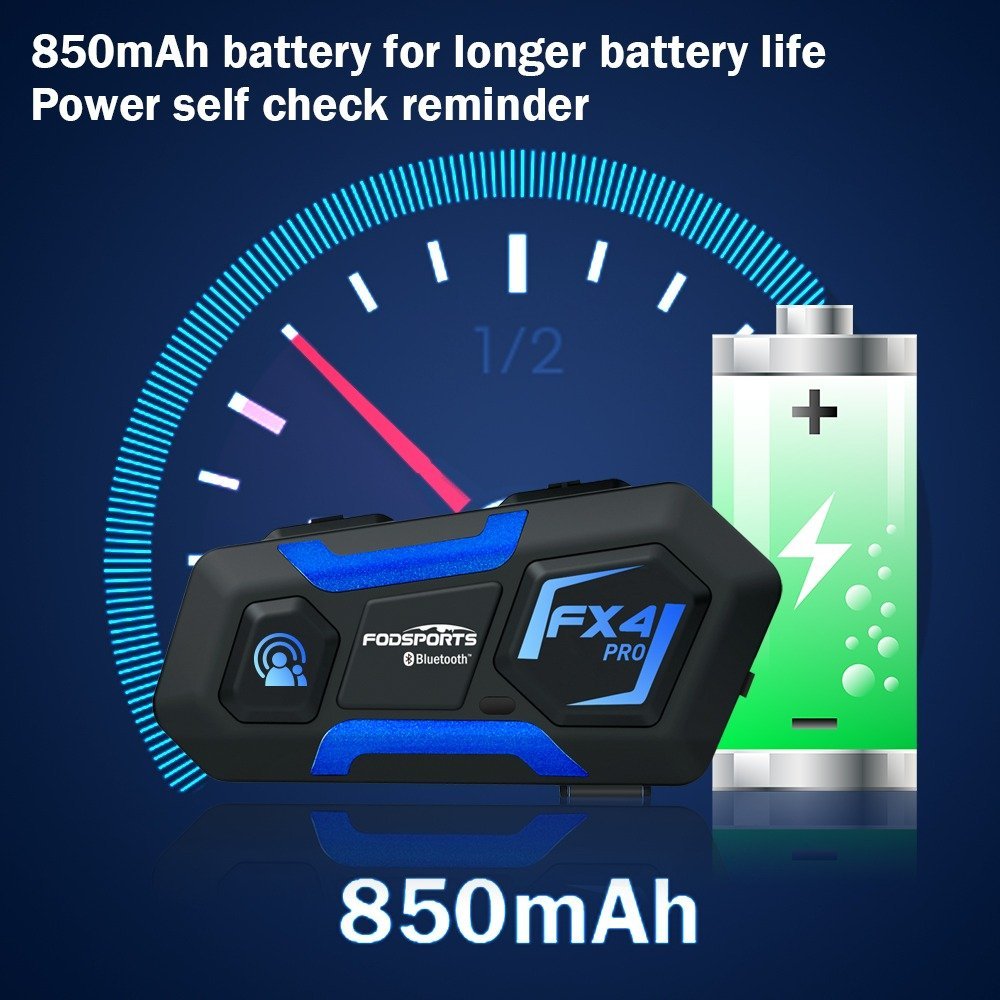 850 mAh ultra-capacity lithium battery
The Fodsports bluetooth intercom FX4 Pro Helmet communication systems have great battery life that support music playing and intercom talking for a whole day, it is very suitable for long-term trip, You would enjoy your ride.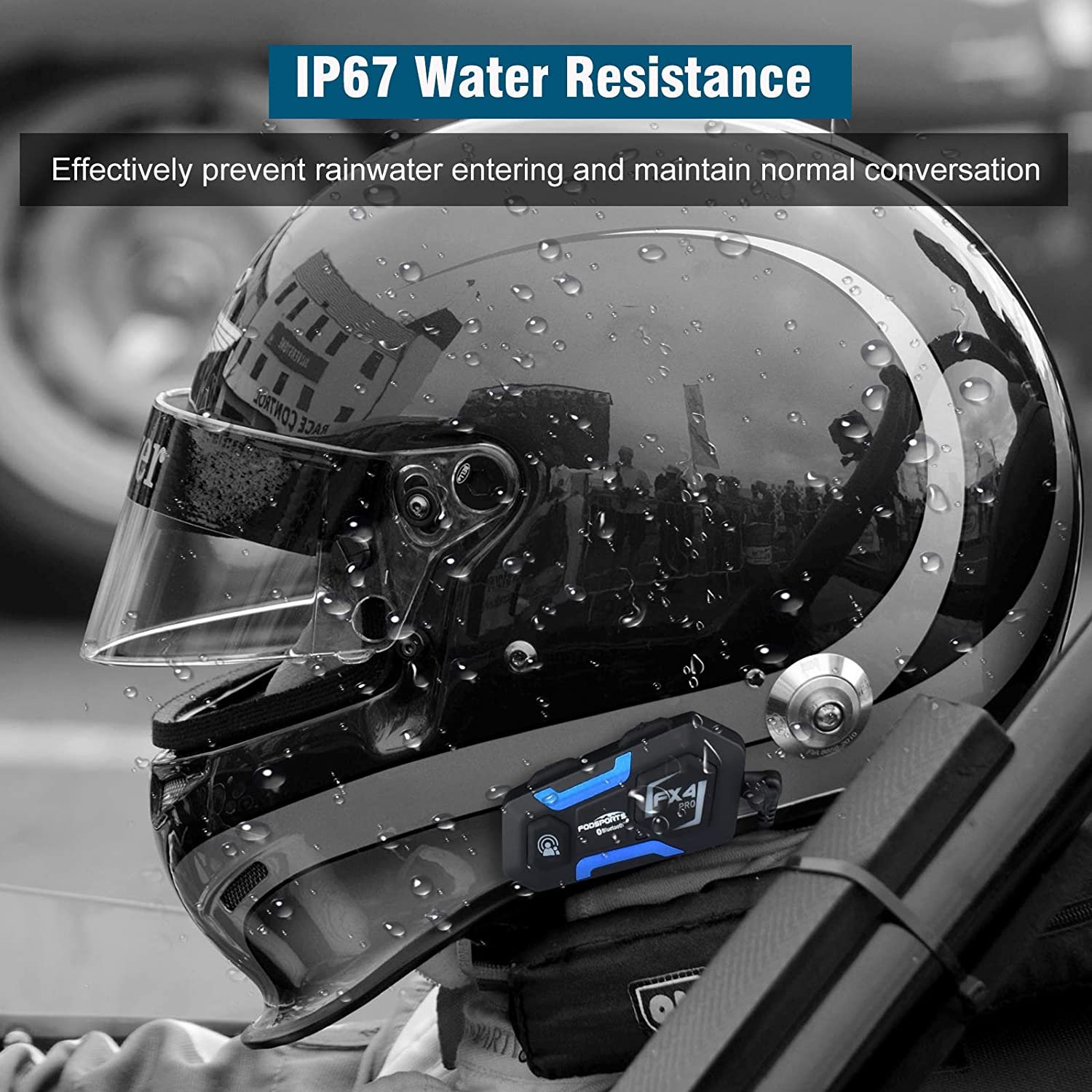 IP67 Waterproof
The FX4 Pro Motorcycle Intercom is waterproof as well as the jack, so if it have some problem with the speaker such as blown/static sound, please check it first Whether the speaker has been inserted deep into the headphone port. Or you may think the speaker is defective.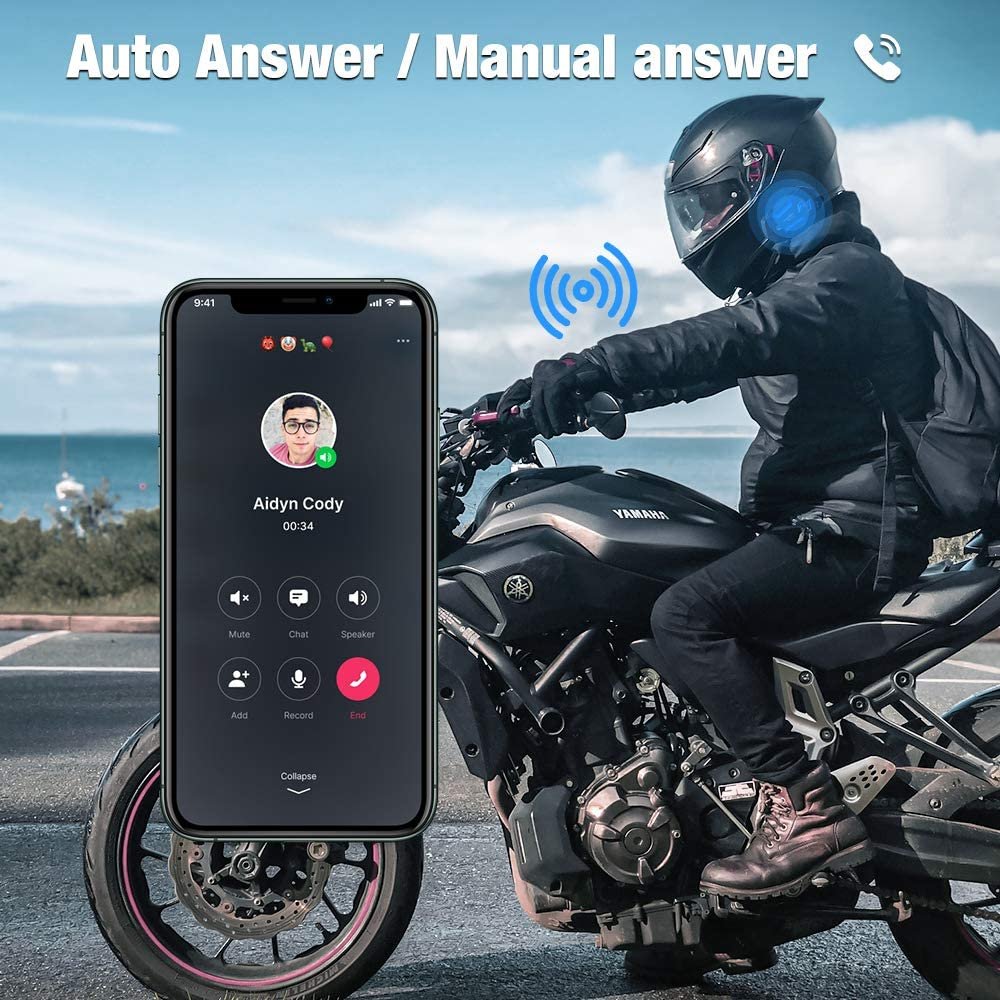 VOICE ASSISTANT & LARGER BUTTONS
Nice and chunky buttons are integreated and intuitive, you can easily operate them even if you're wearing gloves, it is safer to you.
You can also use the Siri or S voice assistant to make calls via this stereo Bluetooth headset. Keep your hands on the handlebars, foucs on the riding safety.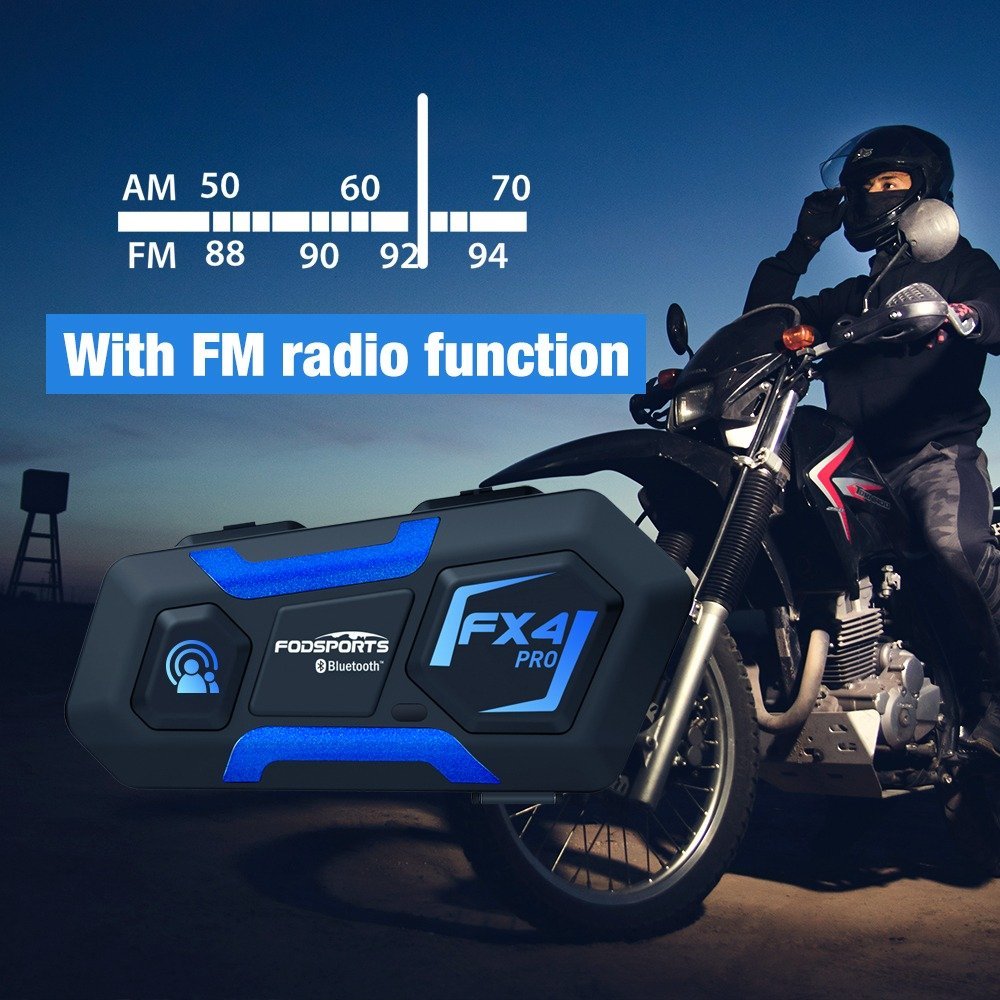 built-in FM radio
The fodsports FX4 Pro bluetooth headset also have built-in FM radio, so you can receive radio to get the latest news although you are outside without your phone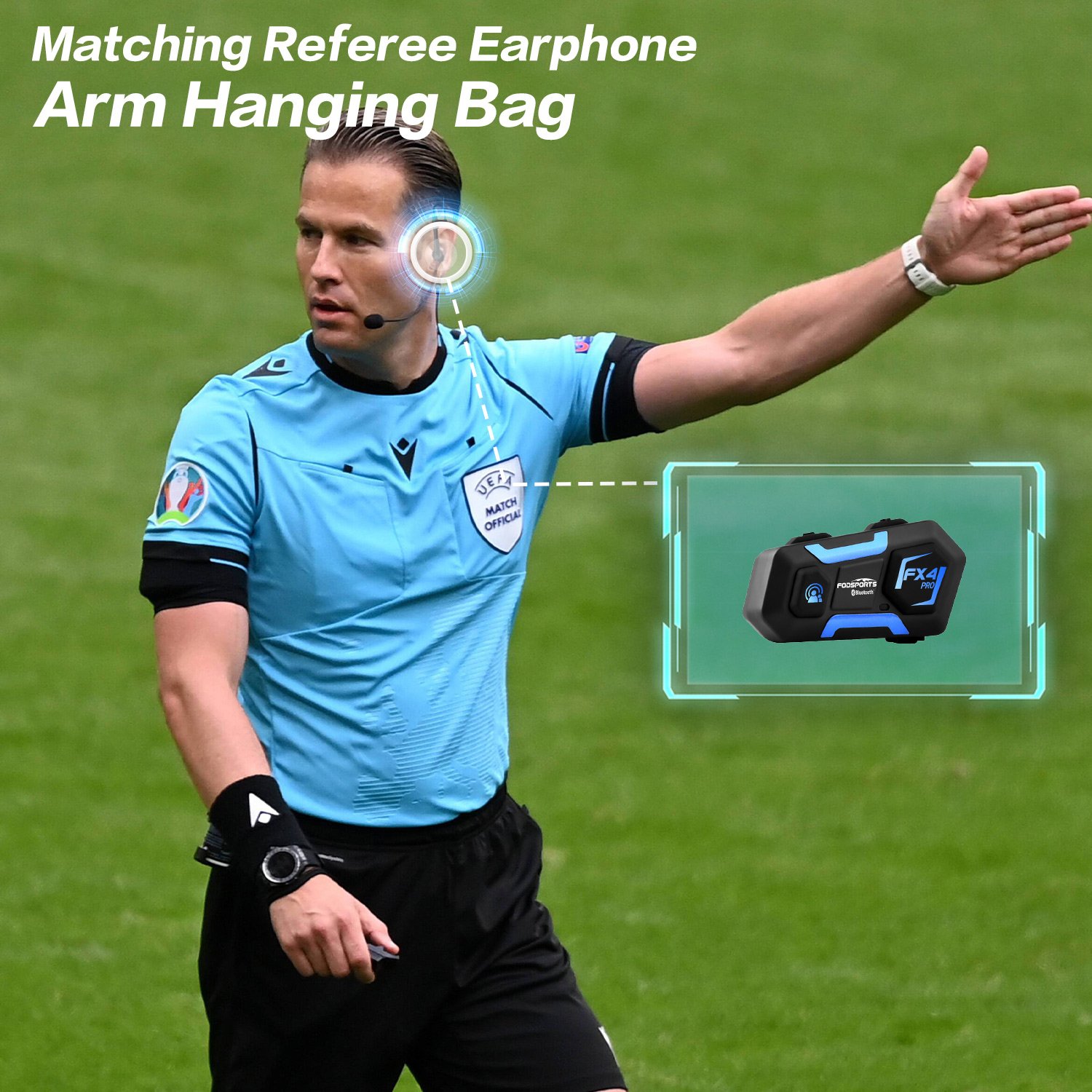 3.5mm Headphone Jack For More Use
Do you usually wear a heavy helmet to coach your kids or new riders?
You don't have to now.
3.5mm headphone jack on FX4 Pro allow you to connect it with referees' headphone,
so you can provide helpful advice in real-time through the intercom system.
But please NOTE that it is not included in the package.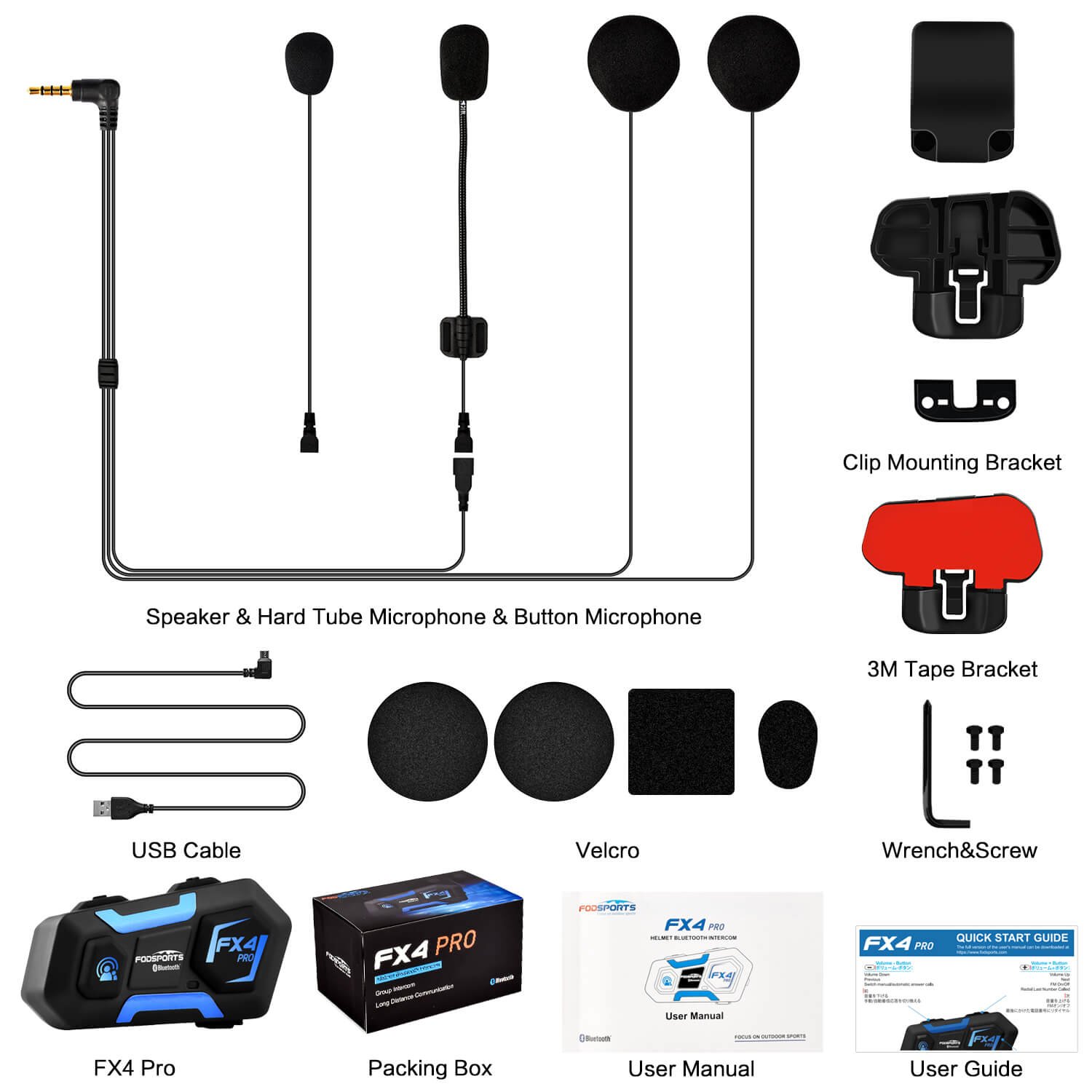 FX4 Pro is equipped with Hard & Soft Anti-Noise Mic,
two types of mic accessories make it suitable for any type of helmet.
These qualities make FX4 Pro help you easily deal with all kinds of outdoor weather.
Fodsports FX4 Pro motorcycle helmet bluetooth intercom, 4-Way Group talk Waterpoof motorcycle Bluetooth headset communication system
FODSPORTS is a professional company dedicated to outdoor cycling and our goal is bringing the better riding experience to every riding sports enthusiast.
We have the professional research and development group from all over the world who are mainly focus on the motorcycle intercoms.
As the main product of our company, the FODSPORTS FX4 Pro is equipped with Bluetooth 5.0 version,
supports 4 riders group communication and intercom range is up to 1200m.
With FX4 Pro headsets, you can ensure hands-free security and convenience, listen to music,
retrieve GPS routes, and receive voice commands via Bluetooth, let you enjoy the fun of team riding.
---
Why should you own an FX4 Pro?
Please look downwards!
Easy to pair

Easy to control

Hi-Fi stereo music

With advanced noise reduction function

Built in FM, Real time entertainment on the go

Up to 4 riders group intercom at the same time within 1200m
Fodsports FX4 Pro Motorcycle Bluetooth Intercom, Long Battery Life helmet headset,1200m 4 Riders Group Talk Motorbike Helmet Communication System
Compatibility: Universal
Bluetooth chip: CSR chip
Bluetooth version: Bluetooth 5.0
4 riders group intercom which has a 1200M intercom range
Sound 40MM speaker
Built-in FM
Frequency: 2.4 GHZ
Battery capacity: 850 mAh /3.7V
Working time:  about 20 hours phone call,  about 12 hours intercom Bluetooth
Standby time: about 300h
Charging time: 3 hours
Intercom Size: 85mm*42mm*23mm
Intercom Net weight: 48g
GPS
Bluetooth 5.0
Headset Profile (HSP)
Hands-Free Profile (HFP)
FX4 Pro User Manual:
FX4 PRO user manual (English, French, Spanish, Italian, German)
FODSPORTS FX4 Pro Outdoor Motorcycle Bluetooth Intercom ,
Easy to use and install Off-road Motorcycle Bluetooth Headset, Up to 4 Riders Group Intercom
Our fx4 Pro is very suitable up to 4 riders group intercom. It has superior stability and is not easily interrupted during the intercom.
And it can be used in different outdoor environments. It is a great outdoor helmet Bluetooth headset.
If you are an outdoor enthusiast, then this FX4 Pro helmet headset bluetooth intercom is designed for you.

If you like to ride in the desert, The FX4 Pro bluetooth helmet intercom can handle the hot weather and dry climate.

If you are a ski enthusiast, our FX4 Pro bluetooth intercom is also an excellent ski bluetooth intercom, which can be used at -15°F .

If you often ride on rugged mountain roads, don't be afraid! Our FX4 bluetooth headset is very sturdy and not easy to break

If you experience rain when you go out for a ride, don't worry about our FX4 bluetooth headset intercom is waterproof.
---
FODSPORTS FX4 Pro Bluetooth Intercom with Noise Cancellation, Louder Volume Bluetooth Headset, Motorbike Bluetooth Headset with Great Sound Quality
---
【4 riders Bluetooth intercom 】The professional motorcycle helmet communication system Fodsports FX4 Pro motorcycle bluetooth headset is equipped with a smart Bluetooth chip that can support up to 4 riders talking at the same time.
It has good stability and can keep the connection uninterrupted even at the maximum communication distance of 1200 meters.
Allows you to keep in touch with your partner during the ride.
---
【Noise Cancelling & Hi-Fi Stereo Sound Quality】The FX4 Pro bluetooth headset comes with the professional wind noise microphone that can receive your voice clearly.
The received sound is processed by a intelligent noise reduction chip ensures High-Quality stereo sound even at high speeds up to 120km/h.
Come with 40MM high impedance and high fidelity speaker.
Whether you are in group intercom or listening to music/FM, you are able to hear very clear sound.
---
【Long Battery Life】 The battery capacity of the FX4 Pro motorcycle helmet intercom system is 850mah,
which can support up to 20 hours of phone time,
up to 12 hours of intercom time, and up to 300 hours of standby time ,
So you don't have to worry about lack of battery during the whole journey.
You can share your fun with your friends.
---
【Easy to use and install】The FX4 Pro helmet Intercom provides easy hands-free communications for you while riding.
With access to IOS and Android voice commands, you can make or receive hands-free calls.
Also the FX4 Pro motorcycle bluetooth intercom has a bigger buttons design, it is easier to press and hands free when riding.
Convenient design is easy to install on the face/half helmet.
---
【Waterpooof Design】The shell of The FX4 Pro bluetooth helmet intercom uses an integral casting process,
this manufacturing process reduces the gap between the joints, so that has a good waterproof function.
It can cope with various outdoor weather, even at a temperature of -15°F
---
Can I listening music while being in the intercom mode?
Yes, Fodsports intercom have Universal Pairing
Built-in smart chip ensures high compatibility that can be compatible with GPS , Music Player and most of the Bluetooth headsets or earpiece in the market.
Yes, Fodsports intercom waterproof capability allows you to use it with confidence in all kinds of weather, such as rain and snow.
Can I use the 'Hi Siri' function with this device?
Yes. It can be paired with all mobile phones and use voice control functions, such as Siri (iPhone) and S Voice (Samsung) voice commands.
Can it paired with other brand different bluetooth intercom?
Yes, fordsports intercom have high matching bluetooth
Since Fodsports Intercom has two modes of active pairing and passive pairing, it can be paired with most brands of intercoms on the market.

It can be paired with all mobile phones and use voice control functions, such as Siri (iPhone) and S Voice (Samsung) voice commands.

It can be paired with most GPS or other Bluetooth devices, only a few models are not available.
Why is the volume of the intercom really low?
If you think the voice is too low during intercom, you can press "+" button to increase the volume

Different locations of speakers will cause differences in volume

Please install the speaker as close to your ears as possible.

If the distance is too far, the volume will be reduced. You can use the thickened pad in the package
What is difference in 2 ways intercom and group intercom?
What Powersports Helmet Can Be Use For Intercom System Headset
Fodsports Bluetooth motorcycle headset has a hard mic and soft mic, Suitable for all kinds of helmets. You can choose the hard mic for open face helmets, and the soft mic for full face helmets.
Why are my two speakers or one side speaker unavailable/no sound?
Please check if the headphone cable is inserted in the correct direction
2. Please make sure the headphone cable is fully inserted into the interface.
Is my unit still under warranty?
All Fodsports units come with a 1-year warranty, starting from the date of purchase. Please keep your proof of purchase in order to reclaim your warranty.
Create a record of ownership in case of loss or theft.
Your first point of warranty service is your dealer
Shipping Info:
– Handling time 2-3 days.
– Estimated Delivery Time: US Fast Delivery 6-12 Days; Worldwide free shipping 15 – 29 Days.
OUR GUARANTEE
☑️ Tracking number for every order
☑️ Safe payments via PayPal®
☑️ 24/7 assistance 
☑️ No hidden fees!
One year quality guarantee:
The Warranty Period: 12 Months. If you have any questions or suggestions, please contact us for the first time, we are glad to serve you until you are satisfied.
✅Exclusively Sold At FODSPORTS.COM