Description
Reasons You Need FX8 PRO Motorcycle Bluetooth Intercom
In Your Motorcycle Helmet
Have A Conversation With Your Passenger Or Other Riders
Stream Music or Any Audio From Your Phone To Your Helmet
Get Navigation Instructions Spoken To You
Make or Receive A Phone Call
Receive and Send Text, Email, or Other Messages
Three Music Effects
Enjoy the sound effects you love: HiFi Bass, Popular Golden Classic, Pure Human Voice.
Quick Pairing
When all intercom devices are in a pairing state, just press the FX8 PRO intercom button will automatically connect all devices.
One-touch pairing for 8 people. Complex connections for multiple devices are no longer a worry!
Music Sharing
listen to the same song at the same time between two FX8 PRO units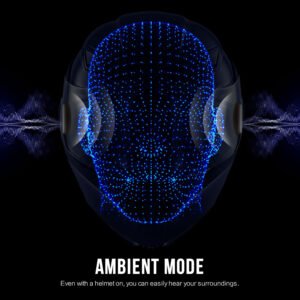 Ambient Mode
The external sound capture function makes it easier for you to hear the sounds around you.
FM Radio 76-108Mhz
The FX8 PRO also has built-in FM radio, so you can receive a radio to get the latest news when you are outside without your phone.
If you feel bored during the trip, you can listen to live events and talk shows, how fun it is!
Waterproof IP65
FX8 PRO Motorcycle Intercom uses IP65 waterproof, it won't betray you on rainy days. You can also use it for snowmobile, tree arborist, skiing, ship, and so on.
[Kind Remind] Please make sure you had plugged in the microphone and speakers port tightly.