Some motorcycle riders might not know the Fodsports brand name And its latest product M1S PLUS.
In fact, we were just one of a few firms creating Bluetooth headpieces for very early cellphones.
Throughout the years, our headsets have actually continued to improve in terms of functions, functionality, and also general reliability.
Lots of people avoid budget Bluetooth Intercom. Whether it's prejudice or ignorance, we can't recognize it. Still, there is a little bit of truth in staying clear of a cheap Bluetooth headset when you have premium-quality ones like Cardo and also Sena.
However, what if we informed you that this economical Fodsports Bluetooth headset may be among the best on the market, one that can stand tall with the industry giants? You may be stunned by this, believing that we are promoting our brand name.
Do not worry, keep reading as well as learn why it is so unexpected in our Fodsports M1S Plus Bluetooth communication system review!
Overview
With many headsets flooding the market since riding bikes is a lot more popular than ever, locating a design that executes the method the manufacturer claims it can is tougher than you would certainly believe.
Yet this newest headset by Fodsports is outstanding and one that's available at a reasonable price.
It includes a beginner-friendly layout that permits you to easily set it up as well as install it in a variety of helmet sizes and also styles.
If you're preparing a long journey with your riding buddies, after that you're most likely on the internet looking for the very best motorcycle Bluetooth headset,
one that supplies a much longer range,
and a version that's easy to use, specifically for your pals that aren't precisely tech-savvy.
This latest design features all the bells and also whistles you'll require,
whether you want a headset to use for around town when you're running errands, or if you're making a state-to-state journey during the summertime.
Here is a quick overview of the main features of the Fodsports M1S Plus Bluetooth communication system:
Bluetooth 4.1

with two-channel support

Group intercom

support of

8 riders
2 000m (1,24 miles)

maximum range(The

maximum distance

between

two riders is 500 meters
Share The Same Music

With Passenger/ Rider

Mute Microphone

Give You Safe Talk & Ride Experience

Built-in FM

Get real-time traffic conditions

CVC chip

Noise Reduction Talk In Natural Voice

900mAh

Long Standby Battery Keep You Connected All Day

Waterproof

and

dustproof
Universal Pairing

&

2 Choices Mic

For Different Helmet
Features
Without further ado, allow's go comprehensive right into each function of the Fodsports M1S Plus Bluetooth communication device!
Appearance and Installation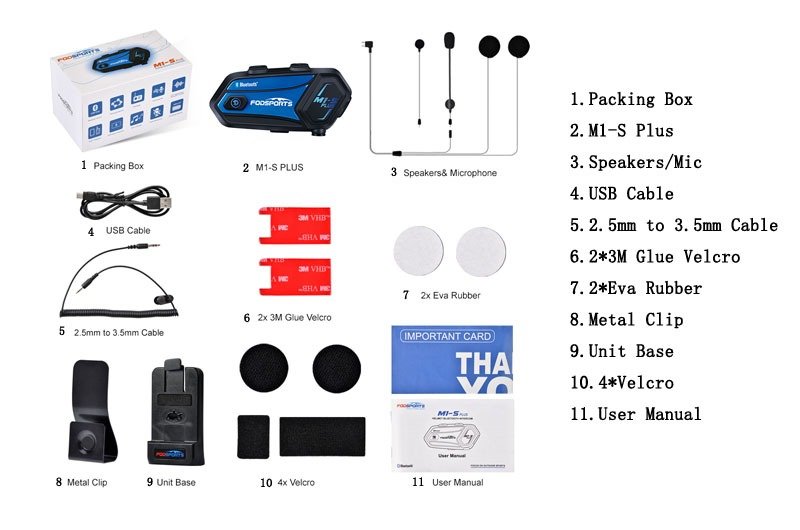 Right from the get-go, we can see that this Bluetooth headset for motorbike helmets includes a comfortable design.
It certainly features larger switches than a lot of various other Bluetooth headsets on the market,
with buttons that offer purposes such as:
Adjusting the volume

Connect with a Bluetooth-enabled tool

Beginning the group intercom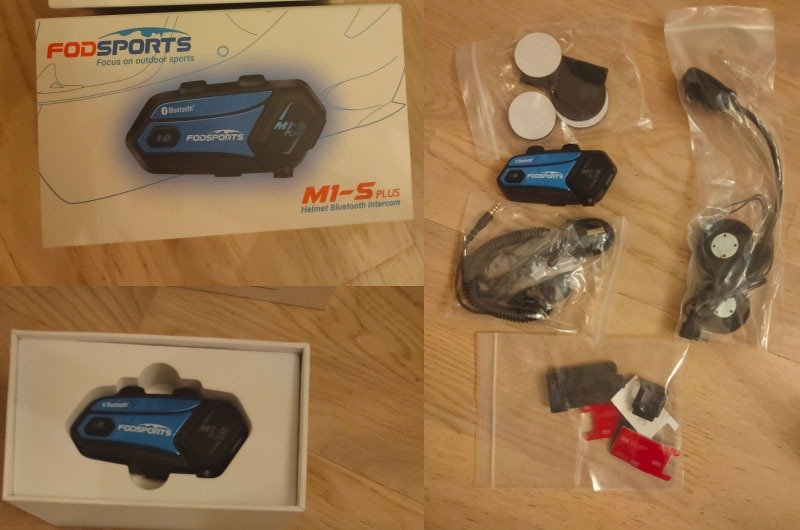 Establishing this Bluetooth communicator on your motorbike helmet is easy.
Utilize the clips that come with the packaging and set them up on the lower right part of your bike helmet.
After that, connect the Bluetooth headset to the clip, and also you're good to go.
Later, make use of Velcro and also Eva rubber to attach the microphone and also the audio speakers inside the helmet padding.
One point to note is that you will certainly obtain a boom mic and a soft mic in the packaging.
Utilize the soft mic for a full-face helmet and also the boom mic for an open face safety helmet.
The bottom line is, the Fodsports M1S Plus Bluetooth headset is really simple to set up, as it includes an easy-to-understand user manual.
Bluetooth Pairing
As this Bluetooth headset is powered by Bluetooth 4.1 technology, it includes 2 channels.
That indicates that you can match it with two Bluetooth gadgets at the same time to allow features such as:
Listening to music

Utilizing GPS navigation

Allowing group intercom
One fantastic aspect of the Fodsports M1S Plus is that it is highly suitable with various other Bluetooth headset brands.
Some individuals may locate the pairing procedure with other Bluetooth headsets puzzling.
It is necessary to do this treatment in consecutive order.
One more useful function is toggling between intercom and phone functions via the press on the intercom button.
This video clip demonstrates how to pair several M1S PLUS!
Connection Range
The intercom performance of this Bluetooth headset sustains a team of 8 motorcyclists maximum.
When you enter the intercom room,
the maximum range will certainly be 2 kilometers (1,24 miles).
Of course, this maximum range works when there are no obstructions between the members of the group.
An effective distance between 2 riders is around 500 meters (0,3 miles).
One handy function of this intercom is the integrated self-healing innovation.
It will instantly reconnect a rider that leaves the intercom team for less than 5 minutes.
If the biker runs out of the group for more than 5 minutes,
he can press the intercom button to return.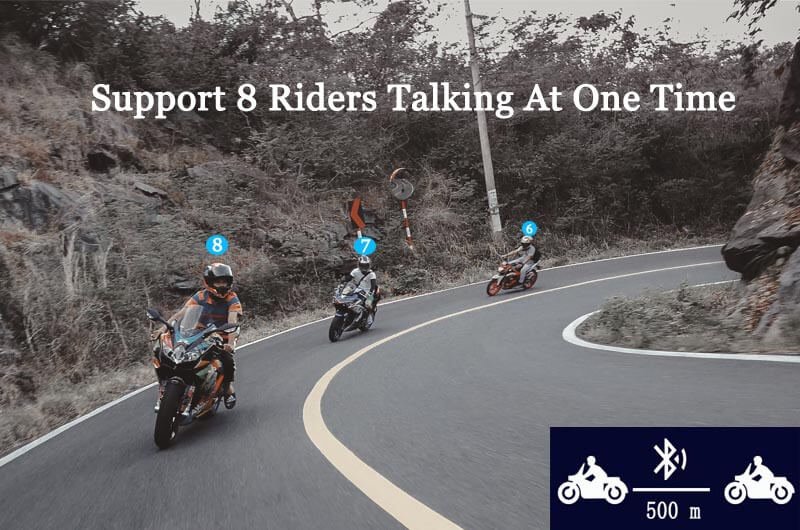 Share The Same Music
The most distinctive feature of M1S Plus is music sharing.
Let's imagine– When you enjoy the beautiful scenery on the way,
don't you want to share music with your companion to express your inner joy?
If you and your girlfriend/brother are music buffs and like to share your favorite music while riding,
the function will be your best choice.
However, music sharing can only be done between two M1S PLUS units.
Click Here to watch how to share music.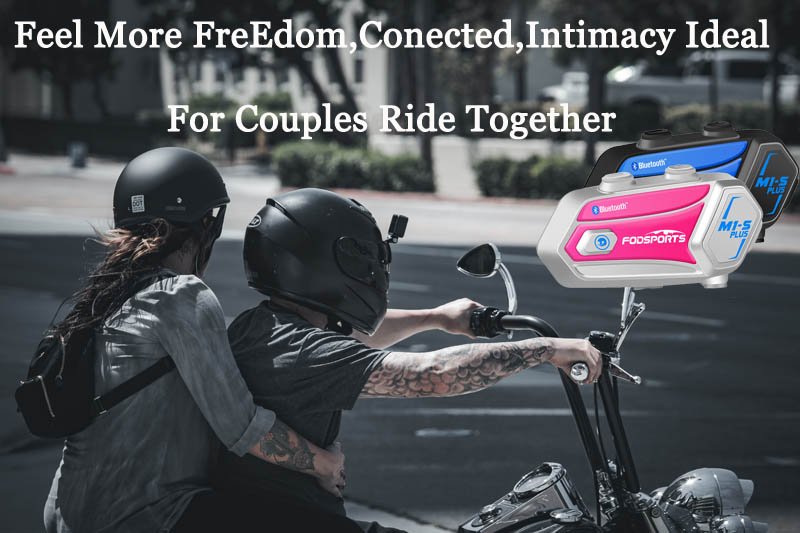 Mute Microphone
The feature is very practical. You can enable it when you don't want to talk.
It can protect privacy without having to exit the intercom/call.
When the other members don't want to hear the sound from you,
such as the external sound source of the Bluetooth speaker on your motorcycle,
then you can use the microphone mute function without exiting the intercom state.
You can still hear other members' communication and sound.
Take good care of the feelings of others and make your group intercom more cheerful and harmonious.

Sound Quality
Considering its cost, this Bluetooth headset is very strong when it involves its sound high quality.
It features 40mm, audio speakers, with a wonderful bass that give high-definition sound hardly ever discovered on Bluetooth headsets in this cost range.
It has the loudest voice volume during all Fodsports intercoms.
Of course, keep in mind that the speaker audio quality will fail when you are riding on a windy day.
That will rely on the top quality of your helmet as well as exactly how it takes care of wind sound.
The guideline is that the sound high quality will certainly be superior when riding listed below 50 miles per hr (80 km/h).
Also, the headset includes a CVC chip that supplies innovative sound cancellation technology for the microphone.
So, when you remain in the intercom session,
your voice will be heard plainly because of the termination of wind as well as engine sound and also similar sounds.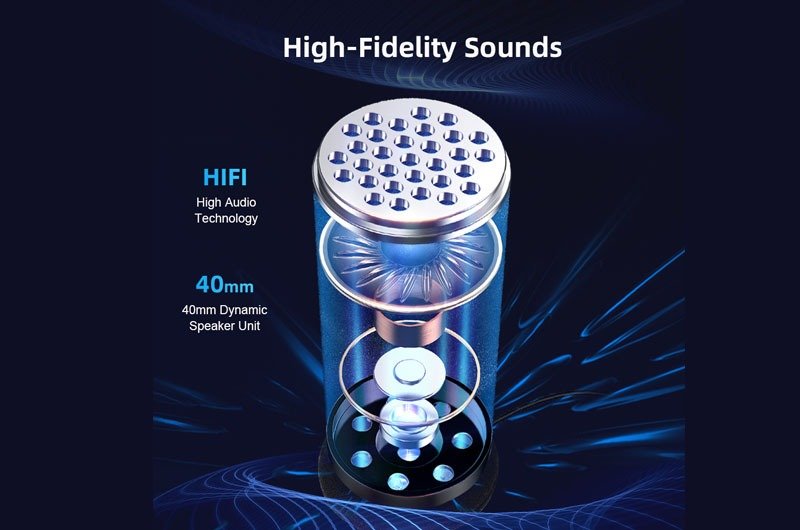 Voice Control
While it doesn't supply an incorporated voice control performance,
you can achieve it by pairing this Bluetooth headset with your smart device.
That implies that you can utilize voice assistants such as Siri and Google Assistant through the Bluetooth headset's microphone.
The microphone is of high quality,
so you definitely will not require to yell it to register your voice commands.
So, with voice control, you can get hands-free operation on features such as:
Answering as well as turning down calls

listen to music/

FM radio

Providing GPS commands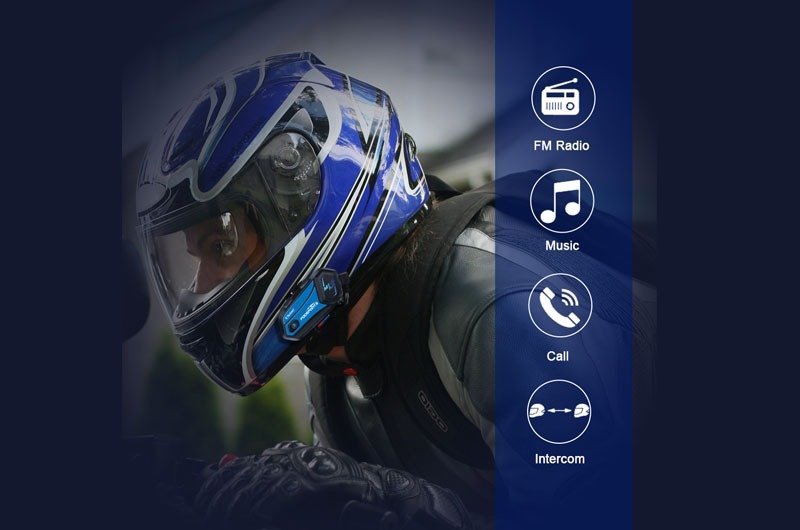 Waterproof and Dustproof
Many motorcycle motorcyclists will certainly find themselves riding in hefty rain.
Thus, having a sort of water-proofing or high water resistance is essential to a sturdy and beneficial Bluetooth headset for a motorcycle helmet.
We are happily surprised to see that Fodsports M1S Plus is both water-proof and also dustproof.
Essentially, you can utilize it in any sort of weather condition without being afraid of it breaking down on you.
Benefit favorable factors for that!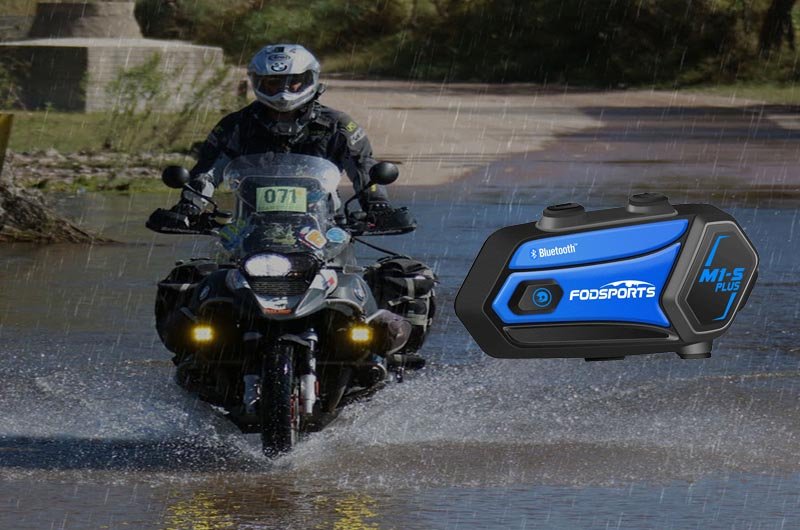 Battery Life
The M1S PLUS truly kicks it out of the park when it involves battery life.
First of all, it includes a 900 mAh battery that stands above one of the most Bluetooth headsets in the competition.
The complete battery fee provides:
12 hours

of intercom time

20 hours

of phone talk time

300 hrs

of standby
When the battery obtains reduced, the headset will certainly release an audio caution to prepare you.
After you discharge the battery, you can charge it on the go if you have a portable battery charger.
It will take 3 hrs to charge the battery of the M1S PLUS totally.
Remember that you can use all the headset works when it's charging, which is a fantastic plus.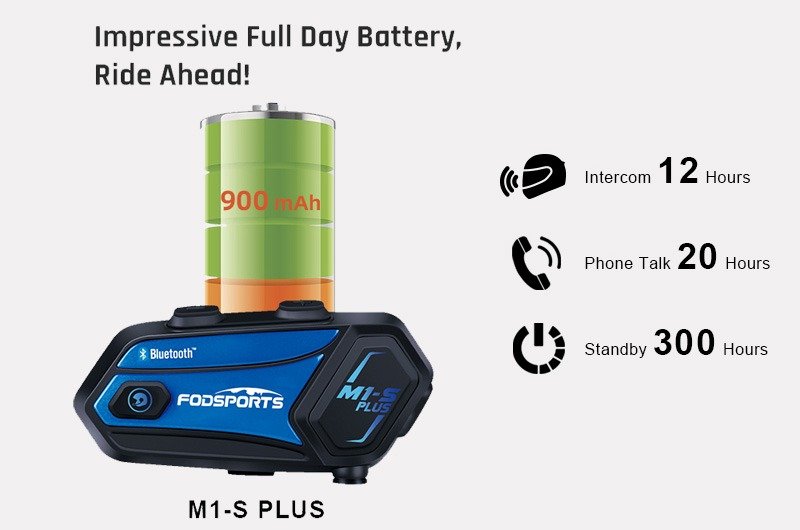 Price
Well, the Fodsports M1S Plus is one of the most budget-friendly motorcycle Bluetooth headsets that you can locate on the market.
Along with lots of beneficial features, its pricing is truly generous, also for a double pack variant.
You can currently locate it on Fodsports shop at pick costs:
Single Pack– $119.99.
Dual pack– $218.99.
Check the accessibility and also costs for the Fodsports M1S PLUS Bluetooth headsets on the buttons listed below!
Final thought.
Since we are at the end of our Fodsports M1S Plus Bluetooth communication system evaluation, would we in fact advise it?
This intercom is a true breath of fresh air in the Bluetooth headset market.
It comes at a hugely inexpensive rate, yet comes with several of the most effective functions you can locate in a Bluetooth headset.
First of all, it provides wonderful audio of high quality that can rival Cardo's JBL speakers yet still are not on the same level.
The intercom connection range is the genuine celebrity right here,
with 2 kilometers of max range as well as 500 meters of the array in between motorcycles.
Even if someone damages the link, they will certainly be perfectly reconnected.
Additionally, the headset is very compatible with other Bluetooth headset brands,
which is a convenient attribute.
In addition, M1S Plus also adds a lot of entertainment features.
Share music with peers, listen to the FM radio and mute the microphone, etc.
The only drawback that we can mention is exactly how conveniently the audio speaker sound quality can fail when the wind sound can be found in.
Because of that, make sure to offer a proper setting for the speakers.
Of course, in terms of communication technology, there are certain shortcomings compared to SENA or Cardo.
All in all, this is definitely one of the most cost-effective motorcycle communications on the market.
Motorcycle mechanic, writer. Interested in motorcycle gear for years. Like to stay up to date with the newest products and techniques of the motorcycle.