There are very few 2-person intercoms that we can choose from on the market.
2-way intercoms from SENA and CARDO are not only a few but also require a lot of budgets. When we only need a 2-way intercom. It's not worth it.
But Fodsports has the best budget for your 2-way intercom. Formerly BT-S2 and BT-S3, now FX2 and FX8 Air.
This article is about Fodsports FX2 Review. If you are looking for the best budget 2-way motorcycle Bluetooth intercom system. Just keep reading.
FX2 Bluetooth Motorcycle Headset Review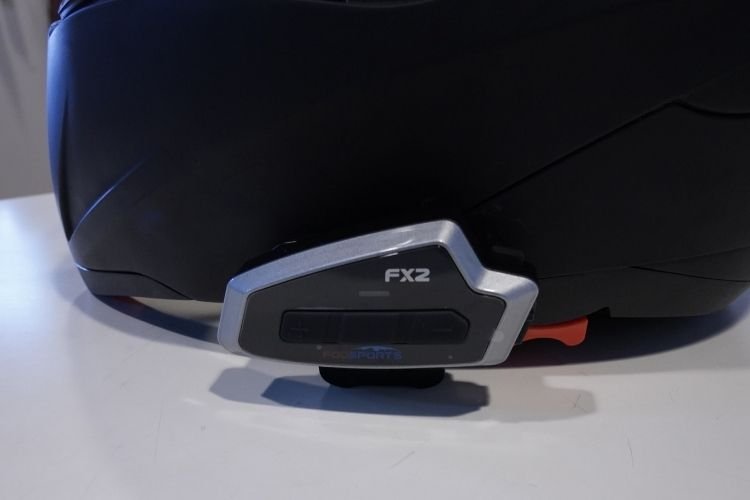 CSR processing chip
Connectivity via Bluetooth 5.0
Support three-person pairing and two-person intercom
CVC technology intelligent noise reduction
IP65 rated waterproof and dustproof
Type-C charging port and headphone jack
FM radio support (76~108Mhz)
Bluetooth phone talk time up to 16 hours
Support for voice assistant and automatic answering of calls.
Design and Install
FX2 has 4 silicone buttons and two indicator lights, red and blue. The material of the silicone keys has been upgraded again. The keys feel very good, with a strong response the moment your finger is pressed.
The red and blue lights are designed to show their battery status. A blinking red light indicates charging.
It doesn't matter if you find that the red light doesn't flash while charging, it may just be over-voltage and it won't affect charging.
And FX2's charging port and headphone jack are the same. They share the Type-C interface. So you can't talk while charging the FX2.
The main body of the FX2 is made of ABS, and the caps at the buttons and interfaces are made of silicone. I'm not sure if you like this design.
Then we'll discuss how to install FX2 on the helmet.
All the necessary tools for installation are included in the FX2 box. Inside there are a wrench, screws, 3M Adhesive, Velcro, and more.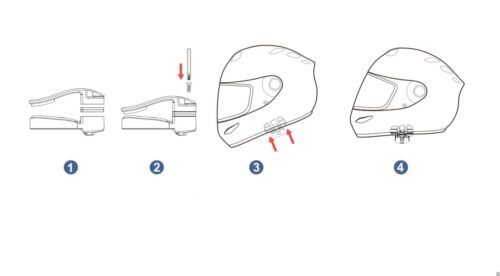 You'll need screws to hold the two parts together. Then clip this combo to the helmet. It can be easily attached to the helmet and is more secure. This is the mounting base of the FX2 host.
This installation method allows the host to be easily removed and charged at any time.
Bluetooth Pairing
Luckily, the Bluetooth version of the Fodsports FX2 is already 5.0. I think it's great for the current market. Compared with BT series intercoms, FX2 has greatly improved Bluetooth chip technology. So the connection performance is also better.
I have tested the FX2 to pair with all intercoms sold on Fodsports.com.
Press the "Microphone" button once to enter the talkback mode. No need to press the button afterward. The host will remain in the intercom state all the time. And you press the "mic" button again, it goes back to music mode.
Still the same, talkback and music can't go on at the same time.
FX2 supports connecting up to 3 people. That is to say, three FX2s can be paired together. But not 3 people talking at the same time. Only 2 people can talk at the same time.
But don't worry about GPS. One FX2 can be connected to another FX2 while also linking a GPS and a cell phone.
So, if you are 2 people, FX2 must be perfect.
Unfortunately, the FX2 doesn't seem to be able to connect to other brands of intercoms. It is only allowed to connect with its own brother, Fodsports.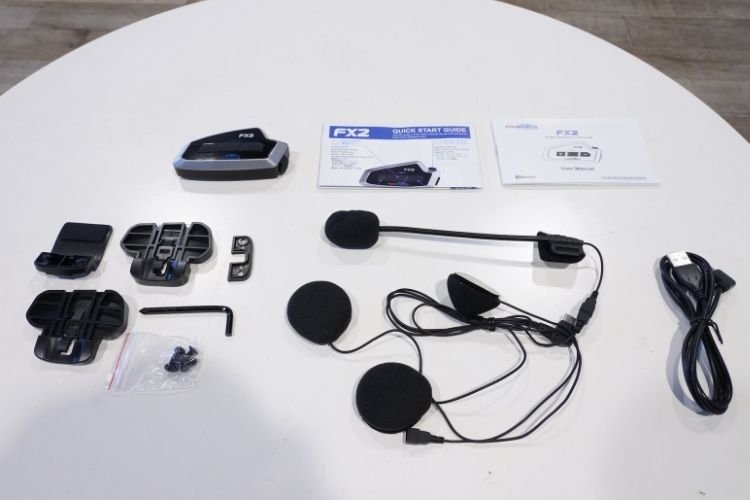 Connection Range
When the FX2 is in the vast ocean, the connection range can reach 1000 meters. Because there are no obstacles at sea, the received signal is completely undisturbed.
But in fact, when we are driving on the road, the intercom range of the FX2 is 500 meters. Because there are always many factors on the road.
For people who don't care about the distance of the connection, FX2 is actually enough.
Sound Quality
FX2's earphones are 40mm in size and 9mm in thickness. They are high-power stereo high-definition sound quality earphones. They are very comfortable to wear, and the sound quality is still maintained at a high level.
FX2 is also a built-in CVC chip with professional noise reduction technology. And with a professional noise-canceling microphone. So the sound quality is fine.
FM Radio
The little FX2 also has built-in FM. You must have the habit of listening to FM. Especially when on horseback.
FX2 has a built-in independent high-definition radio chip, which supports the FM full frequency band (76-108Mhz). So whether you are in Europe or Japan, you can listen to the local radio.
Occasionally the phone is out of power, you can use FX2 to pass a period of blank time.
You can also listen to the weather radio on your morning commute.
After turning off the intercom mode, long-press the V+ or V- key for 1 second to turn on the FM. Soon I heard the voice in the channel become clear. Double-tap V+ or V- to switch channels. Every channel is clear.
By the way, I found that every time my hand touched the console, its connection signal increased.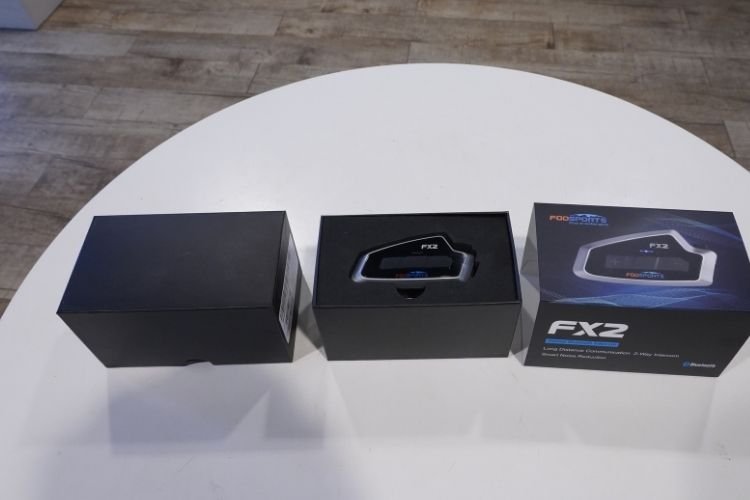 Waterproof
Waterproof function is what every motorcycle helmet intercom should have.
So of course FX2 also has.
I also have to say a word. Although its waterproof level is very high, in order to maintain the life of the host. Please remember to wipe the headphone jack clean of water stains every time you come back from the rain, and then unplug the headphone cable.
If you unplug the headphone cable without wiping off the water stains, the water stains are likely to splash into the host due to inertia.
Better maintenance will last longer.
Voice Control
FX2 supports using a voice assistant, but that's your phone's built-in voice assistant, like Siri
The FX2 itself doesn't have a built-in voice assistant. So you need to ensure that the network of your mobile phone is unblocked to support the wake-up voice assistant.
Oh! Double-tap the volume – key to activate your voice assistant.
Battery Life
It takes 3 hours to fully charge the FX2. After three hours, you can double-click the power button to test whether the battery is fully charged. It will broadcast the remaining battery to you.
After fully charging FX2. If you don't use it, it can stand by for half a month.
FX2 supports up to 12 hours of continuous intercom or 15 hours of continuous music playback.
Others
Use FX2 to connect your mobile phone and it will automatically answer the call after 12 seconds of an incoming call. This will save your attention while riding. Press and hold the "-" button for 5 seconds to manually turn off or turn on this function.
Price
As Fodsports' latest 2-way intercom, a single pack is only $59.99.
There are no additional fees, no customs duties, no shipping costs. Just $59.99.
Rodney L is a technical writer and product consultant with over a decade of experience in the motor industry. Rodney is a fan of performance machines that run fast and loud and an expert in all things custom. His numerous articles and write-ups are available at our knowledge base. Whether it's something wrong with your motorcycle or you are building a custom bike, you can trust Rodney's experience.