V6S is a new product launched by the brand company Fodsports after Halloween in 2021. What are the differences between a new product and an old product? You must be curious how V6S works, so you saw it here.
V6S is a helmet Bluetooth intercom that supports up to 6 riders. Fodsports has made upgrades and improvements in Bluetooth technology.
V6S uses Bluetooth version 5.0 CSR chip. You can find that most of Cardo's group intercoms are 4.0, and two-person intercoms are 5.1. So I said Fodsports did a good job on Bluetooth.
After all, this is the best price Bluetooth intercom.
V6S Bluetooth Motorcycle Headset Review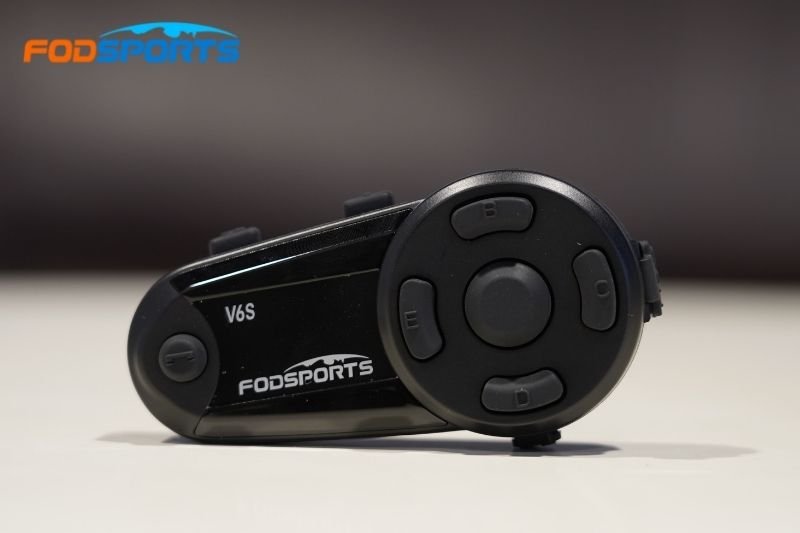 Bluetooth 5.0 version CSR chip
40mm high-power stereo high-definition sound quality headphones
Supporting FM full frequency band (76~108Mhz)
Type-C USB-Fast charging
CVC intelligent noise reduction
Two-Way Intercom-Up to 6 people can be connected
IP67 waterproof and dustproof
Voice assistant
350 hours standby and 12 hours intercom
Remaining battery announcement
Which can be used for referees
Design and Install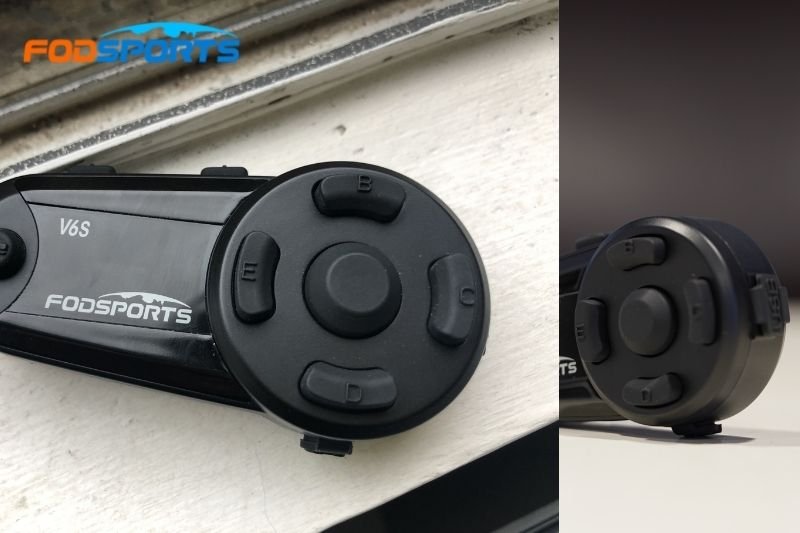 The contour lines of V6S are smooth and round. The shell is composed of smooth shiny ABS material, frosted surface ABS material and silicone buttons and other parts.
There are 8 buttons in total. And 2 interfaces, an audio interface, and a charging interface. All are made of silicone material. And the feel of the buttons is upgraded again. There will be strong feedback when you press the button. You will love the strong button feel.
There are two kinds of indicator lights, red light and blue light. The "V+" and "V-" keys are on the side.
The V6S charging interface is Type-C. You must have a Type-C charging cable, and it is fast charging. Awesome, you can make your intercom quick charge. The audio interface of V6S is 3.5mm. Coach friends can consider it, you can connect your 3.5mm single ear hook headset to V6S.
So how is the installation design of V6S?
There are parts of the helmet holder in the box, as shown in the picture. Fix the parts of the two helmet brackets together with screws. Then you can clamp it tightly on the helmet. Screws and tools are included in the box. It's very easy to install.
In addition. There is also a 3M tape mounting, this is also included in the box.
You can directly attach the mounting base firmly to the helmet. This installation method is even simpler, but it may leave marks on your helmet.
So Fodsports provides you with 2 installation methods. Even if you need to change your helmet after using 3M tape, you still have a choice.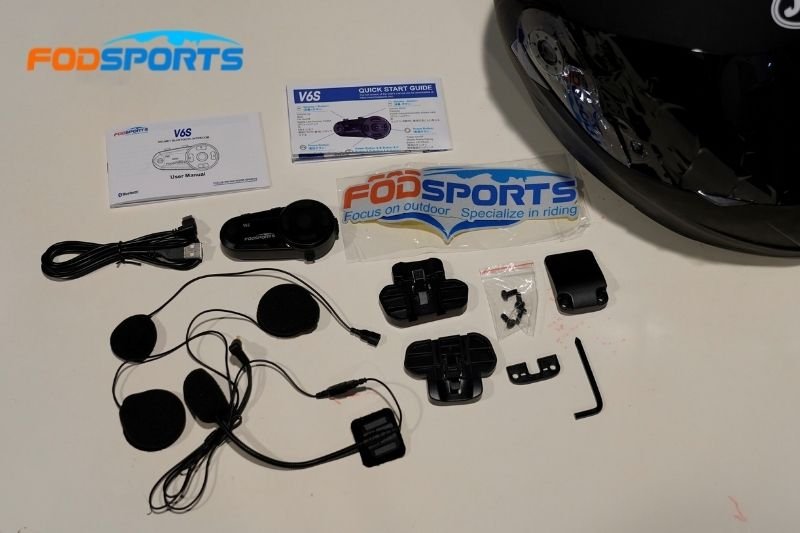 V6S has considered everything for you. The 3.5mm audio interface also allows you to use other earphones and microphones you buy.
Bluetooth Pairing
I tested the Bluetooth connection of V6S with the Bluetooth 5.0 version.
I paired the V6S with 4 Fodsports Bluetooth intercoms. They can all work normally.
The sound quality of my V6S playing music is superior. When I press the intercom button, I can talk to other people. I press the intercom button again to return to the music mode.
Double-click the "V-" key to activate the mobile phone voice assistant function to wake up your Siri or others.
Automatically answer the call in 8 seconds
HiFi stereo sound
BUT, I tried to connect V6S to Cardo PACKTALK BOLD. It can't do it. This is probably the only shortcoming.
Connection Range
V6S Bluetooth intercom supports up to 6 people to connect, two people talk.
V6S Bluetooth intercom supports up to 6 people to connect, and two people talk together. The connection distance should be kept within 0.6214 miles. The distance between 2 riders should be within 0.3107.
Fodsports V6S is mainly for two-person teams, so there is not much change in the connection distance.
Sound Quality
V6S is 40mm "high-power" stereo" high-definition audio high-quality earphones, HIFI stereo sound top quality. 9mm thickness makes the earphone comfy to put on.
Equipped with professional CVC chip, built-in noise reduction technology and professional noise reduction microphone. This makes the call sound quality clearer.
If you are troubled by wind noise when you are listening to music or intercom while riding, you can see how To Reduce Wind Noise teaches you to easily solve this trouble.
FM Radio
V6S has a built-in independent high-definition radio chip. Compared with the previous radio function, Fodsports V6S adds FM full-band frequency modulation. It can be freely tuned from 76 to 108Mhz. Switching from the Japanese frequency band to the European frequency band is no problem.
Even the morning alone is not boring. There are many FM channels to accompany you.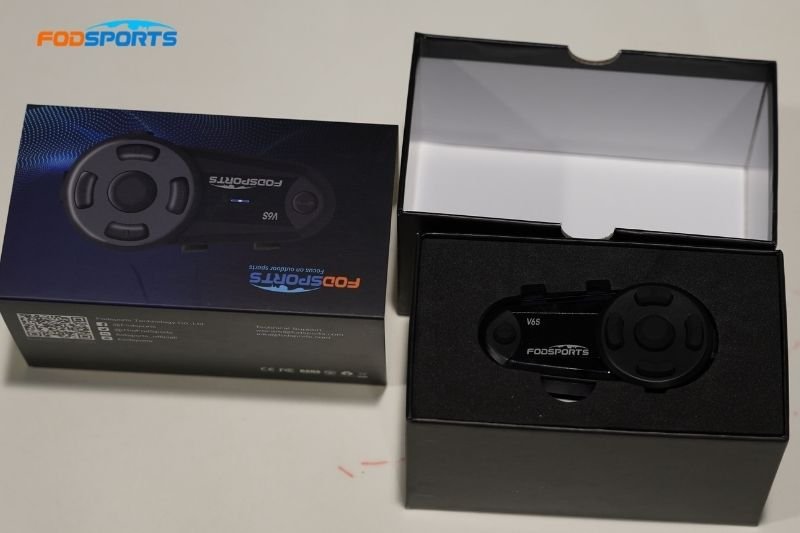 Waterproof
IP65 waterproof and dustproof is already the standard of Fodsports. Many times it is not that we like to ride in the rain. It's that the heavens are not beautiful during the ride.
We have to brave the rain to continue. It doesn't matter, as long as it is a Fodsports Bluetooth intercom, you can proceed with peace of mind. Just remember to wipe it clean in time after finishing the trip.
The rain and snow in winter, the wind and sand in the sandstorm season, are not a problem. Fodsports can do it for you. And winter is here, so taking Fodsports Bluetooth intercom to ski is also a good choice.
Voice Control
Double-click the "Volume -" button to activate the mobile phone voice assistant function. Call Siri on a busy road to make a call for you. Turn on when commuting and let the voice assistant turn on FM to listen to the morning newspaper.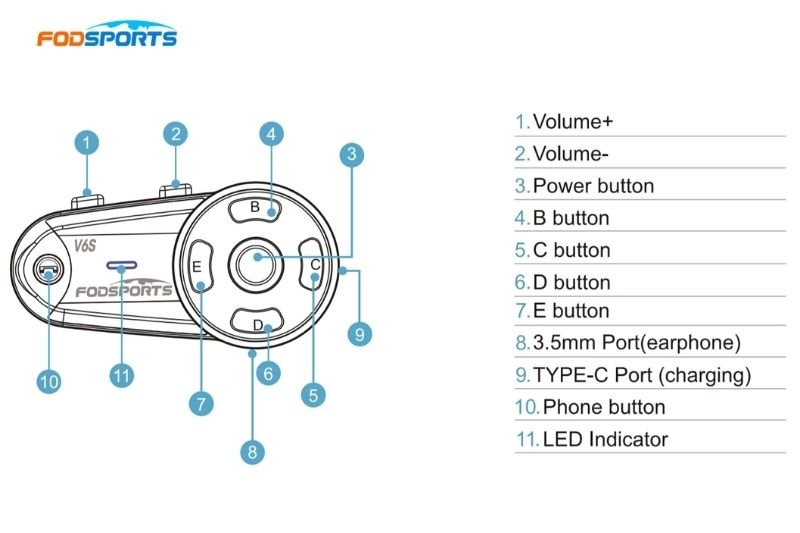 Battery Life
The battery capacity of the V6S is 850mAh, which is unremarkable. But the battery life of the V6S is still very good.
Music time can last 15 hours. The intercom time lasts for 12 hours. The standby time is up to half a month. V6S can be fully charged in 3 hours. Of course, if you have a fast charging data cable, the charging time can be shortened even shorter.
V6S also adds the function of reporting the current power. You can check the remaining battery power of this product without a display.
Press the V6S power button twice in succession. It will broadcast the power of 5 nodes. When you hear low battery, it means that the battery is almost out.
Battery 100 %
Battery 80%
Battery 50%
Battery 25%
Battery Low
I use a 5V charger to charge the V6S. When charging, the red indicator light flashes once every 2 seconds. But when the voltage is too high, exceeding 3.9V, it is normal that the red indicator light does not flash. So don't worry too much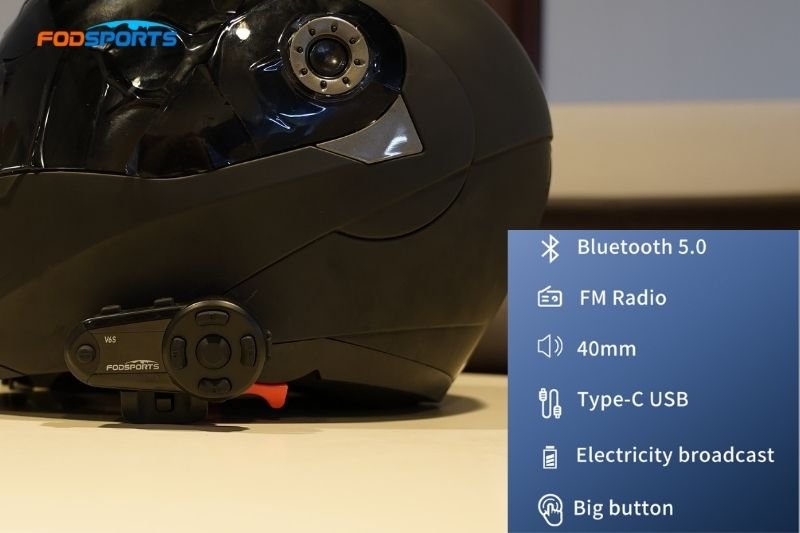 Answer Calls Automatically
The automatic answering call function of V6S is set here to make it easier for the rider to raise his hand less once on the road.
However, if you don't like letting your phone automatically answer calls, I know someone will not like it.
Just long-press the "volume -" button to turn off the function of automatically answering calls. Once again, you can open it. Switchback and forth.
For Coaches and Referees
Many coaches and sports clubs have mentioned this to me. You ask referees and coaches if they can be equipped with these Bluetooth intercoms. It didn't fit at that time.
Now, finally, there is a headset Bluetooth intercom that can be adapted to you.
Fodsports specially designed V6S for referees and coaches, using a 3.5mm audio interface, so that it can be connected to a unilateral earphone.
And the installation design of the V6S host is also suitable for hang armband installation.
Price
You won't find such cheap and delicious dishes if you step out of the door of Fodsports.
The price of a single-pack V6S on Fodsports' official website is $82.99, and the price of a double-pack is $159.99. There will be no additional costs before this.
If you tap the window of the customer service on the official Fodsports website, let him ask for some discount code. You believe that there must be a discount code there, at least a 10% discount.
Conclusion
Fodsports V6S is a new product, compared to other products sold by Fodsports. In fact, it does not have much innovation in technology.
It's just that the performance has improved a bit. V6S is even better in two-Way intercom. And it provides a choice for coaches and referees.
The price/performance ratio of Fodsports is always the best. This is beyond doubt.
You can get an excellent two-Way helmet Bluetooth intercom for less than $100. You can get a travel chat for two people for less than $200.
There are endless possibilities at Fodsports.
Rodney L is a technical writer and product consultant with over a decade of experience in the motor industry. Rodney is a fan of performance machines that run fast and loud and an expert in all things custom. His numerous articles and write-ups are available at our knowledge base. Whether it's something wrong with your motorcycle or you are building a custom bike, you can trust Rodney's experience.