We enjoy knowing that you're taking a passion in Best Budget Snowmobile Helmet Bluetooth Intercom.
These systems are a great tool to correspond while you ride.
Nonetheless, It's not easy to pick among the Bluetooth Helmet Intercoms that are readily available on the marketplace right now.
From being strictly a communication gadget to being a media suite,
You will see lots of brands, features, and layouts.
If you value connection stability and sound quality most and don't consider your budget.
Sena or Cardo Bluetooth headsets may be more suitable for you.
If the budget is what makes it or breaks it for you,
we will recommend the top 5 Fodsports best snowmobile Bluetooth intercoms for you.
This short article has actually categorized Fodsports Bluetooth headsets based on their primary toughness and weaknesses.
You'll find a choice of the most effective for every.
Best Budget Snowmobile Bluetooth Intercoms Comparison Table
| IMAGE | PRODUCT | PICKED FOR | PRICE |
| --- | --- | --- | --- |
| | | Best Value | |
| | | Best Connection Stability | |
| | | Best Budget Pick | |
| | | Runner-Up For Best Budget Pick | |
| | | Best Sound Quality | |
---
Best Value–Fodsports M1S Pro
Review: Fodsports M1S Pro review

Price: $89.99
Coupon Code: welcome10
Fodsports M1S Pro is the very best Bluetooth communication system under $100 that you can get your hands on right now.
From the 2-kilometer intercom array and also high gadget compatibility to outstanding sound quality that is close to Cardo quality,
it is a valuable as well as an economical alternative.
Some sacrifices needed to be made to justify it's less than the typical price tag, though.
To start with, it includes no specialized voice command system like many Cardo and also Sena headsets have.
Still, you can connect this Bluetooth headset to your smart device and also utilize its dedicated voice assistant.
Still, the really long-lasting development and solid battery come in handy with the robust software program abilities of this Bluetooth headset.
A team of 8 riders can connect to the intercom,
and even if they leave the array, there is a reconnect modern technology at play below.
If you are seeking the most effective best affordable snowmobile Bluetooth intercoms,
you can not go much better than Fodsports M1S Pro currently.
PRO
√ Great sound quality
√ Long Standby Battery & Removable Metal Clip
√ Cost-effective
√ 2000M Maximum Distance
√ Waterproof and dustproof
CONS
× No built-in voice command function
× No built-in FM radio
× High-speed wind noise attenuates sound quality
---
Best Connection Stability–Fodsports FX8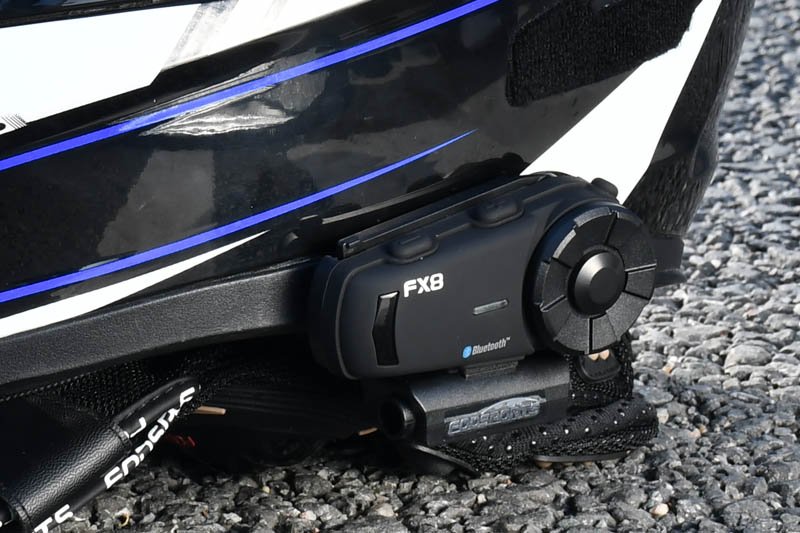 Review: Fodsports FX8 review
Price: $95.99
Coupon Code: welcome10
FX8 has a tiny antenna located on the top of the headset.
With it, you can increase the intercom signal by 30%.
The connection between the intercoms is a lot more stable.
Can handle an extra complicated external environment.
Of course, the signal will certainly be weak if there are some disruptions,
like lush woodland, high hillsides, structures, or busy traffic.
You can connect as many as a maximum of 8 motorcyclists in the FX8 intercom session.
This makes the Fodsports FX8 headset fairly suitable for team rides.
The Fodsports FX8 has an optimal range of 2 kilometers (1,24 miles).
Generally, you obtain 500 meters (0,3 miles) of an effective speaking range between 2 riders.
The audio speaker's sound is loud, with excellent clearness as well as a good quantity of bass.
And also it uses the CVC sound reductions technology.
This chip ensures the FX8 will produce a clear sound of as much as 120 km/h (75 miles per hour).
There may be no voice commands for the system alone,
however that is made up of a user-friendly switch control plan and smartphone voice commands.
The FX8 is completely water-proof, with an IP67 waterproof rating.
And also can operate in temperature levels as low as -15 levels Fahrenheit.
You needn't worry about the wintry weather damaging your intercom.
You will be stunned at the lengthy battery life it provides at a full fee.
Generally, the Fodsports FX8 takes the crown for being the most effective snowmobile Bluetooth headset from the maker if you want connection stability, along with a durable collection of attributes.
All that is around $100. Difficult to imagine, but quite possible.
PRO
√ Long Battery Life
√ Excellent Sound quality
√ Great range and Connection stability
√ Waterproof and Dustproof
CONS
× High winds and high speeds hurt sound quality
× No built-in voice command function
---
Best Budget Pick– Fodsports BT-S3
Price: $75.99
Coupon Code: welcome10
Fodsports BT-S3 is priced just a bit under $80,
as well as it is an enjoyable surprise to see a headset loaded with a lot of functions.
While it provides an optimum intercom variety of 800 meters-1000meters for a group of 2 riders,
it's still a success when you consider its cost.
What it lacks in intercom array, it supplies with various other attributes.
This waterproof Bluetooth communicator comes with DSP echo termination and also noise suppression technology,
crystal clear voice quality is guaranteed at a high speed.
It additionally includes a dedicated voice control function that is handy for a hands-free experience.
You can additionally connect it using Bluetooth 3.0 to your smartphone to obtain GPS instructions,
listen to songs, or wage phone calls.
The battery life is sensibly solid and sits at 10 hrs of talk time, with 3 hours of charge time.
Generally, Fodsports BT-S3 is a benefit plan that is fit for customers who do not want to spend a ton of money on a snowmobile Bluetooth intercom and also wind up let down.
PRO
√ Radio feature included
√ Competitive price
CONS
× Can pair with two more units but the intercom only works between two riders at once.
× 6-hour intercom battery life (but 10-hour life when using the phone and 300 hours in standby).
---
Runner-Up For Best Budget Pick–Fodsports FX4 Pro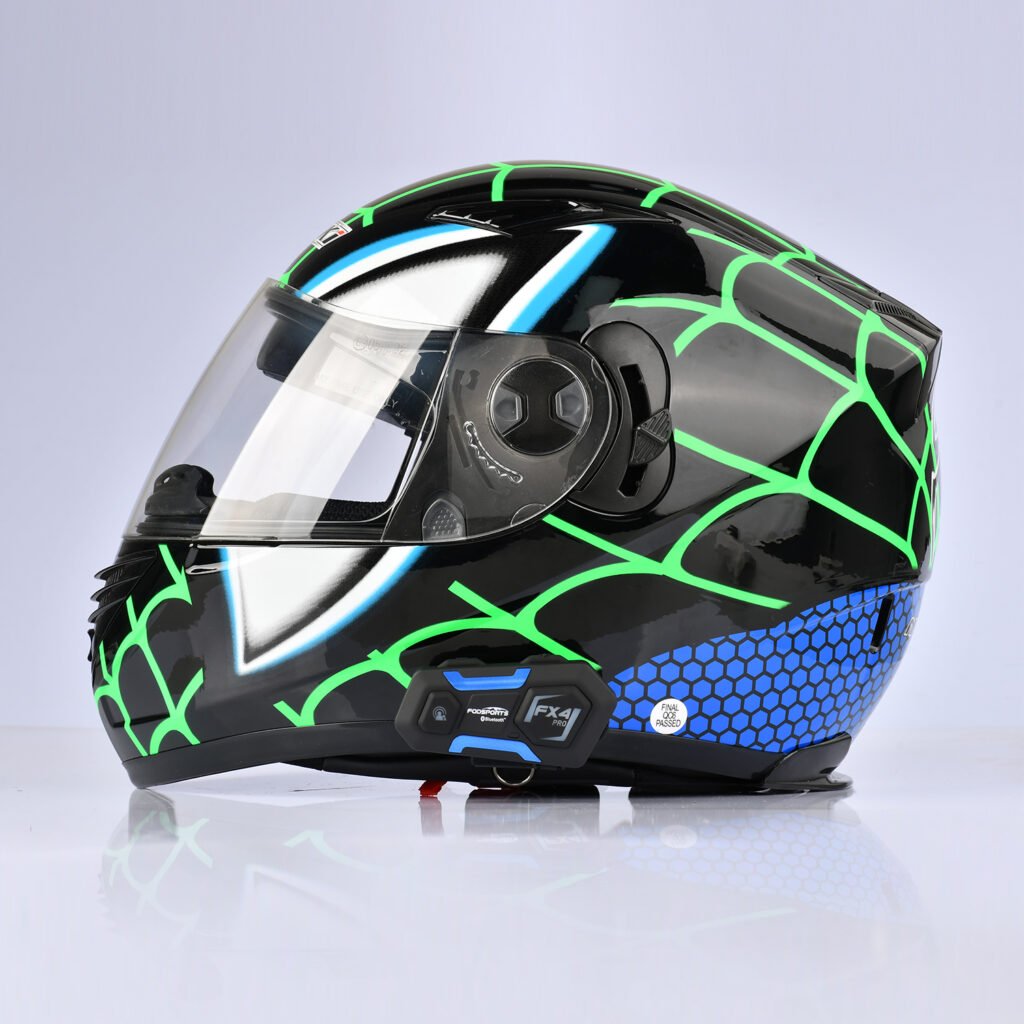 Review: Fodsports FX4 Pro review
Price: $75.99
Coupon Code: welcome10
FX4 Pro has a responsive and also durable style, as it is built to last, which is verified by its IP67 waterproof rating.
Its battery life is additionally quite strong, as a single cost can last you well over 10 hrs of use.
The audio top quality is absolutely nothing too unique, yet the audio quality is really nice, even at high speeds.
The group intercom capability of the FX4 Pro headset is rather respectable, sustaining approximately 4 riders in one intercom session.
Still, the array could be better, as it is more fit for tight-knitted teams.
The maximum intercom range of the FX4 Pro is up to 1 kilometer.
That equates to an efficient talk array between individual snowmobiles of 300 meters (0,19 miles).
Certainly, the range will rely on different terrain conditions.
Nevertheless, some clients report that the quality of the FX4 PRO microphone is not sufficient.
Generally, this is a wonderful, cheap Bluetooth snowmobile intercom.
3.5mm Headphone Jack For More Use
Do you usually wear a heavy helmet to coach your kids or new riders? You don't have to now.
3.5mm headphone jack
on FX4 Pro allow you to connect it with referees' headphone, so you can provide helpful advice in real-time through the intercom system. But please NOTE that it is not included in the package.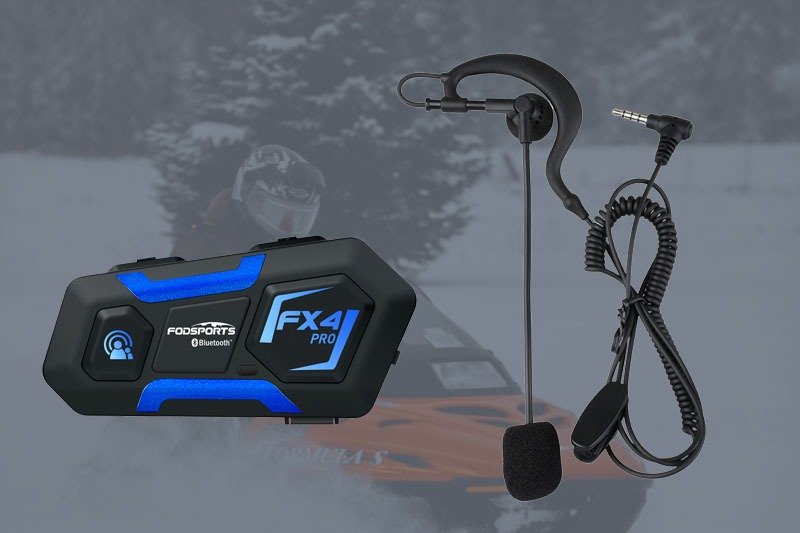 PROS
√ Clear sound quality
√ Supports up to 4 riders
√ Strong battery life
√ Durable and waterproof build
√ 3.5mm Headphone Jack For More Use
√ Very Budget
CONS
× No integrated voice command support
---
Best Sound Quality– Fodsports M1S Plus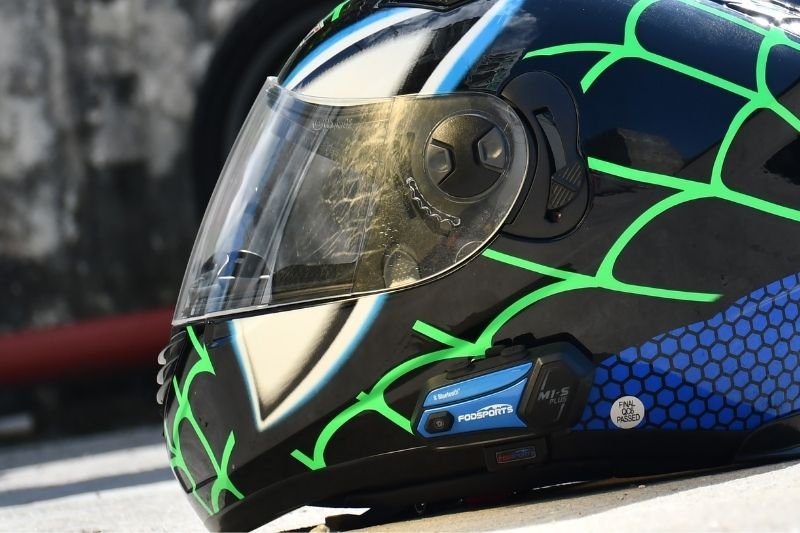 Review: Fodsports M1S Plus review
Price: $99.99
Coupon Code: welcome10
Making use of most of the Bluetooth 4.1 modern technology, you can link the M1S Plus to an optimum of 7 different headsets.
When you couple with other bikers, the intercom range will be 1,2 miles (2 kilometers).
The very best aspect of this intercom system is that all eight individuals in the intercom team can talk simultaneously.
This headset comes furnished with Stereo 40mm Hifi speakers, which is great,
which is fantastic because they provide incredibly loud volume and exceptional intercom audio high quality.
You've got an integrated noise control attribute that guarantees you don't get way too much disruption from engine and wind noise.
The main system of the headset is innovatively developed to enhance water-proof efficiency and also the convenience of use.
The control buttons are ergonomically produced by a simple procedure.
The battery life goes over, giving you 20 hours of talk time.
Sadly, Like various other Fodsports devices,
it doesn't supply an incorporated voice control efficiency.
One more flaw though is that the music sharing function is just feasible between 2 riders and not eight.
M1S Plus is the latest product of Fodsports.
It has the best sound quality among all Fodsports devices.
As well as its rate is only around $100.
Do not require investing excessively, it is most likely the most surprising Bluetooth snowmobile intercom on the market right now.
PRO
√ Great sound quality
√ Long Standby Battery & Removable Metal Clip
√ Cost-effective
√ 2000M Maximum Distance
√ Waterproof and dustproof
CONS
× No built-in voice command function
× No built-in FM radio
× High-speed wind noise attenuates sound quality
---
Which Should You Get?
We hope that our listing of Fodsport's best snowmobile Bluetooth intercoms to obtain will aid you with your decision.
Our list is tailored to users of different tastes, whether you favor your Bluetooth intercom for sound quality or the intercom performance.
If you have difficulties choosing a Bluetooth communicator,
M1s Pro is a classic style in FODSPORTS, suitable for most motorcycle enthusiasts;
make sure to check out our guide on how to choose the best motorcycle intercom!
It's an informative guide that breaks down all the essential features you should look into in a new Bluetooth communicator.
Motorcycle mechanic, writer. Interested in motorcycle gear for years. Like to stay up to date with the newest products and techniques of the motorcycle.