Couples that share leisure activities are often healthier and happier,
and also there's nothing like that sensation of freedom,
connection as well as intimacy that riding a motorcycle with each other brings.
Yet in order to capture all those amazing things,
you as well as your riding companion require a way to interact quickly and also free,
without needing to endlessly re-adjust particular hand controls.
Fortunately, Fodsports provides the best motorcycle Bluetooth communication for couples.
Read on and choose the most suitable Bluetooth intercom.
IMAGE

PRODUCT

DETAILS

PRICE

LEARN MORE






Share The Same Music
With Passenger


Mute Microphone


Built-in FM




$195.99



8 Riders Group Intercom


Noise Reduction Function
& Hi-Fi Stereo Sound Quality


IPX5 Waterproof




$175.99



DSP echo Noise cancellation
Control Technology


800-1000 meters High-
Performance Intercom


listen to FM radio or use GPS




$119.99
Why couples need motorcycle Bluetooth communication systems?
1.Safer Riding
Riding safely with a passenger implies that both cyclists and also passengers require to be able to interact clearly and promptly.
Motorcycle hand signals, as well as shoulder taps, can function,
yet they're not precisely precision interaction,
as well as it can be frustratingly hard to connect with the nuance you require when riding a bike together.
Quick interactions, can be super important for a safe ride.
That's why it's a wonderful suggestion to get a Fodsports Systems Bluetooth helmet intercom system
that permits basic and also user-friendly voice-activated communication.
You can alert various he/she if a car and truck aren't paying attention, if there's someone pulling out into a junction, or if there's an animal ready to cross the road.
2.More Comfortable And Fun
Your ride will not just be much safer–
it will certainly likewise be a lot more fun and also even more comfortable when the rider and also passenger can interact quickly.
Need to stop for a restroom break or a snack, or require the other person to adjust their placement a little?
It's as easy as saying the words when you're using your Fodsports Systems motorbike safety helmet intercom.
Just as notably, you can point out the soaring landscapes that make riding in the nation such a blast.
3.Enjoy music together
Whether you're rocking bent on heavy metal, traveling to the most recent hits,
experiencing the flow and also appeal of classical music,
or appreciating your favorite podcast,
your trip will certainly be extra fun when you can take pleasure in shared high-definition sound.
Fodsports motorcycle helmet intercoms make it very easy to stream sound media straight from your smartphone, indicating that you have actually got full access to all of your music,
playlists as well as podcasts with just the audio of your voice.
Most importantly, high-definition audio speakers
and also advanced audio processor layouts make certain that whatever appears crystal-clear and firmly specified for a more expansive and also enjoyable sonic experience.
Some Fodsoports products also support music sharing.
You can likewise share music with your partner to express your inner pleasure.
Then, remain to appreciate the fun of listening to the very same thing together.

4. Conveniently answer the phone
Need to answer the phone during the ride? Want to check the text messages sent by mother-in-law or friends?
In either case, Fodsports motorcycle helmet intercom systems permit cyclists as well as guests to take telephone calls hands-free.
With access to Siri (iPhone), your system can inform you when you have a message come in and also read it out to you. After that, if it's something you need to respond to,
you can use voice commands to reply without having to check out the display.
The intelligent noise control function,
which can ensure that your family hears your voice rather than the audio on the road.
you can say goodbye to "Say what?" and "Come again?" throughout your telephone calls.
---
Best Motorcycle Bluetooth Communication For Couples
1. Music Share that bring couples closer together
The greatest joy between couples is to enjoy doing the same thing.
And Fodsports M1-S Plus happens to provide this feature.
Do you want to listen to the same song with your motorcycle companion?
Fodsports engineers spent a year developing this feature.
This is a rare feature configuration on the market.
It can listen to a song between two M1S PLUS units at the same time! This is a great thing! Why not try it?
M1-S PLUS was developed on the basis of M1-S Pro.
It can talk with 8 riders, you can enjoy the scenery all the way,
share daily interesting things, in addition, M1S PLUS has a microphone mute function,
which can better protect your privacy!
The M1-S PLUS Bluetooth helmet speaker has an FM function.
The built-in CSR noise reduction chip can reduce wind noise and engine noise.
In addition, using a 900mAh battery,
only 3 hours of charging time can achieve up to 20 hours of continuous working time,
very suitable for long-distance travel.
It is easy to set up the device according to the sound reminder,
with battery detection and low battery reminder functions,
you can always know the battery status.
By accessing Siri (iPhone) and S Voice (Samsung) voice commands,
you can make or receive hands-free calls, listen to music, and GPS voice guidance.
M1-S PLUS is not only waterproof,
it can even withstand high temperatures-30 degrees Fahrenheit (about 16.1 degrees Celsius).
M1-S PLUS has 2 microphones-allows you to choose a cantilever microphone for an open face mask or flip (convertible) helmet, and a button microphone for a full-face helmet.
M1-S PLUS is equipped with removable, easy-to-install metal clips.
And can be removed at any time and installed on other helmets.
M1-s plus is the only motorcycle helmet intercom that supports music sharing. Come experience it!
---
2. The most stable connection between two lovers
Communication is the most effective way to maintain relationships between couples.
FX8 provides a strong guarantee for good communication between riders。
FODSPORTS FX8 is equipped with a unique antenna design to enhance the communication signal.
It can support 2 rider group intercoms within 500 meters.
The built-in smart chip ensures high compatibility.
It can be used with GPS, music players, and most Bluetooth headsets on the market.
Headphone compatible, such as FX4 Pro M1s Pro, M1s Plus, FX6, etc.
The FX8 Bluetooth headset uses a professional wind noise microphone,
which can clearly receive your voice.
The received sound is processed by a smart CVC digital noise reduction chip to ensure high-quality stereo sound effects, even at high speeds of up to 120 km/h.
Equipped with 40 mm high impedance and high fidelity speakers.
Whether you are speaking with passengers or listening to music or FM, you can hear very clear sounds.
FX8 is very suitable for 2 riders who want to stable communication.
It has superior stability and the signal is not easily interrupted during the intercom.
And it can be used in different outdoor environments.
It is a great outdoor helmet Bluetooth headset.
---
3. The most Budget intercoms for couples
Fodsports BT-S2 is a ways intercom, it is cost-effective, and must be a good choice so that you can spend a small budget to get enough features and performance.
It has been market tested and 120,000 units have been sold in four years,
and it has performed well in the global market, especially in Europe and the United States.
The motorcycle helmet intercom with DSP echoes cancellation and noise suppression technology,
crystal clear voice quality is guaranteed at a high speed.
Motorcycle headsets for Bluetooth enable cell phones at a range of up to 10 meters,
Bike-to-bike Intercom for rider& passenger, or two separate bikes up to 800-1000 meters.
The Bluetooth headphones for motorcycle helmets keep you connected to your phone,
play music, and connected with the Bluetooth GPS system easily and stably,
and the Button panel is water-proof,sun-proof, and large,
Even if you wear gloves, you can easily manipulate it.
Motorcycle communication systems receiving a cell phone call automatically, support audio transfer,
and the last number redialing,
you can also listen to stereo music, FM radio, or use GPS, it can protect your safety while driving.
The Bluetooth motorcycle communication up to 10 hours talk time when connected to a cell phone or 6 hours using the intercom feature, Up to 300 hours standby.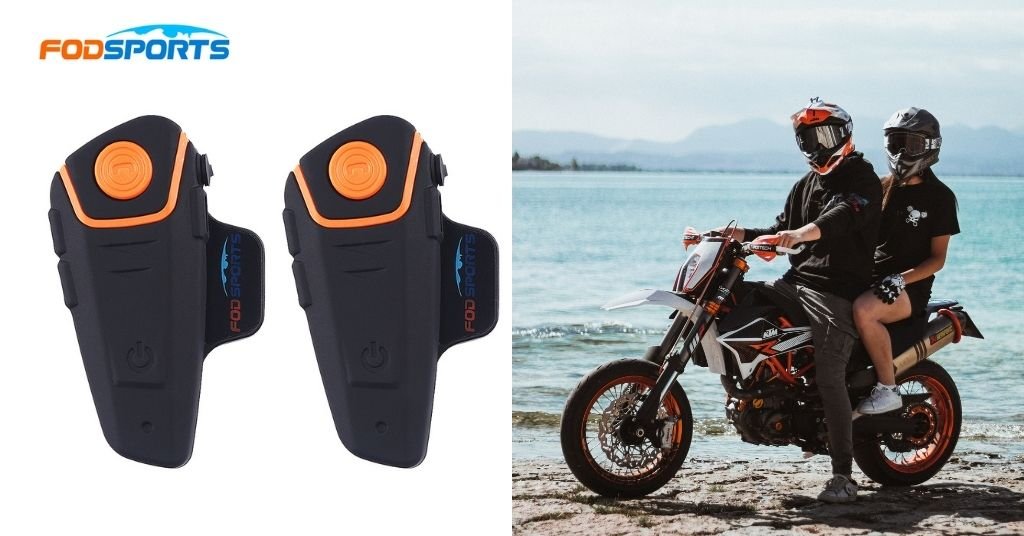 ---
4. Most Tradition intercom for couples
M1S Pro Helmet intercom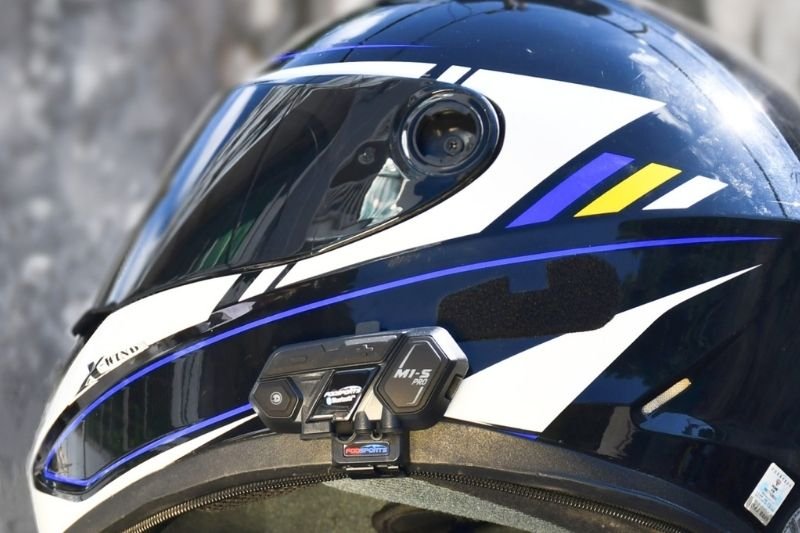 Quick info: High-spec entry-level motorcycle intercom,

$8

9.99
The Fodsports M1-S Pro is a budget Bluetooth intercom with higher-tech compared to its direct competition.
This helmet intercom sustains wireless intercom for as many as 8 motorcyclists,
permitting you to enjoy the enjoyment of multi-person telephone calls.
If you're after a budget motorcycle intercom and often ride in groups then consider the M1S PRO.
At the same time, it has exceptional compatibility and security, it's geared up with Bluetooth 4.1 variation.
If there are no obstacles, the optimum interaction distance of motorcycle helmet intercoms is about 2000 meters.
The maximum range between the two motorcycles has to do with 500 meters.
It makes use of a premium full-frequency membrane layer monomer with a powerful sound decrease function.
It can maintain high-definition audio top quality when you are speeding at high speed, guaranteeing your riding experience.
At the same time, M1-S Pro is water-proof as well as dustproof, allowing you to take pleasure in the fun of riding without any scruples.
M1s Pro is outfitted with flexible, detachable, and also very easy to install metal clamps.
And can be eliminated at any moment as well as set up on other helmets.
M1s pro is a classic design in FODSPORTS, which is really ideal for newbies and also experts.
Pros
√ Great sound quality
√ Long Standby Battery & Removable Metal Clip
√ Cost-effective
√ 2000M Maximum Distance
√ Waterproof and dustproof
Cons
× No built-in voice command function
× No built-in FM radio
× High-speed wind noise attenuates sound quality
---
Conclusion
This is one of the most important things to keep in mind when considering this kind of product.
That's because, when you pay more you get more functionalities and vice versa.
So if you want more functionality, the price tag also becomes bigger, and after a point, it's just going to cost you a fortune to get one of these.
The best way to go about it is to fix your budget and get a communication system within that constraint.
And get the best available products within that price range, you should go through numerous reviews before speaking one.
Now with all these points in mind, let's take a look at the top intercom systems available in the market.
FODSPORTS is an excellent brand specializing in motorcycle helmet intercom.
Its quality and service are unparalleled.
The following three models are the best motorcycle intercoms recommended as holiday gifts for motorcycle lovers.
M1s Pro is a classic style in FODSPORTS, suitable for most motorcycle enthusiasts;
M1S PLUS is more comprehensive in terms of functions, with music sharing and mute functions, and its unique functional design has won the favor of many motorcycle enthusiasts;
BT S2 is suitable for Three to four riders to travel in 2 Peoples.
If you are an experienced motorcyclist who likes to travel For Couples and have high requirements for greatest joy between couples is to enjoy doing the same thing, it is recommended to buy Music share M1S PLUS.
Make the best choice according to your needs.
Hope this article helpful to you.
If you get any other recommendations or advice,leave a comment below let me know:)
Motorcycle mechanic, writer. Interested in motorcycle gear for years. Like to stay up to date with the newest products and techniques of the motorcycle.