Dirt Bike Bluetooth communicators are long specifically designed for the road riding market and dirt bikes not making the most of this type of technology.
Best Dirt Bike Bluetooth headsets On Fodsports for small group riders ( up to 8 ridres)
as the Top Dirt Bike Helmet Communication System Bluetooth headsets suitable for off-road/dual sport/adventure riders.
you can check Dirt Bike Intercom on Fodsports.
---
How To Select Best Dirt Bike Bluetooth headsets Intercom Communication System
IMAGE
PRODUCT
Connectivity
Battery / Talktime
Features
Price




UP TO 8 RIDERS
900mAh /
20 H
Music Share




UP TO 8 RIDERS
900mAh /
20 H
IPX6 waterproof

UP TO 8 RIDERS
900mAh /
20 H
With antenna




4 RIDERS
850Mah /
12 H
Multifunctional 3.5MM headphone jack




UP TO 6 RIDERS
500Mah /
10 H
LED Screen




UP TO 6 RIDERS
850mAh /
12 H
2 People Toggle Intercom




UP TO 3 RIDERS
500Mah /
10 H
Best buget Under $50




UP TO 3 RIDERS
900 mAh /
20 H
3 EQ Sound Effects

There's a broad selection of Dirt Bike Bluetooth Headsets available today.
Deciding which is most suitable for your needs can be difficult and time-consuming.
To assist you in making an informed choice Here are some characteristics to look for:
Three Things You Should Take into Account:
1. Connectivity and range:
This is a huge difference between models and brands.
It is obvious that you should search for the most extensive range that you can,
but this depends on the terrain you're traveling through and the obstructions like buildings or trees.
What's claimed by the manufacturer may not always be the case as you may not be in optimal conditions of reception.
2. Audio Quality:
is an additional important aspect to think about.
The top headsets come with HD speakers to provide premium sound experience.
With all your devices that are connected, such as the music you play from your smartphone and GPS directions,
FM radio and even talking with your riding companions, high quality sound is crucial.
The wind-noise cancellation function is crucial especially when you're riding in an open-face helmet with a boom mic.
The installation of the speakers inside your helmet is a different thing to take into consideration.
Although some helmets include cutouts in the EPS liner that allow for speakers,
the majority don't and the weight of the speaker itself could be a problem.
In general, a smaller speaker is the best way to take.
3. The battery life :
is vital particularly if you intend to ride for the whole day long, such as with adventurers.
A 13-hour talk time is fairly commonplace in the majority of Bluetooth headsets today and has an approximate 8 to 10 days standby duration.
Of course the more Bluetooth devices you use and the more you use them,
the shorter their life but even if you use your device for eight hours in one day,
the 13-hour talk time is far more than enough.
Other aspects like the ease of setting up and installing operating during on the bike (with gloves)
as well as waterproofing (or simply water-resistant) longevity,
and updates to firmware are also factors to take into consideration.
A voice-activated feature that is available on a few units today could make the operation much more simple.
---
For: 6 TO 8 RIDERS
1. M1S PRO – Classic Helmet Intercom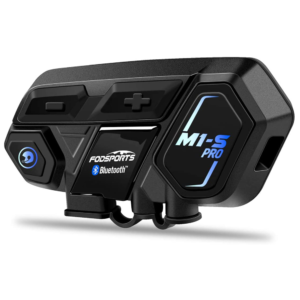 The Fodsports M1-S Pro is a budget Bluetooth intercom with higher-tech compared to its direct competition.
This helmet intercom sustains wireless intercom for as many as 8 motorcyclists,
permitting you to enjoy the enjoyment of multi-person telephone calls.
If you're after a budget motorcycle intercom and often ride in groups then consider the M1S PRO.
At the same time, it has exceptional compatibility and security, it's geared up with Bluetooth 4.1 variation.
If there are no obstacles, the optimum interaction distance of motorcycle helmet intercoms is about 2000 meters.
The maximum range between the two motorcycles has to do with 500 meters.
It makes use of a premium full-frequency membrane layer monomer with a powerful sound decrease function.
It can maintain high-definition audio top quality when you are speeding at high speed,
guaranteeing your riding experience.
At the same time, M1-S Pro is water-proof as well as dustproof,
allowing you to take pleasure in the fun of riding without any scruples.
M1s Pro is outfitted with flexible, detachable, and also very easy to install metal clamps.
And can be eliminated at any moment as well as set up on other helmets.
M1s pro is a classic design in FODSPORTS, which is really ideal for newbies and also experts.
Pros
√ Great sound quality
√ Long Standby Battery & Removable Metal Clip
√ Cost-effective
√ 2000M Maximum Distance
√ Waterproof and dustproof
Cons
× No built-in voice command function
× No built-in FM radio
× High-speed wind noise attenuates sound quality
---
2. M1S PLUS – Music Share
Do you want to listen to the same music with your motorcycle partner?
Based on responses from many motorcycle lovers,
we comprehend that you may require this need.
FODSPORTS engineers spent a year developing this attribute!
This is an uncommon function setup on the market.
It can listen to a song between two M1S units at the same time!
This is a great thing! Why not try it?
Our most recent headset Bluetooth headset was released in 2020: M1-S PLUS created on the basis of M1-S Pro.
It can chat with 8 riders, you can enjoy the scenery all the way,
share daily fascinating points, in addition, M1S PLUS has a microphone mute function,
which can better safeguard your privacy!
The M1-S Plus Bluetooth helmet speaker has an FM function.
The integrated CSR sound decrease chip can lower wind noise and engine noise.
On top of that, using a 900mAh battery,
just 3 hrs of charging time can achieve as much as 20 hrs of continuous functioning time,
very ideal for long-distance travel.
It is very easy to set up the gadget according to the sound tip,
with battery discovery as well as reduced battery suggestion features,
you can always know the battery standing.
By accessing Siri (apple phone) as well as S Voice (Samsung) voice commands,
you can make or receive hands-free phone calls, listen to songs, and GPS voice advice.
M1-S PLUS is not just waterproof, it can also endure high temperatures-30 degrees Fahrenheit (regarding 16.1 levels Celsius).
M1-S Plus has 2 microphones-allows you to pick a boom microphone for an open face mask or flip (exchangeable) helmet,
as well as a soft microphone for a full-face helmet.
M1-S PLUS is furnished with detachable, easy-to-install metal clips.
And can be gotten rid of at any time and installed on various other helmets.
M1-s plus is the only motorcycle helmet intercom that supports music sharing.
Come experience it!
Pros
√ Music share and mic mute
√ Built-in FM radio
√ 2 km of intercom range
√ Long battery life
√ Very affordable
Cons
× High winds and high speeds hurt sound quality
× No built-in voice command function only supports waking up your mobile assistant
---
3. FX8 – With Antenna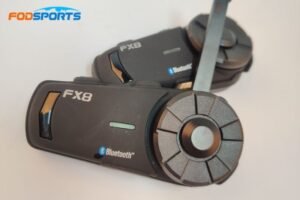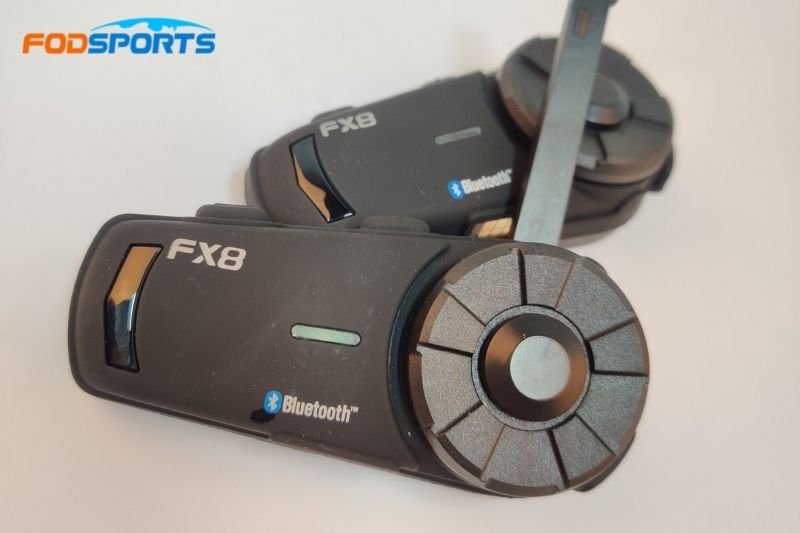 Have you ever had such remorses?
In the process of riding with your friends,
since you have opened a cross country,
however since your intercom has been out of the signal, you can't contact your teammates?
The Fodsports FX8 can connect to other Bluetooth devices supporting HSP/HFP and A2DP.
HSP/HFP is standard in all phones with Bluetooth features. Almost all Bluetooth MP3 players,
bluetooth headset,smartphones,
and audio dongles support A2DP to send stereo audio to Bluetooth headsets like the Fodsports FX8.
FODSPORTS FX8 Motorcycle Bluetooth Intercom,
bluetooth rider intercom DSP reduce wind noise,
Motorbike Bluetooth Headset Up to 8 Riders Group Intercom
WHY DO YOU CHOOSE US FX8 Bluetooth Intercom ?
Easy to pair

Easy to control

Long Battery Life

Easy to use and install

Amazing gift for riders

Easy to pair With cell phone make hands-free when rideing.

Enjoy the clear and loud music/FM /GPS and communication.

Intelligent noise reduction technology makes riding communication clearer.

Easy to connect with other brands of Bluetooth intercom such as FX6,FX4 Pro,M1S Pro,M1S Plus.


Share more fun of communication.

Support up to 8 riders to talk at the same time within 2000m, The maximum effective communication distance between two Riders is about 500m. Share the joy of riding with your friends along the way.
Pros
√ Long Battery Life
√ Excellent Sound quality
√ Great range and Re-connect
√ Waterproof and Dustproof
√ Most affordable Bluetooth headsets
Cons
× High winds and high speeds hurt sound quality
× No built-in voice command function
---
For: 4 TO 6 RIDERS
4. FX6 S – LED screen
Price: $98.99
Features:
Support to connect 6 riders group intercom.
Built-in intercom antenna, intercom distance up to 1000 meters
When a call comes, it can be answered automatically within 12 seconds.
The LED screen makes the function operation more clear, concise and intuitive.
CVC intelligent noise reduction technology
IP65 waterproof and dustproof
6 Riders Motorcycle Bluetooth Headsets Communication System with User-Friendly LED Screen
After investigation with riders who owned our Fodsports FX6 and M1-S Plus motorcycle intercom headset,
we found that many riders still takes long time to connect their smartphone/ motorcycle intercom system via blue and red indicator light flashing.
Added LED screen to FX6 motorcycle Bluetooth intercom,
you can easily check connection status, music play/ pause status and battery level.
For riders who enjoy built in FM radio while riding motorbike,
you will be able to check your favorite FM radio frequency efficiently,
save much time and patience in switching channels.
---
5. FX4 PRO – Best for 4 Riders
Price:$75.99
Features:
4 Riders Group Bluetooth Intercom & Universal Pairing
Wind Noise Microphone Cancelling & Hi-Fi Stereo 40MM Sound Quality
Hands-free access to IOS and Android voice commands
Multifunctional 3.5MM headphone jack Bluetooth Intercom
850mAh Long Battery Life
FODSPORTS FX4 Pro Outdoor Motorcycle Bluetooth Intercom ,
Easy to use and install Off-road Motorcycle Bluetooth Headset,
Up to 4 Riders Group Intercom
Our fx4 Pro is very suitable up to 4 riders group intercom.
It has superior stability and is not easily interrupted during the intercom.
And it can be used in different outdoor environments.
It is a great outdoor helmet Bluetooth headset.
If you are an outdoor enthusiast, then this FX4 Pro helmet headset bluetooth intercom is designed for you.

If you like to ride in the desert, The FX4 Pro bluetooth helmet intercom can handle the hot weather and dry climate.

If you are a ski enthusiast, our FX4 Pro bluetooth intercom is also an excellent ski bluetooth intercom, which can be used at -22°F .

If you often ride on rugged mountain roads, don't be afraid! Our FX4 bluetooth headset is very sturdy and not easy to break

If you experience rain when you go out for a ride, don't worry about our FX4 bluetooth headset intercom is waterproof.
---
6. V6 S – 2 People Toggle Intercom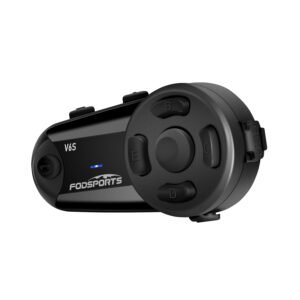 Design For Protect Your Privacy
Price: $82.99
Features:
High-fidelity bluetooth transmission of music and voice calls
Bluetooth 5.0,CSR chip,A2DP EDR Bluetooth technology
FM Radio
Anti-Noise Mic,CVC Digital Noise Reduction Function
Voice Command,Voice Prompt
Big button,easy to operate when driving
type-c interface, faster charging
Enjoy the music through bluetooth enable cell phone/GPS.
Receive a cell phone call automatically, auto answering.
Include two kind microphone, suit for all kind helmet
850mAH battery capacity,work longer time
5 levels of power reminder function
Support 2 riders talk at same time,1000m intercom range
3.5mm earphone jack, can work with Referee earphone
very nice product,very delicate packaging,fast shipping,cost-effective,
sound is better than V6 Pro,bluetooth version is 5.0,good FM radio,
type-c interface,easy to charge,two kind mic,suit for all kind helmet,
Instruction manual in 6 languages, very user-friendly,
I tested on the road,100km/h,the sound is clear,
I will recommend to my biker friends.
---
For: 1 TO 3 RIDERS
7. BT S2 – Under $50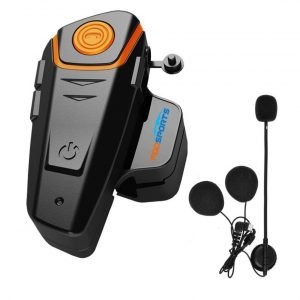 Features:
Fodsports – designed for the motorcycle rider and passenger
The Fodsports BT-S2 is a Bluetooth Headset designed for the motorcycle rider and passenger
who wish to have clear and reliable wireless communications while riding.
This headset is compatible with Bluetooth cellular phones and can be suited to any sort of helmet for motorcyclists.
Farther Distance & Efficient Communications
BT-S2 Motorcycle headsets for 2-3 riders.
3 riders pairing and 2 riders intercom at same time. Support up to 120km/h (75mph).
Motorcycle intercom for driver and front passenger or two separate bikes up to 800-1000 meters (2625-3280 feet).
Battery Type:Rechargeable lithium battery/450 mAh/3.7 V
Charging time:3 hours
Working hours:10 hours
Standby time:300 hours
Automatic switching among bluetooth cell phone, intercom, stereo music.
BT-S2 Motorcycle bluetooth headset uses DSP echo cancellation and noise suppression technology to provide you with efficient call quality.

FM Radio function

Auto / Manual Answer call

Auto / Manual Rejeck call

Support the last number redialing

Control music :forward/backward/play/pause

Support Siri or Google voice commands
---
8. FX8 AIR – 3 sound effects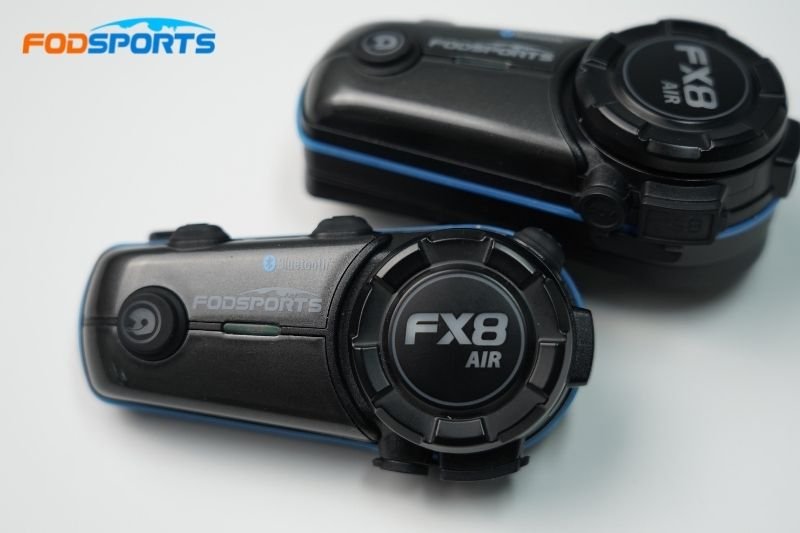 Features:
EQ Sound Effects
Our latest FX8 AIR helmet headset has three sound effects.
Bass enhancement, you can feel the shock and vigor of low frequency.
Popular Golden Classic: Midrange boost
The midrange is improved, as you are at a concert,
you can immerse yourself in the infinite rhythm brought by technology.
Pure Human Voice: Treble boost
High-pitched tone will let you say goodbye to the dullness and feel the layering and penetration of the clear vocal.
The switching of the three sound effects allows you to experience the wonderful transformation of the three scenes in a motorcycle ride, which will bring more fun to your ride!
900 mAh Long Battery Life & Type-C Interface Design
As an outdoor enthusiast, battery life has always been one of your concerns.
In the course of a ride, sufficient power may enhance your inner security!
FX8 AIR

has a larger battery capacity of

900 mAh

than other intercoms on the market.
Long battery life allows you to ride for a whole day without worry,
and you can say goodbye to battery anxiety from now on.

The type c fast charging allows you to get a long battery life after a short time of charging, which meets your needs for a temporary ride!
---
What is a Dirt Bike Bluetooth Communication?

If you're not familiar with the concept of Dirt Bike Bluetooth communicators,
you could be misled into thinking that the Dirt Bike Bluetooth system just puts the rider in touch with an aide.
This was certainly the primary purpose of the first wireless communication devices.
The now obsolete wired technology was really used for only that.
When you first started using Bluetooth Communicators could often be trails of wires,
bulky batteries and uncomfortable earpieces.
However, now the situation is now obsolete!

What's the disadvantages for the Dirt Bike Bluetooth communicators?
In the interest of a fair debate, we must take a look at each side of this issue.
Like with all other technologies and products the most important rule for Dirt Bikes is to be safe first.
It's all well listening to your favorite music into your ears as you ride the final leg of a long ride
however if you can't notice that huge truck bearing upon you
or you're distracted from the car coming up to your lane,
or distracted by the phone from home, it's going to be a mess.
And, let's face it that in any crowd, there's always a person who may be a bit tiresome.
If you're not sure of who is part of that group of people,
it's most likely you! It's a joke of course.
Chatting with too many people about, all linked to a hub,
while the group is on challenging terrain or roads, is risky.
So, Bluetooth communicators can limit the number of users
who can communicate about four people at any given time.
If you find distractions in the group chat it is possible to drop off and back in the group at any time.
Bluetooth Reconnection should be performed while stationary, since it can be a fiddly process.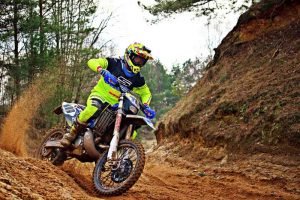 Personally, I'm uncomfortable with the thought of using an Bluetooth feature that requires conversations on the phone or the loud sound of music while engaged in

Urban riding that is full of traffic dangers such as track days or any type of riding that is competitive in nature that could make you risky for yourself and others.
The thought of making calls while moving poses a significant risk in any situation.
More so than calling others in the same group, who each have a single goal.
Anyone who's attempted to accomplish a simple task such as making a cup of coffee while talking calling is aware of how easy it is to be distracted from the task in hand.
For me, if your bike is moving, do not make a phone call!
This debate could become more common as Bluetooth Dirt Bikes are more widely used.
I would advise you to be cautious and be smart.
If you're at your ability and taking external sounds and data ahead of the most recent Deadmau5 album,
or the phone call from home, you're not going to be disappointed.
There are a lot of people concerned about the security of Bluetooth and Wi-Fi generally.
Bluetooth functions similarly as Wi-Fi, and is basically radio waves.
While we've been using radio waves for a long time but there is a growing interest in how they affect our bodies.
There isn't any conclusive evidence that the use of any Bluetooth device such as a mobile phone,
wireless router of any kind could cause damage.
This means, of course, that there's no conclusive evidence to prove that it's not.
I suppose it boils to us all studying the topic and making an educated choice regarding the most important things to consider.
One thing I know absolutely is that the use of Bluetooth devices is not more dangerous than using a Bluetooth communication device isn't any safer than using a cell cellphone, airpod(tm),
home router or different wireless gadget.
check Dirt Bike Intercom on fodsports.

Activities in which Dirt Bike Bluetooth systems could provide an advantage could include:

…long off-road social rides that can be an enjoyable experience as you chat with your companion or group of friends.
The extensive group tour, both off and on the road,
is greatly improved by Bluetooth communication.
Receiving directions at split-decision moments as well as having the ability to keep conversations going
for hundreds of miles is a huge benefit to motorcycling in general.
We all hate having go back to find the same road or turnoff
that we had missed four miles earlier, particularly when the day gets longer!
It seems that with this change in the way we conduct ourselves,
banter during riding is likely to become more common.
If your rider is off track You can begin to lash your mates up over it before you reach the bar!
The arrival of Bluetooth communications puts the end of an cycle of taking off your helmet
and place it on whenever your mobile calls.
After establishing that Bluetooth Dirt Bikes are in the making as well as both on and off the road,
there are advantages to be enjoyed, let's explore what's out there…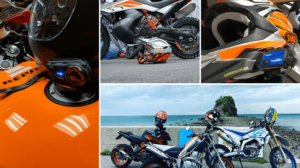 learn more on Dirt Bike Intercom
What can you do with Bluetooth Communication System?
Meet with fellow riders within your group.
This can be a huge advantage to be able to inform of any potential problems and advise the riders following the best route to follow when they come to an intersection on the road or trail.
You can also have a conversation while riding along.
Make and receive calls while riding, if you prefer to.
Certain riders are against this due to safety concerns however,
you have the option of stopping riding and stop if you're concerned.
You can stream music via your smartphone to helmet speaker
Receive directions on your smartphone GPS
Chat with your fellow person and broadcast your tunes to their speakers
It is ideal for riding training on an Dirt Bike track.
Get immediate instruction in real-time from the instructor,
whether the track on a different bike or even side by side instead of waiting until the rider leaves the track.
---
Conclusion
This is among the most crucial things to consider when you are considering this kind of product.
This is because as you pay more, you'll get more functions and the reverse is true. If you're looking for greater functionality however, the price increases at the point, it's likely cost you a lot to purchase an item like this.
The most effective way to approach this is to set your budget and purchase the right communication device within your budget.
If you are looking for the top items within the price , and read a lot of reviews prior to making a decision.
With these factors in mind, let's have a some time to look at the top intercom systems on the market.
FODSPORTS company that specializes in motorcycle helmet intercoms.
M1s Pro is the classic FODSPORTS style that is suitable for the majority of motorcycle enthusiasts.
M1S Plus can be more extensive in terms of features,
including the ability to share music and mute and its unique design has gained the acclaim of many enthusiasts of motorcycles;
FX4 Pro is ideal for three up to four riders who travel as small teams.
Bt s2 pro is best buget under $50 for one or rider and passanger
Make the right choice depending on your requirements.
Learn more Dirt Bike Intercom on Fodsports.
I hope this article is can be of help to you.
If you have any other suggestions or tips, leave a comment below and let me know:)
With over 10 years of experience working on cars and trucks Item Training Supervisor Richard Reina is known around the office as one of our technical experts & real an "automobile person".
His rate of interest began, in his very own words, "at the age of two when his father educated him the distinction in between a Chevy and a Ford. Since then it's been cars regularly."
As a serious lover of practically all things with a motor Richard can address nearly any kind of inquiry related to car upkeep, fixing, or restoration & is a fact professional in electric motor background.