How to choose the best Motorcycle Helmet Intercom for a motorcycle rider?
Based on advanced modern technology and innovation, the invention of the motorcycle helmet intercom greatly changed the way of communication between riders.
Gone are the days when motorcyclists made use of to interact using sign languages, lights, and motorcycle indications.
Intentionally,
advancement has actually taken it upon itself to produce the best motorcycle Helmet intercom system.
With these devices, you as well as your other cyclists will not get shed ever before once more.
Utilizing the very best motorcycle intercoms,
you can hold smooth discussions with your riding clique making use of the most recent in communication technology and also even connect to your smart device as well as make or respond to calls,
and also listen to favored music on the move.
IMAGE

PRODUCT

DETAILS

PRICE

LEARN MORE






Share The Same Music
With Passenger


Mute Microphone


Built-in FM




$99.99






2000M Maximum Distance


8 Riders Group
Intercom Support


CSR chip Noise Reduction
& Waterproof




$89.99



8 Riders Group Intercom


Noise Reduction Function
& Hi-Fi Stereo Sound Quality


IPX5 Waterproof




$95.99






Excellent Noise Control


Extendable Battery Usage


Bluetooth 5.0




$79.99






4 Riders Group Bluetooth Intercom


Wind Noise Microphone Cancelling


850mAh Long
Battery Life




$75.99






6 Riders Connected
& 2 People
Toggle Intercol


CSR chip Noise Reduction & Waterproof


Hands-Free Operation & LCD Screen




$82.99






DSP echo Noise cancellation
Control Technology


800-1000 meters High-
Performance Intercom


listen to FM radio or use GPS




$75.99
What to consider before deciding to buy motorcycle communication systems?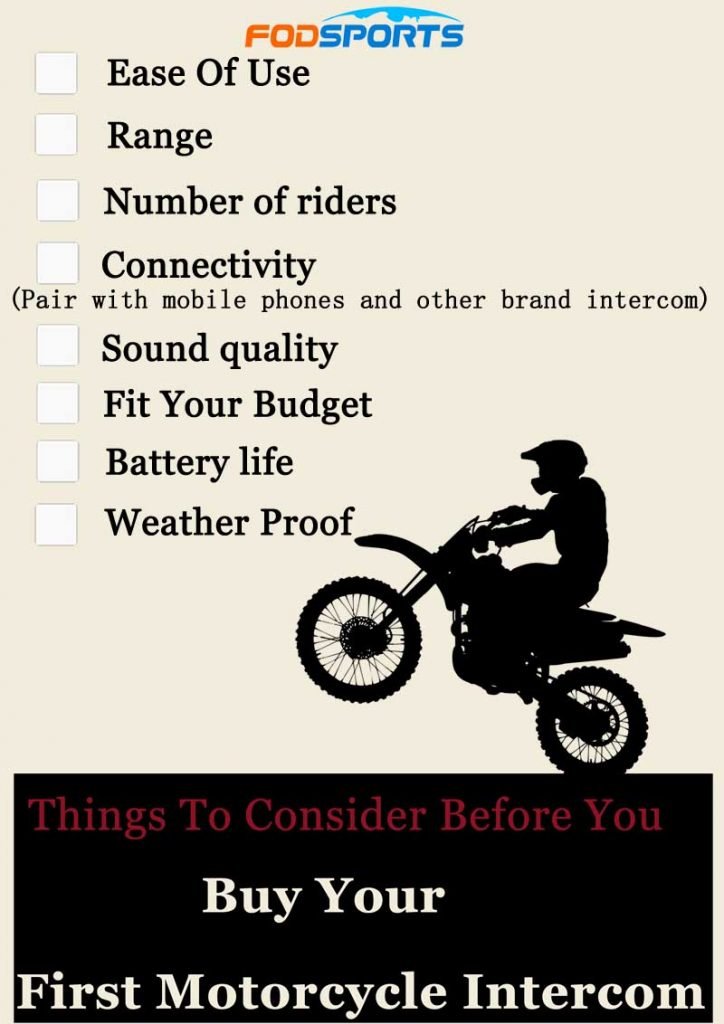 As the motorcycle comms tech obtains smarter, and much more products enter the marketplace, choosing the perfect communications system becomes tough.
Different cyclists also have distinct demands as well as requirements for motorbike headsets, making the option procedure even harder.
Allow these attributes to assist you in quickly picking an intercom that finest fits your needs:
1. Maximum range
The top thing to seek in a motorcycle intercom is its maximum range of interaction.
Certainly, this will certainly depend upon just how large your riding team is and where you plan to ride your motorcycles.
If you'll be riding in the countryside,
where there's less traffic, you will not be far from each various other.
As well as in this situation, you'll need an intercom with a smaller-sized series of around 500m.
Suppose you're riding along the highway or in a city loaded with web traffic?
In this scenario, you'll likely expand far apart with your riding buddies.
So, you'll require comms with an extended range of around 1000m.
If you desire an intercom to consult with your guest, the maximum array isn't that vital.
2. Audio high quality
You're acquiring that motorcycle intercom because you wish to plainly and smoothly hear and also talk with your riding pals, right?
With this in mind, you ought to just go for intercoms that deliver genuine audio high quality.
Be on the lookout for advanced audio modern technologies such as DSP (Digital Signal Processing) and noise and also echo termination capabilities.
They play a vital role in obstructing the noise caused by your bike engine, wind, and bordering traffic, for maximum sound clearness.
Ensure that the intercom delivers crisp-clear audio quality even at top speeds.
You must also guarantee that the intercom comes with HD audio speakers, with powerful bass.
These not only add to audio clearness but likewise give you a really immersive song listening experience.
3. Variety of customers
How many motorcyclists comprise your riding society?
Asking yourself this is also a vital factor in identifying what type of intercom you buy.
As you have actually seen in our bike interaction reviews over,
many bike comms support around 3-4 riders as well as permit just 2 cyclists to interact each time.
The advanced intercoms can sustain approximately 6-8 motorcyclists, as well as permit as much as 5 or 6 riders to interact all at once.
Bear in mind that the more motorcyclists a tool supports,
the costlier it ends up being. So, we suggest that you stick to intercoms that support the number of links you require.
4. Connectivity
An additional fantastic feature to have in a motorcycle intercom is the ability to link to your smart device,
iPad, iPod, and other mobile gadgets.
Consider it … if you match the headset with your mobile phone,
you'll have the ability to answer/reject/dial telephone calls hands-free.
You'll additionally reach pay attention to your favorite playlist from the phone, and more.
5. Battery life
You'll agree with me that a gadget whose battery dies in the middle of a discussion with your fellow bikers is frustrating.
Consequently,
we also recommend that you try to try to find a design with an extra dependable battery that gives you long hours of talk time,
both on your phone or the intercom. For Long Distance Motorcycle Riding.
The majority of the headsets we have actually reviewed above come furnished with batteries that provide a typical talk time of around 6-8 hrs and also have an outstanding standby time of 300 hours.
One more thing … search for a battery with a much shorter charging time for your very own convenience.
Other functions:
Waterproofing: would certainly you prefer cruising about with a plastic cover around your BT intercom or use a tool that can endure stormily as well as snowy weather? The last is more convenient, no doubt!
Alleviate of setup: look for a model that's much easier to establish, particularly on the specific version of your headgear. A very easy-to-follow user manual is a huge plus here.
Reduce use: try to find intercoms that feature a straightforward interface, including a big button that you can operate with your handwear covers on.
Songs sharing: would not you such as to share songs with fellow motorcyclists without getting your hands off the handlebars?Such As M1s-plus
Service warranty: like any other digital gizmos, your motorcycle intercom can break down whenever. Having a guarantee will certainly work as your financial investment shield must anything fail. The best warranty length for these devices is around one year.
Best

Fodsports Group Motorcycle Helmet Bluetooth Intercom

FODSPORTS is a professional company dedicated to outdoor cycling and our goal is to bring a better riding experience to every riding sports enthusiast. We have a professional research and development group from all over the world who are mainly focus on motorcycle intercoms.

After years of market training, and can withstand the test of thousands of motorcyclists. At the same time, we have a quality inspection and after-sales team of hundreds of people, which can provide you with a full range of service, and you do not need to worry about after-sales problems.

The following products are the most popular and competitive core products developed by FODSPORTS.
---
1.M1-S PLUS
Share The Same Music with Riders, microphone mute function
Review: In-depth review
Price: $119.99
Buy: Fodsports Shop
Do you want to listen to the same song with your motorcycle companion?
Based on feedback from many motorcycle enthusiasts,
we understand that you may need this need.
FODSPORTS engineers spent a year developing this feature, and now it successfully launched this feature in 2020!
This is a rare feature configuration on the market.
It can listen to a song between two M1S PLUS units at the same time!
This is a great thing! Why not try it?
Our latest headset Bluetooth headset was launched in 2020: M1-S PLUS developed on the basis of M1-S Pro.
It can talk with 8 riders, you can enjoy the scenery all the way, share daily interesting things,
in addition, M1S PLUS has a microphone mute function, which can better protect your privacy!
The M1-S PLUS Bluetooth helmet speaker has an FM function.
The built-in CSR noise reduction chip can reduce wind noise and engine noise.
In addition, using a 900mAh battery,
only 3 hours of charging time can achieve up to 20 hours of continuous working time,
very suitable for long-distance travel.
It is easy to set up the device according to the sound reminder,
with battery detection and low battery reminder functions,
you can always know the battery status.
By accessing Siri (iPhone) and S Voice (Samsung) voice commands,
you can make or receive hands-free calls, listen to music, and GPS voice guidance.
M1-S PLUS is not only waterproof,
it can even withstand high temperatures-30 degrees Fahrenheit (about 16.1 degrees Celsius).
M1-S PLUS has 2 microphones-allows you to choose a cantilever microphone for an open face mask or flip (convertible) helmet, and a button microphone for a full-face helmet.
M1-S PLUS is equipped with removable, easy-to-install metal clips.
And can be removed at any time and installed on other helmets.
M1-s plus is the only motorcycle helmet intercom that supports music sharing. Come experience it!
Highlighted Features:
♥ Share The Same Music With Passenger/ Rider
♥ Mute Microphone Give You Safe Talk & Ride Experience
♥ Built-in FM Get real-time traffic conditions
♥ CSR chip Noise Reduction Talk In Natural Voice
♥ 900mAh Long Standby Battery Keep You Connected All Day
♥ Universal Pairing & 2 Choices Mic For Different Helmet
---
2.M1-s pro
8 riders intercom within 2000M, high sound quality, easy to operate
Review: In-depth review
Price: $99.99
Buy: Fodsports Shop
This helmet intercom supports wireless intercom for up to 8 riders, allowing you to enjoy the fun of multi-person calls.
At the same time, it has excellent compatibility and stability,
it's equipped with Bluetooth 4.1 version.
If there are no obstacles,
the maximum communication distance of motorcycle helmet intercoms is about 2000 meters.
The maximum distance between the two motorcycles is about 500 meters.
It uses a high-quality full-frequency membrane monomer with a powerful noise reduction function.
It can maintain high-definition sound quality when you are speeding at high speed,
ensuring your riding experience.
At the same time, M1-S Pro is waterproof and dustproof,
allowing you to enjoy the fun of riding without any scruples.
M1s Pro is equipped with flexible, detachable, and easy to install metal clamps.
And can be removed at any time and installed on other helmets.
M1s pro is a classic style in FODSPORTS, which is very suitable for beginners and veterans. It's also the Best Budget Motorcycle Bluetooth Intercom.
Highlighted Features:
♥ 2000M Maximum Distance
♥ 8 Riders Group Intercom Support
♥ Handsfree & Crystal-Clear Sound Quality
♥ CSR chip Noise Reduction & Waterproof
♥ 900mAh Long Standby Battery & Removable Metal Clip
---
3.FX8- 8 rider group intercom
Unique antenna design, professional wind noise microphone
Review: In-depth review
Price: $105.99
Buy: Fodsports Shop
Have you ever had such regrets?
In the process of riding with your friends,
because you have opened a long distance,
but because your intercom has been out of the signal, you can't contact your teammates?
FODSPORTS FX8 is equipped with a unique antenna design to enhance the communication signal.
It can support up to 8 rider group intercom within 2000 meters.
The built-in smart chip ensures high compatibility.
It can be used with GPS, music players, and most Bluetooth headsets on the market.
Headphone compatible, such as FX4 Pro M1s Pro, M1s Plus, FX6, etc.
The FX8 Bluetooth headset uses a professional wind noise microphone,
which can clearly receive your voice.
The received sound is processed by a smart CVC digital noise reduction chip to ensure high-quality stereo sound effects, even at high speeds of up to 120 km/h.
Equipped with 40 mm high impedance and high fidelity speakers.
Whether you are speaking in a group or listening to music or FM, you can hear very clear sound.
FX8 is very suitable for up to 8 riders group intercom.
It has superior stability and the signal is not easily interrupted during the intercom.
And it can be used in different outdoor environments.
It is a great outdoor helmet Bluetooth headset.
Highlighted Features:
♥ 8 Riders Group Intercom & Universal Pairing
♥ Noise Reduction Function & Hi-Fi Stereo Sound Quality
♥ Hands-free & Multi-function keys
♥ Powerful motorcycle intercom Gift for riders
♥ 900 mAh ultra-capacity lithium battery
♥ FM /GPS and Communication & IPX5 Waterproof
---
4.FX6
Bluetooth 5.0  & 6-Way Conference Intercom & Universal Pairing
Review: In-depth review
Price: $89.99
Buy: Fodsports Shop
Every time you ride a motorcycle alone,
will you turn on a Bluetooth headset to play some favorite tunes or listen to FM and GPS direction?
Is it spoil all moods if it doesn't sound good?
Frequently go out to ride with buddies, families, and lovers but have to holler or shout with them to against the motorcycle roar and constant wind noise?
When you let go one hand to fuss the small and separate functions keys on the old-version helmet intercom,
will you feel dangerous and worried?
You'll want the Fodsports FX6 Bluetooth motorcycle communication system!
As one of the few motorcycle intercom using Bluetooth 5.0,
the FX6 Bluetooth motorcycle helmet headset gives you a fast and stable connection
while riding at high speed at 1000m intercom range with 5 other riders.
Advanced CVC noise reduction technology equipped with a professional wind-noise-proof microphone,
40mm high power, and high definition speaker unit,
allows you to use your natural voice to talk with passengers,
you'll feel more connected with each other.
The integrated large button is easy to operate with gloves on,
just keep your hands in the right place and focus on the road.
Endurance is the second life of motorcycle helmet Bluetooth Intercom.
FX6 Bluetooth motorcycle helmet headset equipped with a 500mAh battery completely meets your full-day riding needs.
The most important is, the FX6 motorcycle helmet headset is usable while charge by the power bank,
needn't stop frequently on the go to charge the device.
If you're riding frequently in different weather conditions,
you should look for the motorcycle Bluetooth headset Fodsports FX6.
The helmet headset is dust and water-resistant,
which enables you to use it in all weather confidently.
Highlighted Features:
♥ An Integrated Large Button, for Your Safety
♥ Excellent Noise Control  up to 30DB noise control
♥ Extendable Battery Usage, No Compromise on Road Trip
♥ Bluetooth 5.0 + A2DP EDR Up to 6 buddies communicate
♥ Universal Intercom For Helmets At All Weather
---
5.FX4 pro
4 riders Bluetooth intercom, Noise Cancelling & Hi-Fi Stereo Sound Quality
Review: In-depth review
Price: $92.99
Buy: Fodsports Shop
This is a helmet communication system suitable for up to 4 riders to talk at the same time.
It has good stability and can maintain an uninterrupted connection even when the maximum communication distance is 1200 meters.
Allows you to keep in touch with your partner during the journey.
FX4 Pro Bluetooth headset can achieve noise reduction and high-fidelity stereo effects.
It comes with a professional wind noise microphone, which can clearly receive your voice.
The received sound is processed by an intelligent noise reduction chip,
ensuring high-quality stereo sound even at a high speed of up to 120km/h.
Equipped with 40MM high impedance and high fidelity speakers.
Whether you are in the intercom or listening to music/FM, you can hear clear sound.
In addition, by accessing IOS and Android voice commands,
you can make or receive hands-free calls.
FX4 Pro motorcycle Bluetooth intercom also has a larger button design,
which is easier to press and hands-free when riding,
and the convenient design is easy to install on the face/half helmet.
The operation is more convenient, no need to take off thick gloves for easy key operation.
FX4 Pro is an intercom suitable for three to four people traveling at the same time.
It attaches great importance to the rider's riding experience and is also a good choice.
Highlighted Features:
♥ 4 Riders Group Bluetooth Intercom & Universal Pairing
♥ Wind Noise Microphone Cancelling & Hi-Fi Stereo 40MM Sound Quality
♥ Hands-free access to IOS and Android voice commands
♥ Multifunctional 3.5MM headphone jack Bluetooth Intercom
♥ 850mAh Long Battery Life
---
Best Fodsports 2 Ways Motorcycle Helmet Bluetooth Intercom
1.V6 Plus
6 Riders Connected & 2 People Toggle Intercom
Price: $82.99
Buy: Fodsports Shop
The design concept of the V6 Plus is suitable for the captain-centered motorcycle riding team,
it can connect 6 people at the same time, but only two people can talk.
It is due to the fact that some riders do not want to conduct group intercoms in order to protect their privacy.
V6 Plus can be paring 6 riders,
Rider A can connect with other 5 Riders,
then Rider A can choose one of five to talk, If other members( Rider B- Rider F) want to talk with Rider A,
he just needs to press relevant button A (intercom button),
Rider A will hear "Dudu" and screen will show intercom,
then Rider A just needs to double press"Phone" button, they can talk with each other.
It supports wireless Bluetooth music streaming and hands-free operation so you can easily enjoy the music or answer / reject the call.
This intercom system with an LCD screen helps you easily to know the charging/pairing / paired status.
It resets and stores up to 6 FM radio stations.
In FM Radio mode, when a favorite station is found,
you could store the FM radio station.
Once V6 Plus pairing with a cell phone,
when turning the power on again, the headset will re-connect with mobile automatically.
Or in case disconnect during standby mode, the short press Phone button will connect again.
Since the microphone of the motorcycle Bluetooth headset has a CSR chip,
ambient noise such as wind noise and engine noise are not annoying.
The voice quality is not affected even at high speeds.
V6 plus Support up to 120km/h (75mph).
Moreover, it is waterproof, can be used in any weather conditions.
The motorcycle intercom with 850 mAh rechargeable battery,
Standby Up to 300 hours. It is working up to 18 hours.
V6 Plus has a hard mic and soft mic, Suitable for all kinds of helmets.
You can choose the hard mic for open face helmets,
and the soft mic for a full-face helmet.
Highlighted Features:
♥ 6 Riders Connected & 2 People Toggle Intercom
♥ Hands-Free Operation & LCD Screen
♥ FM Storage Function & Memory connects with the cell phone
♥ CSR chip Noise Reduction & Waterproof
♥ 850 mAh Battery & Two Options For Microphone
now we upgrade to V6S .
---
2.BT-S3
Bluetooth Headset Intercom Wireless Interphone To 2-3 Riders
Price: $75.99
Buy: Fodsports Shop
FODSPORTS BT-S3 is targeted at customers with limited budgets or junior players who are new to motorcycle intercoms,
it has high-cost performance and must be a good choice,
allowing you to spend a small budget to get enough functions and performance.
BT-S3 is the upgraded version of BT-S2, with better sound quality and more functions.
It has been tested by the market and sold 120,000 units in four years,
and has performed well in the global market, especially in Europe and the United States.
BT-S3 Intercom range for rider& passenger, or two riders up to 800-1000 meters.
Motorcycle headsets for Bluetooth enable cell phones at a range of up to 10 meters.
The motorcycle helmet intercom with DSP echoes cancellation and noise suppression technology,
crystal clear voice quality is guaranteed at a high speed.
The Bluetooth headphones for motorcycle helmets keep you connected to your phone,
play music, and connected with the Bluetooth GPS system easily and stably.
It can receive a cell phone call automatically,
support audio transfer, and the last number redialing, you can also listen to stereo music,
FM radio, or use GPS, it can protect your safety while driving.
The Button panel is water-proof,sun-proof, and large,
Even if you wear gloves, you can easily manipulate it.
The Bluetooth motorcycle communication up to 10 hours talk time
when connected to a cell phone or 6 hours using the intercom feature,
Up to 300 hours standby.
Highlighted Features:
♥ DSP echo Noise cancellation Control Technology
♥ 800-1000 meters High-Performance Intercom for 2 Riders
♥ Voice command to Siri Easy Hands-free Communications
♥ listen to FM radio or use GPS Powerful and Convenient Functions
♥ 500mAh Super Usage Time
---
Why You Might Demand One?
There are numerous reasons that you require a motorcycle intercom system.
The picture of your own group riding with friends and also the need to keep in touch with every one of them.
In this situation, it would certainly be impossible to communicate with your voices bearing in mind that motorcycle riding is a loud affair- from the roaring of your motorcycle engine to the horns and noises made by cars as well as trucks, whipping winds, seems, etc
The exact same case applies when you have a guest, and also you want to chat with them.
This is where a motorcycle intercom can be found in …
By utilizing Bluetooth and various other close-range communication innovations, the system enables you to plainly connect with your pals amidst all the noise pollution hanging around you.
You may argue that tried and tested motorcycle hand signals,
indicators, and lights are all you need to connect.
Though you could conveniently recognize the fundamental ones,
you'll obtain lost when your buddies begin utilizing much more complicated signals you've never ever seen.
Not to forget that these signals can be blocked by people, cars, or even travel luggage, making you miss them.
Instead of trying to remember all these signals or some of them getting obstructed from your vision,
you can just purchase a motorcycle intercom for convenient communication.
And oh! In some cases,
those hand signals can lead to miscommunication (believe complication and also interruption).
Bear in mind that you're utilizing the roadway with various other motorists and also the act of swing hands and making never-seen-before signals can appear strange to these drivers.
This can cause crashes on hectic roadways.
All points thought about, a motorcycle interaction system defeats the old approaches.
It has actually confirmed to be the easiest, most safe, and smoothest communication technique for riding pals.
What Are The Different Sorts Of Motorcycle Intercom Systems?
Innovation is the essence of technology.
As soon as an idea is applied, improvised strategies of using that suggestion comply with,
and the cycle of innovation continues.
Let us currently look at just how the improvement in motorcycle intercoms panned out and also what different sorts of systems there are for you to select from.
1. Wired Intercoms
These are considered to be one of the most basic intercom systems for motorcycles.
In these wired systems, wires affixed to a central control box run to the motorcyclists and passengers.
The central control box is where the battery, as well as electronic devices, are put.
When it comes to performance and toughness,
these wired systems are absolutely one of the most effective motorcycle interaction systems.
Having claimed that, let us currently delve into the benefits and drawbacks of wired intercom systems.
These wired intercom systems are immune to any kind of exterior disruption,
unlike their cordless equivalents, and are relatively less expensive.
Some of these wired systems can additionally be linked to FRS/GMRS radios.
Radios with voice activations collaborate with wired intercoms also.
Although these wired intercoms rack up well when it comes to efficiency and affordability,
they drag when it involves convenience.
These are made only for rider-passenger communication and also whenever both get off the motorcycle,
cables require to be removed.
These cons mean that wireless intercoms have probably overtaken them in the race for the best motorcycle communicator.
2. Wireless Intercoms
The most technologically advanced amongst motorcycle communication systems,
Wireless Motorcycle Intercoms are taken into consideration by several as the very best choices offered.
They utilize numerous radio technologies like GMRS, FM, FRS, and, of course, Bluetooth.
Among the solutions utilized by cordless intercoms,
FM stands for Frequency Inflection as well as is no different than the FM Radio we pay attention to and know with.
The only change is in the frequency.
Wireless intercoms utilize a narrower regularity which helps in offering a clear noise devoid of any kind of obstructions between transmitters as well as receivers.
FRS is the abbreviation for household radio service as well as is the same as GMRS in terms of the method it works. Nevertheless,
there's one distinction between both– FRS does not deal with long distances, while GMRS does that efficiently.
The one drawback with these radio services is that they work on public frequencies which could lead you to be listened to by individuals you do not know.
So having private conversations on them isn't advised.
3. Bluetooth Wireless Intercoms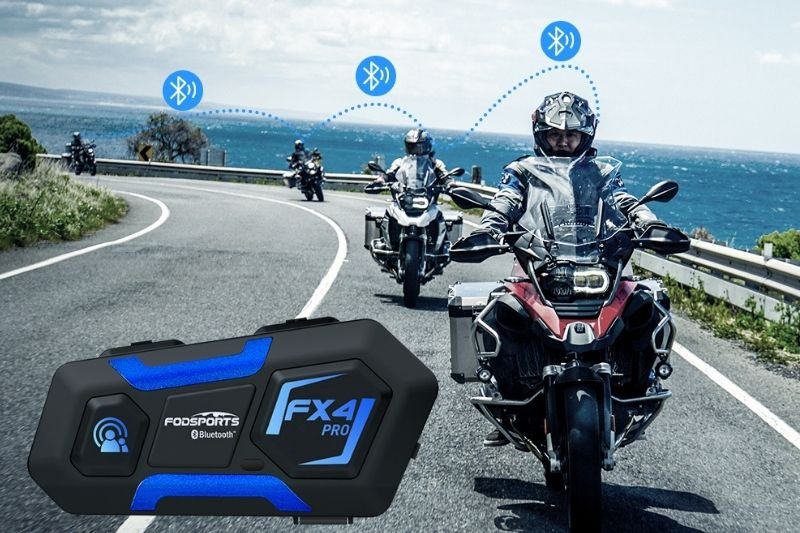 These are one of the most popular and also frequently utilized motorcycle intercoms today as well as service the same principle as Bluetooth sharing on mobile phones.
All you require to do is match your tool with the individual you're riding along with.
These give ease of use when contrasted to other systems and permit you to have private conversations without bothering with eavesdropping.
The only significant disadvantage when it pertains to Bluetooth Wireless Intercoms is
that they can be made use of only for short-range interaction.
Aside from that, these systems are extremely helpful as well as fairly user-friendly.
Individuals can additionally pay attention to music as well as change it with a faucet or perhaps share songs with their fellow riders.
The convenience, as well as enjoyable ratios of these devices,
aid them in declaring the area for the best motorcycle communication.
Since we're done with the various sorts of motorcycle intercom systems,
allow us to outline the aspects you need to bear in mind while purchasing a motorcycle intercom system for yourself.
The above are the most popular intercoms under Fodsports.
But have you been stunned? If so, I can give you some suggestions:
If you have a small number of intercom support, it is recommended that you purchase V6 plus,
it supports up to 6 people to link, 2 people can talk at the same time,
you can switch the intercom object at any time.
If you often participate in group motorcycle trips, it is recommended that you buy M1s pro or M1s plus.
These two models are not only cost-effective but also have complete functions,
which can meet most of your use scenarios,
especially M1s plus also has music sharing and one Key mute function,
If you like to commemorate and want to record the wonderful moments of your riding, and if you have a sufficient budget,
I suggest you buy FX30C, which is the Combination of Bluetooth communication and a motorcycle camera system.
It can satisfy all your fantasies about motorcycle intercoms.
Meet all your expectations for motorcycle riding: Information, Communication, Entertainment.
Click here to buy any motorcycle intercom you want: To Choose The Best motorcycle Intercom For You.
Vote for Your Favorite Motorcycle Intercom!
Rodney L is a technical writer and product consultant with over a decade of experience in the motor industry. Rodney is a fan of performance machines that run fast and loud and an expert in all things custom. His numerous articles and write-ups are available at our knowledge base. Whether it's something wrong with your motorcycle or you are building a custom bike, you can trust Rodney's experience.